Genpact Ltd. (NYSE:G) is a Business Process Services provider-providing business process outsourcing (BPO) and IT services-mainly to financial services and manufacturing industries. It began as a unit of GE in 1997, was spun-off in 2005 and listed on the NYSE in 2007.
Headquartered in New York, the company has more than 70 delivery centers and 63,000 employees in 18 countries.
Solid First Quarter Results
Genpact reported its first quarter results on May 5, 2014. The company closed the quarter with revenues of $528.2 million, up 4.8% year-over-year and 6.6% year-over-year in constant currency terms. Four of the target verticals--capital markets, CPG, life science, and healthcare--led growth during the quarter. Net income was $50.6 million, or $0.21 per share, up from $46.7 million and $0.20 per share in the first quarter of 2013.
Adjusted net earnings came in at $0.22 per share, ahead of the Zacks Consensus Estimate of $0.20 per share. Genpact has delivered positive surprises in all of the last four quarters with an average quarterly surprise of 22.25%. The company reported closure of a large deal with a leading CPG client during the quarter. During the conference call, Genpact announced the acquisition of Pharmalink Consulting, which would add domain capabilities in the regulatory affairs space of targeted Life Sciences vertical.
The company also reported a strategic partnership with Oliver Wyman to build and market risk solutions for Financial services industry.
Positive Earnings Estimates Revisions
As a result of continued solid performance, the Zacks Consensus Estimates for 2014 and 2015 have increased to $0.92 per share and $1.03 per share, from $0.88 per share and $ 0.99 per share, 30 days ago.
In the past 14 quarters, Genpact has missed only once as can be seen from the following chart: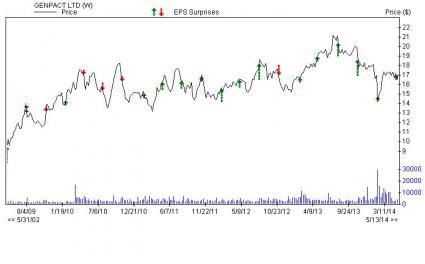 Rising earnings estimates sent the stock to a Zacks Rank #1 (Strong Buy).
The Bottom Line
Genpact appears to be making good progress in executing their new investment and growth strategy. They are now focused on more strategic and transformative engagements that add more value and proportion to the pipeline. Further, a positive outlook for the BPO and IT servicing industry bodes well for the stock going forward.
GENPACT LTD (G): Free Stock Analysis Report (email registration required)