Overall, Night Culture's (NGHT) 10-Q was met with unusual negativity, despite revenues being up 24% from the year-ago quarter.
 
2014 Q-1
2013 Q-1
2012 Q-1
Income Statement
 
 
 
Revenues
$1,264,685.00
$1,016,986.00
$829,033.00
Outstanding Shares Diluted
61,673,952
75,528,359
46,908,000
Revenues EPS
0.020505983
0.013464956
0.017673595
Direct Costs
$716,125.00
$418,031.00
$425,311.00
Operating Expense
$745,696.00
$504,955.00
$432,423.00
Gross Profit
$548,560.00
$598,955.00
$403,722.00
Net Income From Operations
-197,136
94,000
28,701
Net Income Decrease/Increase
-310%
228%
N/A
Net EPS from operations
-0.003196422
0.001244566
0.000611857
YoY Increase/Decrease of Costs and Revenues
 
Revenue increase
24.3%
22.7%
N/A
Revenue increase per share
52%
-24%
N/A
Gross Profit Increase/Decrease
-8%
48%
N/A
Total Direct Costs Increase/Decrease
71%
-2%
N/A
Operating Expense Increase/Decrease
48%
17%
N/A
Total Costs Increase/Decrease
58%
8%
N/A
YoY Breakdown of Costs per Event
 
 
Operations Cost Per Event
$15,535.33
$12,623.88
N/A
Direct Costs Per Event
$14,919.27
$10,450.78
 
Revenues from events
$26,347.60
$25,424.65
N/A
Direct Cost Per Event Increase/Decrease
43%
 
 
Operations and Direct Costs Per Event Increase/Decrease
23%
 
N/A
Revenues from event increase/decrease
4%
 
N/A
Return on costs per event
77%
143%
 
Valuations
 
 
 
Valuation on 10-Q release
0.0639
0.05
0.3
Share price Increase/decrease
-24.82%
21.45%
-11.74%
Market Cap
$3,940,965.53
$3,776,417.95
$14,072,400.00
P/Sales for Q-1
3.12
3.71
16.97
Sales TTM
$5,901,475.00
$4,080,336.00
$907,046.00
P/Sales TTM
0.67
0.93
15.51
Revenue increase TTM
45%
350%
N/A
Share Price Decrease
-35%
Investors continue to devalue security even though company continues to increase revenues
 
The Negatives:
The glaring issue is that net income dropped by -310%.
Gross profit decreased this quarter by -8% versus last quarter which increased by 48%.
Total costs increased by 58%, in contrast to last quarter where costs increased by only 8%.
Breaking The Negatives Down
The company says that it hosted and produced 48 events this quarter versus 17 in 2013's Q1. However, archives suggest the company in fact produced 39 shows 2013 Q1, plus one NBA All Stars Event for 40 total events.
The NBA All Stars Event had next to zero costs and was all profit, excluding that costs per event did increased 29%.
The operating costs increased by 23% and the direct costs increased by 43%.
The Difference that Makes the Difference
Night Culture is for the most part an EDM promotional company. Sometimes, it branches out into other live events. Specifically, in February 2013, Stereolive hosted the "NBA All-Stars Houston Takeover," featuring Lil Wayne, Birdman, and Bun B. This event was made up the bulk NGHT's revenues for 2013.
Hosting the NBA All-Stars event in Houston represents one of the ways that Night Culture has hedged itself to be not just an EDM producer. Yes, NBA All-Stars Houston event is an outlier. And from quarter to quarter, investors can expect higher than average earnings. For instance, Night Culture will capitalize on the 2017 Super Bowl, which will be in Houston.
The positives
Revenues per event did in fact increase by 4% YoY.
Total revenues increased by 24.36% from 2013 Q1 to 2014 Q1.
Revenues per share increased by 52% per share. Oddly, last year when revenues per share decreased by 24%, the share price increased 21%. This year, when revenues increased 52% per share, share price decreased 24% per share.
The Trailing Twelve Month Price/Sales ratio is down to 0.67, which means the stock is trading at a huge discount. I would recommend a Price/Sales of at least 5.
The price/sales for this quarter alone were 3.12. In contrast, Live Nation's (LYV) price/sales are 63 for the 2014 10-Q.
The Sales TTM are at $5.9 million versus $4 million
NGHT's return on costs per event were 77%
The fact that NGHT was able to increase revenues despite not hosting a huge event speaks volumes about the company. If we were to assume that total costs this quarter were directly related to each event, then each event cost the company $30,454.60. This is a 32% increase from the previous year. This is high and could have been properly addressed by simply increasing ticket prices. However, I am under the impression that some of operational costs this quarter are related to events that will happen in the future.
| | | | |
| --- | --- | --- | --- |
| General and Administrative | 2014 Q1 | 2013 Q1 |   |
| Consulting and Salaries | $229,065.00 | $149,720.00 | 53% |
| Travel and Entertainment | $3,947.00 | $2,122.00 | 86% |
| Office and other expenses | $141,834.00 | $32,032.00 | 343% |
| Legal and accounting | $40,720.00 | 23,020 | 77% |
| Venue | 242,216 | 285,771 | -15% |
| Writ- off of indemnification | $76,921.00 |   |   |
| Total | $734,703.00 | $492,665.00 | 49% |
| Direct Costs |   |   |   |
| Promotion | $283,207.00 | $30,000.00 | 844% |
| Talent and Production | $220,502.00 | $285,771.00 | -23% |
| Beverages | $212,416.00 | $134,591.00 | 58% |
| Total | $716,125.00 | $450,362.00 | 59% |
|   | 2014 Q1 | 2013 Q4 |   |
| General & Administrative | $734,703.00 | $601,642.00 | 22% |
| Direct Costs | $716,125.00 | $609,775.00 | 17% |
| Total | $1,450,828.00 | $1,211,417.00 | 20% |
Costs have increased a lot since last year. A 20% increase from 2013 Q4 to 2014 Q1 is also pretty dramatic. The company explains the increase in General & Administration costs that added a lot to the Operational Expense as follows:
The increase in general and administrative expense was attributable to increased staffing, accrued salaries for related parties, higher cost of administration and other investments to support our planned growth initiatives.
The company is growing and therefore had to take on extra costs as a result. The Company explains the increase in Direct Costs as follows:
The change in direct cost as a percentage of sales in 2014 over 2013 was due to higher production costs advertising and promotion cost as a percent of sales plus higher direct amount as related to higher revenue in 2014.
Nevertheless, the total direct costs for each event was only $14,919.27. The revenues for each event were $26,347.60. The company netted a 77% return from the direct costs of each event. Keep in mind that 48 of the events this quarter were smaller events and therefore do not yield a higher return. We can see this clearly from the fact that one big event last year helped the company have a 153% return from the direct costs of the event.
Investors may feel frustrated with the company for hosting smaller events that don't yield as high a margin. I think this is a fair criticism and the company should look into having at least 1 or 2 big events per quarter to keep the shareholders happy. I personally don't care whether shareholders are happy or unhappy, as long as I see continued growth.
I do however feel that in building Night Culture's brand, hosting excellent talent on a week to week basis is the right idea. EDM concertgoers in Houston and Austin already equate Night Culture with quality and therefore trust that the talent they bring is top-notch. Building the brand is the key for Night Culture to steadily increase ticket prices when it hosts less well-known talent.
What to expect
Festival season is coming and Night Culture is gearing up. Meltdown Dallas although does not have a fixed date, is in the works. Last year Meltdown Dallas was not as profitable as originally they hoped it would be. So, the company is still determining which date will be best to maximize attendance and to acquire the best talent. It is expected to be towards the end of the summer.
There are also a couple of "Life in Color" events this quarter that will bring in a lot of revenue for Night Culture. And of course, October will be Night Culture's big event, Something Wicked.
Last year Something Wicked was attended by over 20,000 people, a big increase from the year prior when it was only 4,000. Night Culture expects to increase attendance and hopes to expand on this concept. Something Wicked is a EDM festival themed around Halloween. It success suggests that this is the right direction. Something Wicked could provide huge vertical growth for the company.
And finally, Night Culture will be integrating non-EDM events from time to time to hedge itself and maximize revenues and profitability.
So why the big sell off?
Clearly the -310% decrease in revenues from the previous quarter was not a positive. The 10-Q was released at 8:17 a.m. However, the company did not provide a PR to explain the 10-Q. Finally, at 3:32 p.m. the PR was released. And I'll admit, it wasn't a great PR. It unfortunately did not explain that the reason costs were lower in 2013 10-Q in comparison to the most recent quarter. There was no mention of the NBA All-Stars Event that brought in a large portion of the earnings. Management was simply proud of its "record revenue growth." Instead of focusing on the positives of the 10-Q, investors focused on the negatives.
Finally, suggesting that the total number of events produced increased by 183% versus 20% was also a huge bonehead move. Clearly, the company is making improvements on increasing revenues per event but is struggling with costs. It does look like the company can easily improve net profits by increasing ticket prices or lowering costs. However, the upcoming outdoor festival events will net a higher profit margin for the company overall.
Current Health of the Company
(Courtesy of Hunter Allen)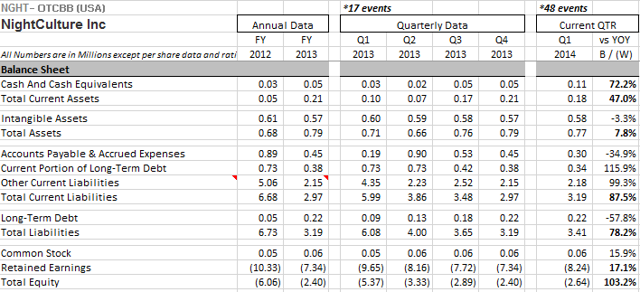 Assets continues to increase and debt continues to be reduced.
In addition, the company has taken steps to avoid dilution. For instance,
On January 15, 2014 the Company issued 1,949,287 shares of common stock in exchange for the cashless exercise of 9,401,120 warrants, which were originally issued in 2011.
This 80% reduction of 10 million warrants demonstrates a dedication to maintiaing shareholder value.
Why I am still long NGHT
With the increase of revenues from solely small events and with festival season coming up, I'm very bullish for this company.
Although net income was down this quarter due to the increase in costs for the company's expansion, overall the company has netted nearly $6 million to date.
Despite this, investors continue to devalue the company annually by (-38%). I'm going to go out on a limb here and just say that CEO Mike Long is terrible at IR.
I did not want to cover this company at first. The paid promotion, the continual decrease in share price valuation, the poor IR all made for a bad combination. But when I looked more closely at the company and the financials I began to like the story.
Mike may not know how to handle investors but he does know how to run a company. More importantly, he knows the industry. This month alone will have some of the biggest up-in-coming EDM superstars that will blow artists like Calvin Harris and Skrillex out of the water.
I'm a huge fan of this music and I have been following these artists since 2007. The talent that NGHT works with is second to none. And talented artists like Hardwell, Adventure Club, Deorro, Bor George, Kill the Zo, or Cedric Gervais may not mean anything to investors, but they should. They are money names. NGHT's careful attention to the music and to the trends will allow it to always stay above the trend.
Clearly there is room for improvement. Simply by aiming for a meager $5,000 per event, the company would have netted a profit. Right now, the most important thing is that Night Culture continues to build brand awareness.
Night Culture understands its market and understands which talent to work with. This is the reason that an international EDC company, SFX Entertainment (SFXE) continues to partner with NGHT to host world class live entertainment.
The (-24.82%) price drop appears indicative to the culture of penny stocks where traders buy rumors and sell the news. It does make investing in nanocap companies difficult on the stomach.
Conclusion
The numbers show growth. But more importantly, this company shows unlocked value. I realize that some investors may be upset that Mike's silence after the 10-Q was released or that the PR did not explain why they had more events but less revenues. I'll add it to the list of reasons the company is seriously undervalued. I believe Mike owes the shareholders an apology for this confusion. But nevertheless, I'm still behind the company.
But give the guy a break. He's building his business. If you can't see that, don't invest. Mike hasn't sold a share since he went public with the company. Not even when the total amount of his shares were valued at $10 million. Now, his shares are worth a little over $1 million. He believes in the value of the company. His sole mission is growth. And although growth is a bit uneven, it's there.
I'm looking forward to the coming financial statements and growing with this company. Festival season is starting. That means big events are coming. And come October, Something Wicked. And in 2017, Super Bowl. This is a growth company.
*Update*
New article discussing NGHT's 2014-Q2 results
Disclosure: The author is long NGHT. The author wrote this article themselves, and it expresses their own opinions. The author is not receiving compensation for it (other than from Seeking Alpha). The author has no business relationship with any company whose stock is mentioned in this article.
Additional disclosure: I am short on Athn