Blink has become the latest tech startup to be gobbled up by Yahoo (NASDAQ:YHOO) CEO Marissa Mayer's spending spree. Blink is a mobile messaging app which allows users to send "self destructing" text, voice and picture messages. Ephemeral messaging apps have been in vogue ever since the leader in the space, Snapchat, turned down a $3 billion acquisition offer from Facebook (NASDAQ:FB) back in November 2013.
23-year-old Snapchat co-founder and CEO Evan Spiegel's rejection of a $3 billion exit back in November opened the public's eyes to the lofty valuations that mobile messaging apps were being given by large tech firms and the $3 billion offer served as a predecessor to Facebook's eventual $19 billion acquisition of WhatsApp.
The terms of the deal to buy Blink were undisclosed. However, one unusual, but not unheard of piece of the deal was announced. Although mobile messenger apps come with huge price tags, Yahoo is going to shut down Blink completely sometime in the coming weeks. This leaves only one good reason for the deal.
Yahoo is really just buying the seven-person team behind Blink in what's commonly known as an acqui-hire. They will likely work on a new but similar app for Yahoo. The acquisition goes to show that Yahoo is a believer in the new school tech adage - it's cheaper to buy developer talent than to train talent yourself.
And the team at Blink does have the chops to justify an acquisition. The team features co-founder and CEO Kevin Stephens who is a former Lead Sales Engineer at Google (NASDAQ:GOOG) (NASDAQ:GOOGL) and YouTube. He worked as an engineer at Apple (NASDAQ:AAPL), and most recently served as a Senior Director of Device Product Partnerships at Boxee before co-founding Blink.
Since Marissa Mayer took the helm at Yahoo back in 2012, her core strategy has been to focus on increasing Yahoo's mobile engagement and to build products that users will touch on a daily basis. Yahoo now touts about 400 million mobile users. Not too shabby. But the clock is ticking on the turnaround.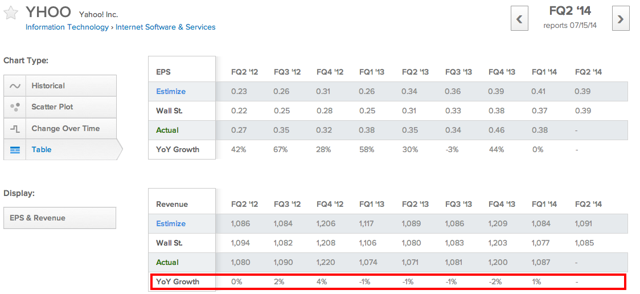 (Click here to see the Graph Above and More Interactive Features)
Over the past two years since Mayer has taken control, Yahoo has achieved earnings growth, but revenue has remained entirely flat. Yahoo has facilitated its profit growth by cutting costs, not by generating increasing sales. According to a Business Insider article from back in November, when Marissa took over Yahoo the company employed 15,000 people, today that number might be more like 12,500.
For the past year it's seemed inevitable that Mayer will ultimately be judged on how wisely she spends the mountain of cash that Yahoo's 22.6% stake in Chinese e-commerce giant Alibaba will leave her. Alibaba will likely be valuated somewhere in the ballpark of $140 billion, which would mean that $31.64 billion of Yahoo's current $34.39 billion market capitalization is accounted for by its stake in Alibaba alone. Approximately 92% of Yahoo's total valuation comes from owning only 22.6% of Alibaba.
With Alibaba filling for a U.S. IPO, it's time for Yahoo's turnaround to get moving. Marissa Mayer has acquired plenty of mobile talent, but Yahoo needs to start translating talent into incoming dollars. After shares of Alibaba become directly available on the US market, there may not be much of a reason for investors to hold shares of Yahoo if the company can't get its sales back in gear.

We still don't have a date or valuation on the Alibaba IPO, but since the Chinese web giant made its initial filing for an IPO on May 6th, shares of Yahoo have fallen 8%.
Disclosure: None.