By Sumit Roy
Natural gas inventories rose by 97 bcf last week, below expectations. Natural gas was last trading up by more than 2.5 percent to $4.49/mmbtu after the Energy Information Administration reported that operators injected 97 billion cubic feet into storage last week, below the 99 to 109 bcf that most analysts were expecting. The EIA said that revisions to its data led to an additional 8 bcf increase in overall inventory levels.
The latest injection was below last year's build of 99 bcf and above the five-year average build of 84 bcf.
In turn, inventories now stand at 1,160 bcf, which is 804 bcf below the year-ago level and 950 bcf below the five-year average (calculated using a slightly different methodology than the EIA).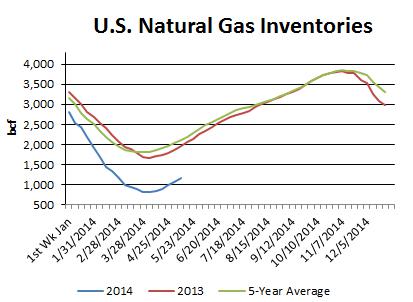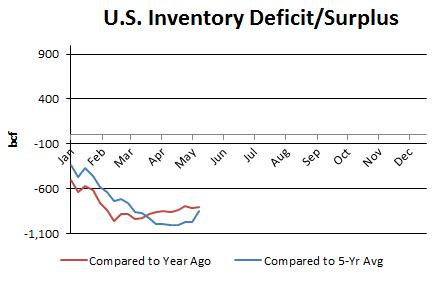 The weather last week was warmer than seasonal norms.
According to the Edison Electric Institute, utilities generated 72,716 GWh in the week ending March 29, which was 1.2 percent above the same week a year ago.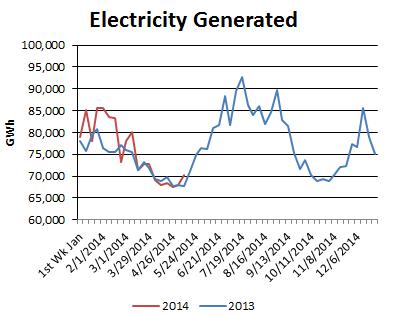 Looking forward, the NOAA's 6- to 10-day outlook calls for split weather across the country.
NOAA 6- TO 10-DAY OUTLOOK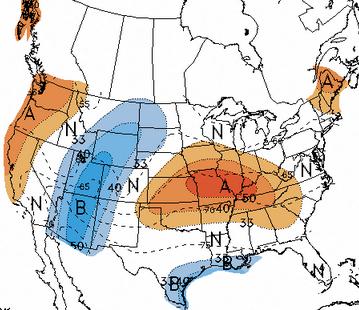 Meanwhile, Baker Hughes reported that the number of rigs drilling for natural gas in the U.S. was unchanged at 323 last week.
Natural Gas Rig Count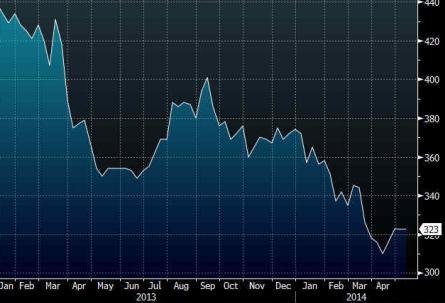 Natural Gas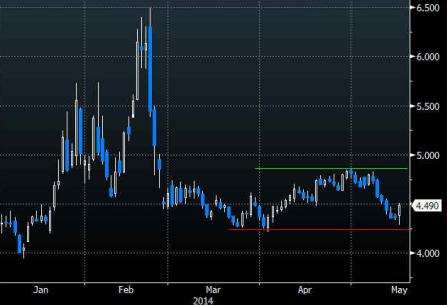 Bottom Line: The latest inventory data from the EIA were bullish. The inventory deficit against the five-year average fell from 972 to 950 bcf and the deficit against last year fell from 810 to 804 bcf. However, were it not for the EIA's one-time 8 bcf revision, the year-over-year deficit would have actually increased.
We laid out the bull and bear cases for natural gas in our recent article "8 Commodity Predictions For The Rest Of 2014." Suffice it to say, we continue to lean toward the bullish view and see the risk of price spikes this summer and even larger spikes next winter if inventories are not refilled to comfortable levels. Based on current injection rates, they will not be refilled to comfortable levels, which should be a concern for end-users.
As we wrote last week, the year-over-year inventory deficit has little chance of declining notably over the next six weeks. In 2013, builds ranged from 88 to 111 bcf through the end of June. Thus, even if we see triple-digit injections in the coming weeks, it won't necessarily make a big dent in the deficit.
From a technical perspective, natural gas bounced off the near-term support level just below $4.30/mmbtu today. Resistance lies at the recent highs above $4.80.