One of my favorite quotes from Warren Buffett involves his two rules of investing:
"Rule No. 1: Don't Lose Money. Rule No. 2: Don't Forget Rule Number One."
Much of my investment process revolves around this thought process. In the case of Weis Markets (NYSE:WMK), I think this company meets the criteria in Buffett's quote above.
Specifically, whenever I look at an investment, I try to minimize risk. I believe there are three elements of risk associated with owning a stock in a company. First, there is business risk. The most obvious business risk associated involves the profitability of the company. Second, there is bankruptcy/balance sheet risk. This is associated with a company's debt levels. I like to own companies that have no debt and in some cases lots of cash. If a company has no debt, its stock price can't go to zero. (Remember Enron and WorldCom.) Third, and most important, is valuation risk. You can buy the best company in the world. However, if you pay too high of a price, it will turn out to be a lousy investment.
One stock that I think is very attractive is Weis Markets. Let's look at the company from my three perspectives of risk.
Business Risk - Low
Weis Markets is a small grocery store chain with most of its locations in Pennsylvania. The most obvious risk associated with its business is competition with Wal-Mart (NYSE:WMT). However, the company has still done well despite this threat. Based on same store sales its business is doing better than Wal-Mart. During the latest quarter, Weis' same store sales were flat compared to a decline for Wal-Mart.
An obvious indicator of a business' risk is operating margins over time. As indicated below, operating margins over the past decade have been fairly consistent. The company has slowly grown its sales. The company has grown sales per share at an annualized rate of 3.8% over the past five calendar years. This is not spectacular growth. However, I think it is solid given the competitive threat from Wal-Mart.
Operating

Sales

Year

Margin

($mil)

2000

3.17%

2,061.0

2001

3.17%

1,988.3

2002

3.97%

1,999.4

2003

3.46%

2,042.5

2004

3.44%

2,097.7

2005

3.58%

2,222.6

2006

3.64%

2,244.5

2007

3.22%

2,318.6

2008

2.78%

2,422.4

2009

3.83%

2,516.2
Bankruptcy/Balance Sheet Risk – Very Low
The company owns about half of its stores outright. The only balance sheet risk is associated with the leases on the other half of these stores. However, given the fact that the company has historically been profitable, has $124.5 million of cash on its balance sheet and zero debt, I consider this company for all practical purposes to have zero bankruptcy/balance sheet risk. You need to continuously monitor a company's debt situation with each announcement of quarterly earnings and/or 10Q/10K releases.
Valuation Risk – Very Low
You can slice and dice the valuation for the company is any of a number of different ways. On Monday, August 23rd, the company's stock price closed at $33.40. On a P/E ratio basis, if you back out the $124.5 million in cash, the company sells at a P/E ratio of 11.2. The company also pays a nice dividend and yields 3.5%. Regardless of how you look at the stock, it is very cheap. As Ben Graham would say, it has a significant 'margin of safety.'
I like to value companies on a 'holistic basis.' This looks at the company's outstanding Enterprise Value compared to EBITDA and free cash flow. (Enterprise Value is the market value of a company's stock plus debt plus preferred stock less cash.) On a free cash flow basis, the company has a free cash flow yield just north of 10%. This is very attractive.
My favorite measure of valuing a company is to determine what someone pays to acquire it outright. This is unlikely with Weis since the Weis family owns most of shares. However, it is an exercise I do with every stock I buy. My 'guesstimate' is the company is worth eight times EBITDA. As of its closing price on August 23, the company trades at an EV/EBITDA multiple of 4.76. This is a significant discount to what I think the company is worth.
Below is a chart of Weis' stock price compared to my estimate of intrinsic value for the last 20 years. Outside of the depths of the financial crisis, the stock has never been cheaper: (Click to enlarge)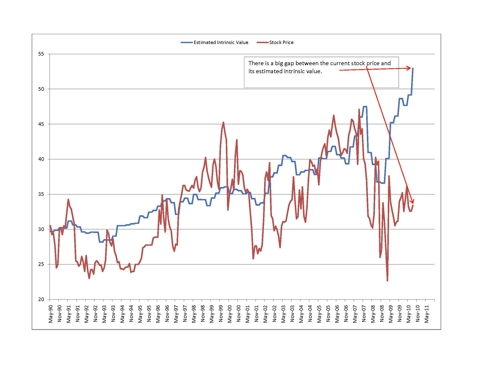 Another way to value the company is to compare its stock price as a percent of my estimate of intrinsic value. The chart below shows that the company currently trades at 63.1% of my estimate of intrinsic value.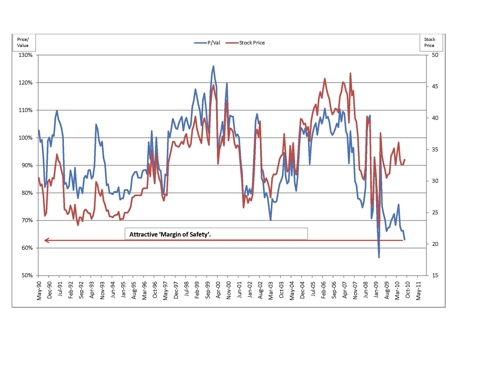 I believe the most underanalyzed aspect of picking stocks is focusing on downside risk. Most investors are enamored with finding the next Microsoft (NASDAQ:MSFT) or Apple (NASDAQ:AAPL), where you get a 10 or 20 bagger. However, I think limiting downside risk is a key element of investment success.
In the case of Weis Markets, I think the downside risk is minimal. My 'guesstimate' of potential downside risk is an EV/EBITDA multiple of 4.0. This implies a downside risk of 13.8%. If we apply an EV/EBITDA multiple of 8.0, I get a target price for Weis Markets of $52.96. If we take 90 percent of this price, I get an upside target of $47.66. This implies potential upside appreciation of 42.7%. Upside potential is about 3.1 times downside potential. This is attractive since it exceeds my hurdle of a minimum upside/downside ratio of at least 3.0.
Over the next one to three years, in what I think is going to be a difficult market environment, I think Weis Markets has the potential to be a very attractive investment. Its stock is not going to sky rocket like a growth stock. However, with the generous dividend and low valuation I think the odds of investment success are high.
Disclosure: The author and clients of Granite Value Capital are long Weis Markets and Wal-Mart