Trouble is brewing in the mightiest of the globe's economic engines. As reported by the Xinhua News Agency on May 10, Chinese President Xi Jinping stated that China has reached a point in its growth cycle where the "new normal" annual economic rate of expansion might be in the neighborhood of 7.5 percent. If predictions are accurate, this would be the slowest growth for China since 1990.
The president also hinted that the Chinese Communist Party government must come up with "countermeasures" to combat potential negative impacts on the economy.
Potential Negative Impacts On Alibaba, Yahoo!
Economic change could be worrisome for Chinese e-commerce giant Alibaba Group Holding Ltd. which earlier this month filed for an initial public offering.
According to the filing, Alibaba stated that its business "benefits from the rising spending power of Chinese consumers." If slowing growth is the "new normal," this could be a recipe for sluggish performance for shares of Alibaba when they are offered to the public later this year.
The toll has also been taken on China's own Shanghai Composite Index (SHCOMP), which has dropped 5 percent in 2014 over concerns about the slowing growth forecasts.
Yahoo! (NASDAQ:YHOO), which holds roughly at 22% stake in Alibaba, and which is certainly counting on the influx of at least $12 billion in the foreseeable future from selling part of this, might also feel their anticipated cash flow slowing, due to the described macro trends.
Concerns About Alibaba's Mobile World
Additional concerns surrounding Alibaba's growth are tied to the company's still figuring out how to boost mobile sales volumes and tailoring its user experience. The Financial Times suggested a similarity to Facebook's IPO in this regard. Investors should recall the wild hype surrounding Facebook's offering-along with its disappointing early results.
A second related concern cited by analysts is whether Alibaba, valued at a minimum of $150 billion, has the flexibility to deal with a fast-moving mobile marketplace-particularly against main Chinese competitors Baidu.com, JD.com, and Tencent Holdings Ltd.
Slow Is Still Fast
Xi still considers China's economy to be strong and in a "significant period of strategic opportunity."
Even at a "slower" pace of 7.5 percent growth in gross domestic product, China's expansion would still be over 4 percent faster than forecasts for the United States in 2014. China's gross domestic product increased 7.4 percent in the first quarter of 2014 compared to the same time period in 2013, and is predicted to expand 7.3 percent in 2014.
Outlook for Potential Alibaba and Current Yahoo! Investors
We are optimistic, that despite a revised outlook on China's growth, Chinese consumer spending will continue to be strong and that Alibaba will soon work out how to better monetize its mobile platform and ease access for users.
Even in the event of a slightly lowered outlook for the Chinese economy, Alibaba is highly likely to deliver strong results post-IPO, and in turn reward Yahoo! will the cash needed to navigate and acquire its way through the fast-moving mobile marketplace.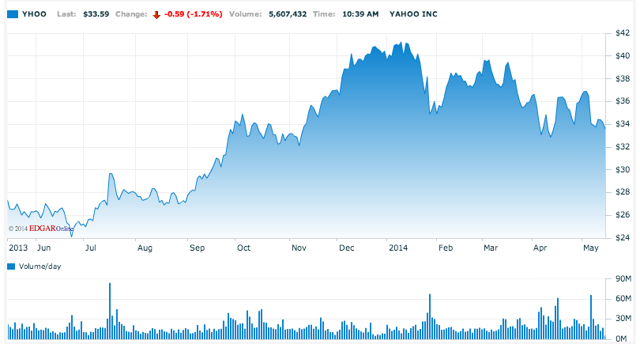 (Nasdaq.com)
Current or potential Investors in either/both Alibaba and Yahoo should continue to stay positive.
We invite readers wishing to continue to learn about Alibaba and Yahoo! to click the +Follow button above the title of this article.
Disclosure: I am long YHOO. I wrote this article myself, and it expresses my own opinions. I am not receiving compensation for it (other than from Seeking Alpha). I have no business relationship with any company whose stock is mentioned in this article.