Yeah, I know I'm about to sound pretty controversial right now, but I think Intel (NASDAQ:INTC) and Nvidia (NASDAQ:NVDA) need to partner in order to have any reasonable chance at winning in the mobile SOC space.
Qualcomm dominates 2014
At the present moment Qualcomm (NASDAQ:QCOM) has far superior graphics capabilities, and it's extremely unlikely that Intel will be able to catch up to Qualcomm over the short term.
To beat Qualcomm, Nvidia and Intel need to work together in order to design a chip that can offer unrivaled graphics and processing on a integrated circuit. Being good at one aspect of silicon, but not being good at others, is what's preventing Intel from becoming a serious competitor in both the tablet and mobile space.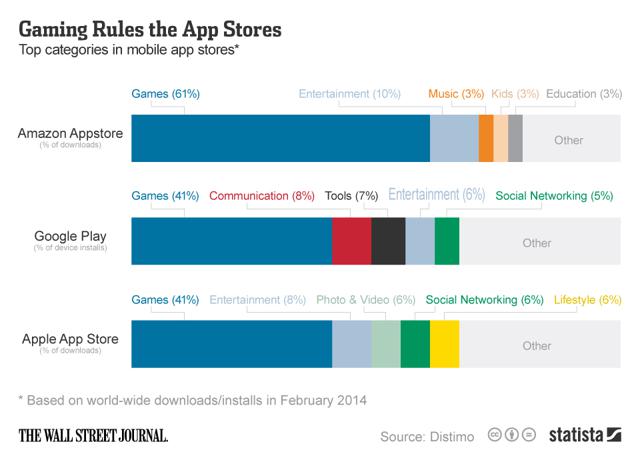 Source: Statista
At the present moment, the most purchased application across all major application stores are games. However, to run games requires sufficient graphical capabilities. Furthermore, 4k technologies will drive the demand for higher-end graphics solutions.
Major mobile OEMs like Samsung (OTC:SSNLF), Nokia (NYSE:NOK), HTC and Sony (NYSE:SNE) haven't transitioned over to Intel because Intel SoCs lack the graphical muscle needed to run bleeding edge applications. Furthermore, Intel's modem technology is still somewhat inferior to Qualcomm's, as Qualcomm's latest generation of Gobi modems have many additional features that Intel simply doesn't have.
Intel has 8% market share, Qualcomm has 64% market share and MediaTek has 12% market share, according to Phone Arena. Clearly Intel needs to generate more design wins.
Fact is Intel doesn't do graphics well, and Nvidia doesn't design the most compelling processors. Just like Intel, Nvidia excels in certain areas of mobile SoC development, but is subpar in others.
Even if Nvidia is able to create compelling mobile graphics solutions (Tegra K1), the company hasn't been able to address modem and CPU design.
Meanwhile, the next generation Snapdragon 810 will continue Qualcomm's dominance in mobile. Qualcomm's graphics are also getting a boost, but it is also bottle-necked by manufacturing tech. This is due to Taiwan Semiconductor's (NYSE:TSM) somewhat slow transition to 16 nm tech. The Snapdragon 810 is slated to be released sometime in the second half of 2014 or early 2015.
Nvidia may have superior graphics
Qualcomm's Adreno 430 is Nvidia's most direct competitor. However, I feel confident that NVIDIA has developed a superior graphics solution, based on AnandTech's opinion on the topic of the Kepler GK 110 GPU:
With Tegra K1, Nvidia offers a substantial feature and performance advantage thanks to its mobile Kepler GPU. I still don't anticipate broad adoption in the phone space. If Nvidia sees even some traction among Android tablets that's enough to get to the next phase, which is trying to get some previous generation console titles ported over to the platform.
Tegra K1 sounds fascinating. However, Nvidia still has a lackluster CPU/modem, and it's heavily dependent on a foundry partner that may not transition to 16 nm technology soon enough.
Final thoughts
If Intel and Nvidia partner, they could pair Kepler with Intel's 14nm Broadwell CPU. This will result in leadership in both graphics and processing. However the two companies would have to share profits for winning designs together. On the bright side, the volume will ramp significantly higher, which will allow the two companies to break even that much sooner.
Therefore a partnership between Intel and Nvidia will save shareholders from wondering whether or not the two companies have a viable mobile strategy. It would also make the mobile ecosystem look similar to the current PC ecosystem.
If the two companies decide not to partner, Nvidia will continue to be non-existent, and Intel will need a couple more years before graphics are competitive with Qualcomm's latest designs.
Disclosure: I have no positions in any stocks mentioned, and no plans to initiate any positions within the next 72 hours. I wrote this article myself, and it expresses my own opinions. I am not receiving compensation for it (other than from Seeking Alpha). I have no business relationship with any company whose stock is mentioned in this article.