There was volatile action in the IPO market this past week as certain stocks bucked the trend and posted strong gains, while others fell with the broader market. Today we'll take a look at last week's action and look forward to companies scheduled to go public this week - including two companies that postponed their offerings and are finally set to launch.
Here's a chart showing the winners from last week. The return in blue represents the companies' returns through last Monday, August 16. The return in red shows the companies' returns through Monday, August 23. Note that I am using each company's first traded price as the starting price, not the IPO offer price. I do this because this represents a more realistic price that an average investor could have purchased shares at. The IPO offer price is typically only available to select clients and institutional investors.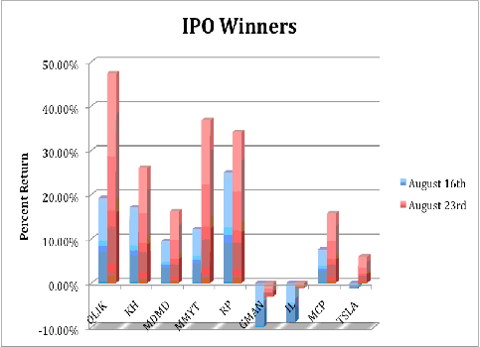 QLIK Technologies (Nasdaq: QLIK) was the biggest winner last week, as the company saw its share price surge from $14.30 last Monday to $17.69 as of Monday's close. The stock jumped over 28 percent.
Other winners included four companies that went public in the beginning of August. This group seems to be sticking together and performing well, as each of their stocks moved higher over the last week.
China Kanghui Holdings (NYSE: KH) jumped 9 percent and its total gain increased from 17 percent to 26 percent. RealPage Inc. (Nasdaq: RP) increased by 9 percent, and MediaMind Technologies Inc. (Nasdaq: MDMD), moved higher by 6.8 percent over the course of the week.
But the big winner of the 'fab four' was MakeMyTrip Limited (Nasdaq: MMYT) - the stock jumped 24.7 percent last week. The company has now returned 36.8 percent since its first day of trading. Recall that these returns are calculated using the opening price on its first day of trading and Monday's closing price.
Gordmans Stores Inc. (Nasdaq: GMAN) and IntraLinks Holdings Inc. (NYSE: IL) both had a solid week and recovered some of their previous losses since going public. IntraLinks gained over 7 percent, reducing its total loss to only 1.1 percent. At the same time, Gordmans Stores gained 6.8 percent so it's down just 3.1 percent as of Monday's close.
Tesla Motors Inc. (Nasdaq: TSLA) and Molycorp Inc. (NYSE: MCP) also moved higher, increasing total returns by 7 and 8 percent, respectively.
But all is not rosy in the IPO world - we had some real losers last week as well (at least in terms of stock price returns). Some fell more than the S&P 500's 1.1 percent drop. The chart below shows the 4 companies that struggled.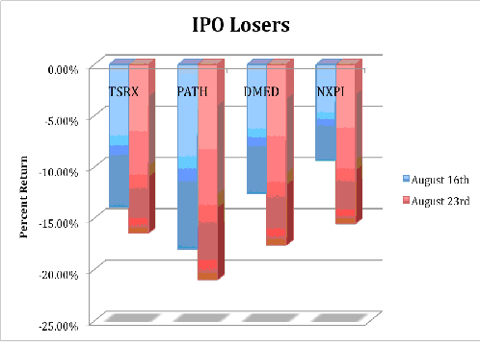 NXP Semiconductors NV (Nasdaq: NXPI) was the biggest loser, as its return decreased from -9.4 percent to -15.5 percent. D. Medical Industries Ltd (Nasdaq: DMED) dropped around 5 percent.
The damage was not that severe for Trius Therapeutics Inc. (Nasdaq: TSRX) and NuPathe Inc. (Nasdaq: PATH) which fell modestly, around 3 percent.
There are three companies scheduled to go public this week, including two we've looked at in previous articles. Both of these postponed their IPOs and are now ready to launch this week.
These two companies are Legacy Healthcare Properties Trust (NYSE:LRP) and SurgiVision (SRGV).
Legacy Healthcare is a real estate investment trust that will own six senior housing facilities. Last week the company planned to raise $175 million by offering 8.75 million shares at $20 per share. One of the underwriters blamed a "difficult market" for the delay. The pricing of the IPO is now on a "day-to-day" basis so be sure to stay on your toes if you want to get in on this one.
SurgiVision, a developer of medical equipment and software, originally filed to offer 2.5 million shares at a price range of $13 to $15 a share in July. It then lowered its price range to $9 to $11 a share, and later postponed the deal. The company filed again in August and expects to raise $18 million by offering 3.7 million shares at $5 a share.
Whitestone REIT is the third company expected to launch this week and plans to list on the NYSE under ticker symbol WSR. The company owns 36 commercial properties, primarily in Houston, and plans to raise $50 million in the offering by selling 3.3 million shares between $14 and $16 a share. Last year the company had $32 million in sales.