When will the next recession hit? I am not a macro economist, but I do know a couple of things about timing the market and predicting the economy:
There will be another recession.
It has been five years since the last recession.
I don't know when it will come or how bad it will be when it does arrive, but rest assured that it is on its way. There are plenty of other articles that go into detail about when to expect it, so I am not going into that here. This article is for those of you who are looking for stocks that should hold up well in the next recession.
First, I will compare the stocks that are currently in the Dow and see how they performed during the last recession. For the dates of the "Great Recession" I am using December 3, 2007 through May 29, 2009 (closing prices on those days).
Second, I will discuss those that performed the best. By examining metrics from both before the recession and now, I hope to make predictions about how the stocks might fare in the future recession.
I am only looking at the Dow components because they are meant to be stalwarts of American business. While they are not "sexy" companies, they are ones that, generally speaking, investors expect to perform reasonably well for the long haul through all kinds of economic conditions.
Note: Visa (NYSE:V) is not on the list because its IPO was on March 18, 2008.
Note: The "return" percentage is the total return including dividends.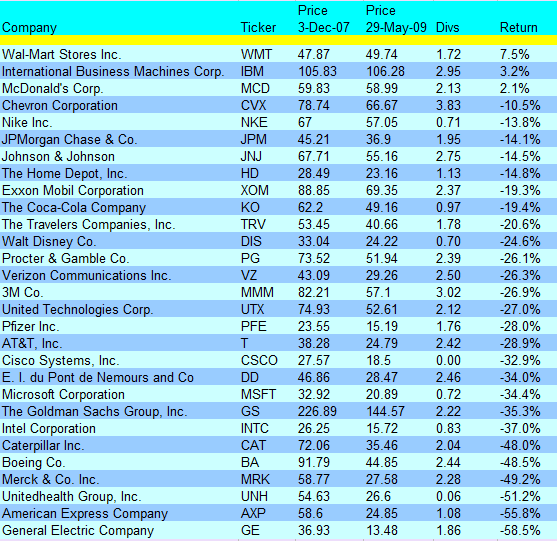 Wal-Mart (WMT)
It is not much of a surprise to see WMT top the list of current Dow stocks when looking at performance during difficult economic times. People still needed to buy certain things and they tended to shop in the places that are inexpensive.
How will WMT fare in the next recession?
First a look at the EPS: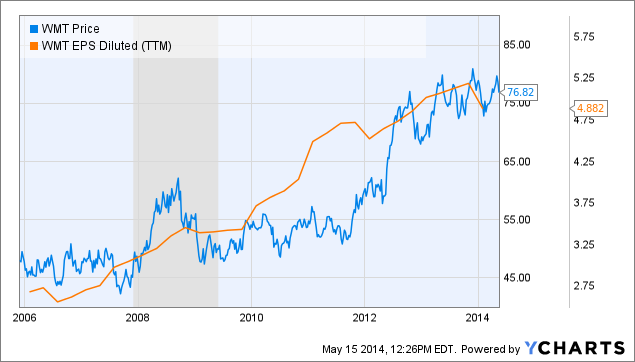 (The Great Recession time period is shaded.)
WMT has had very steady EPS growth in both good and bad economic times. There was a bit of flatness in 2009, but WMT regained EPS very quickly.
Yahoo Finance shows that the past five year EPS growth was 9.54%. Going forward, analysts expect growth of 8.13% for the next five years. So we see that expectations for the company are very close to its past growth.
Forward P/E: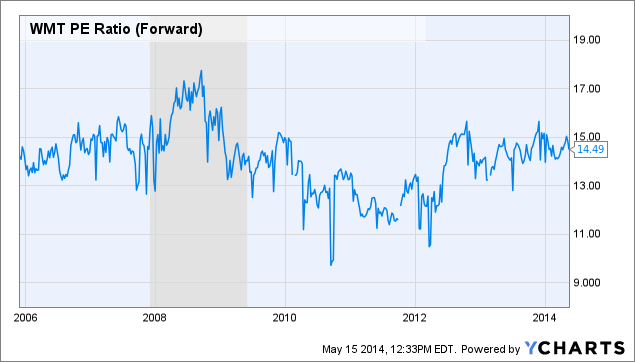 WMT PE Ratio (Forward) data by YCharts
The forward P/E for WMT is almost exactly where it was before the last recession. Since its earnings growth is about the same now as before, it makes sense that the forward P/E would be about the same.
And finally, dividends: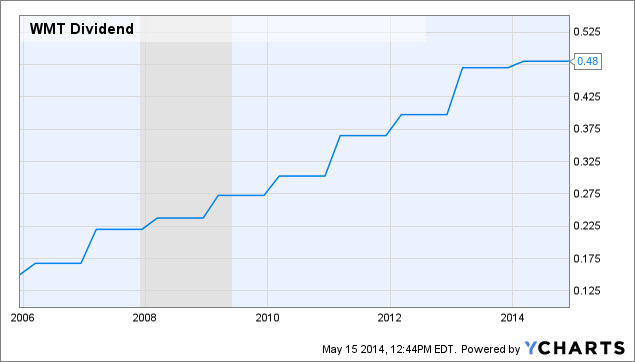 WMT Dividend data by YCharts
WMT raised dividends twice during the recession, and they were strong raises of 8.2% and 14.7%. Going forward, dividend growth and safety can certainly be expected. However, the 2014 increase was rather paltry, and the stock currently yields 2.4%.
WMT looks extremely well positioned to once again be one of the top recession performers. In fact, I am going to call it "recession proof" despite a personal desire to only use the word "resistant" throughout this article.
International Business Machines (IBM)
IBM earned a second place among the 29 stocks analyzed. Despite existing in a industry noted for rapid change, IBM has a "sticky" business model, and that helped it greatly throughout the last recession.
The EPS: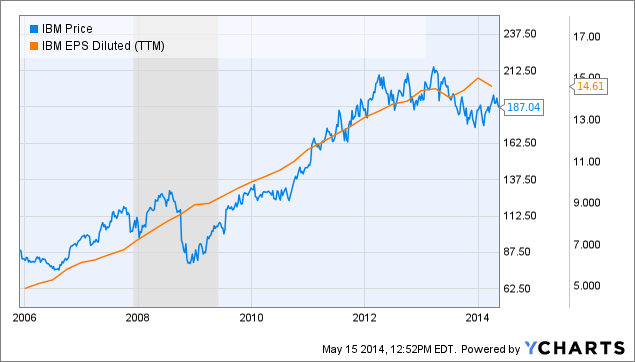 EPS for the company powered right through the recession with nary a blip. In addition, the past five year EPS growth was 13.54%. However, going forward, analysts expect growth of 8.68% for the next five years. With annual revenues at nearly $100 billion and the company facing difficult times with its product mix, a slowdown in EPS growth is highly likely for IBM.
Forward P/E: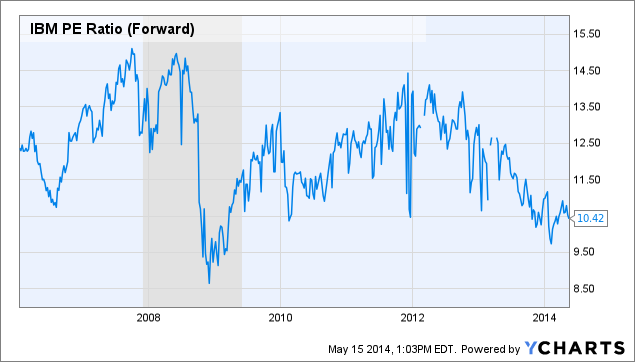 IBM PE Ratio (Forward) data by YCharts
The forward P/E graph for IBM is very interesting. It was actually at its highest just before and during the Great Recession. It came close again to its peak forward P/E at the end of the stock's nice run-up in 2011. However, in the last 2.5 years since then, it has been a foregone conclusion that IBM is highly unlikely to return to the strong EPS growth it once enjoyed. The P/E is down and investors should not count on much P/E inflation in the future.
And finally, dividends: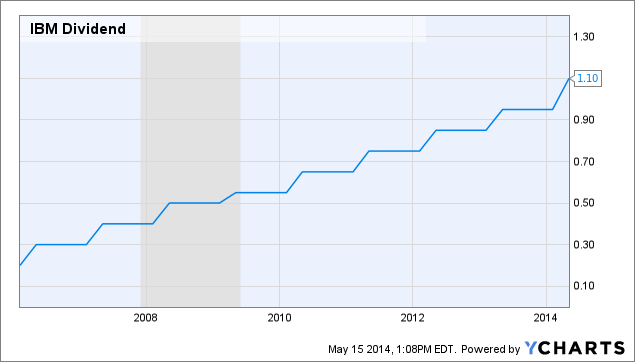 IBM Dividend data by YCharts
IBM raised dividends twice during the recession, and they were very strong raises at 25% and 10%. Going forward, dividend growth and safety can be expected. The stock currently yields 2.3%.
IBM is a very different company now than it was 6 and a half years ago. On the plus side, the stock is pretty cheap at a forward P/E of 10.4x and it is a solid dividend payer. Those two facets usually bode well for stocks during recessions.
McDonald's (MCD)
MCD earned third place among Dow performers and rounds out the only three companies to show a positive return during the Great Recession period.
Like Wal-Mart, McDonald's is considered recession-resistant due largely to its low prices. Although people want to save money during hard times, they still want to go out somewhere once in a while, and MCD can often fit the bill (pun intended).
The EPS: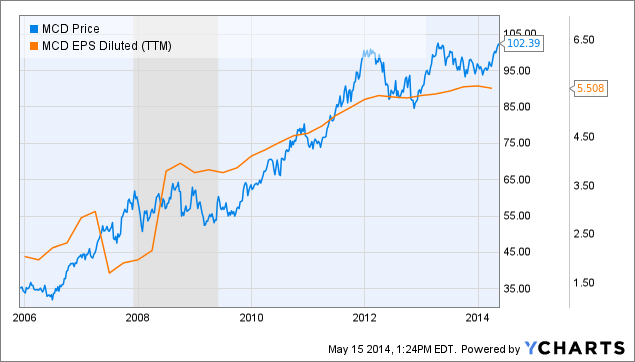 MCD showed some flat EPS in late 2008 and into 2009, then regained some nice growth through 2012. However, since then, EPS growth has been less than stellar.
The past five year EPS growth was 7.81%. Analysts expect growth of 7.15% for the next five years.
It is worth looking back farther for MCD and noting that the past 10 years' EPS growth was 15.6% per year. The EPS growth for MCD changed considerably right in the middle of the last recession. While I don't think the timing had much -- if anything -- to do with the economic slowdown (I think competition and changes in eating habits were the main drivers), the change in EPS growth is important.
Forward P/E: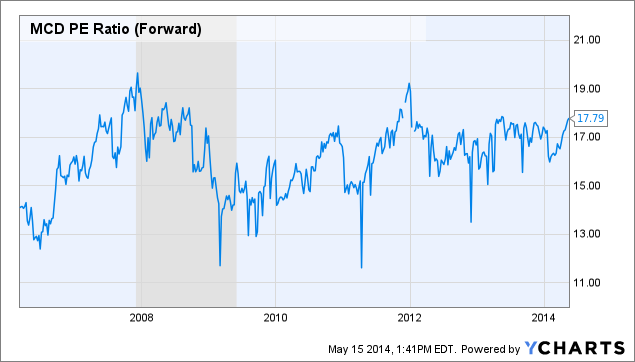 MCD PE Ratio (Forward) data by YCharts
The forward P/E for MCD in the last several years is very close to the range it was it before the recession. This is a bit of an issue for me. I don't like to see the forward P/E at 17.8x when the EPS is expected to grow a bit over 7%. In 2007, with the forward P/E at (and above) today's level, the EPS was expected to grow faster and so the higher valuation was justified.
And finally, dividends: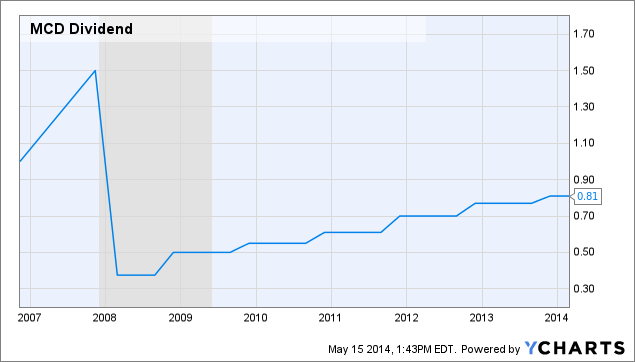 MCD Dividend data by YCharts
Sometimes a picture says 1000 words, and sometimes it can be very misleading. Before the February 28, 2008 payout, MCD paid dividends on an annual basis. So that $1.50 payment in 2007 equates to a $0.375 quarterly payment. MCD raised its dividend once in the middle of the recession by a whopping 33.3%. Before that raise, the dividend had stayed steady for 7 quarters. That partly explains the large increase. The dividend currently yields 3.1% and appears very safe.
MCD's stock is priced a little high and the earnings growth has slowed. On the plus side, MCD has the brand recognition and emerging market opportunities to keep the ship going for a long time.
Conclusion
Out of the current Dow companies, the three best performers during the Great Recession were WMT, IBM, and MCD. I believe all three are well positioned to outperform in the next recession as well.
WMT, in particular, is a no-brainer. By the metrics I looked at above, the company is a mirror image of itself 7 years ago. If the next recession started tomorrow, I can't imagine it not being one of the best stocks to have once again.
IBM is an interesting situation. Despite many wanting to write off the company as being a "dinosaur," it has shown time and time again that it can continue to grow -- albeit at a slower pace than it once did. With a forward P/E of only 10.4x, the slower growth is priced into the stock. As it did in the last recession, it should outperform in the next one.
I love the recession resistance of MCD's business. However, the stock is priced a bit high these days. I think prospects for the company are very good going far out into the future. So even though the next five years' growth might look low, consider that it could grow at that rate for decades. Not many companies can say that. I do think that MCD will once again outperform during the next recession, but I think it might be prudent to watch for a dip in the stock before starting a position.
This analysis was not meant to be the complete picture of all 30 Dow stocks. I'm not postulating that these are the best of the Dow to hold during a recession. I'm merely showing that they were the best in the last one for good reasons, and they are likely to do well in the next one.
Certainly there are other stocks in the Dow (and of course, outside of it) that are worth a long look as well. Johnson & Johnson (NYSE:JNJ), for example, was 7th out of 30 during the last recession, and drug companies often outperform during economic slowdowns.
Disclosure: I am long IBM. I wrote this article myself, and it expresses my own opinions. I am not receiving compensation for it (other than from Seeking Alpha). I have no business relationship with any company whose stock is mentioned in this article.