Doom and gloom pervades in world equity markets. But there is more than just hope, there are a number of bullish economic stats coming out of markets in different regions, well all except Japan that is, but that is a story for another day.
Contrary to popular belief it appears that "austerity" measures have not held back economic growth/expansion in Europe and in particular Germany. Yesterday we had Eurozone New Orders coming in ahead of expectations. The chart below doesn't seem to support the "double-dip" or "deflation" schools of thought, well not in Europe at least.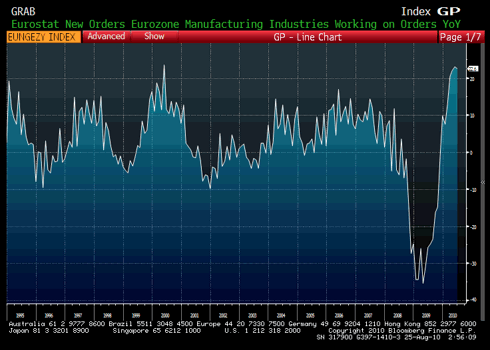 Today German Business Confidence came in ahead of expectations and as with the chart above it does not show any sign of a "slow-down".
click to enlarge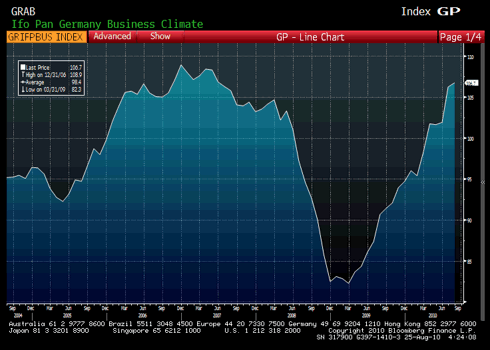 Click to enlarge
Granted, Europe is not the US and neither is Germany, but we should not forget that Germany is one of the industrial powerhouses of the world economy and one of the biggest exporters. Perhaps the US economy is not in such a bad shape after all...if it was sinking into a recession again (call it what you will) then it stands to reason that this "sinking-feeling" should also be showing up in Germany, and the greater Eurozone. There is enough evidence to suggest that this is not the case.
Disclosure: Long FEU