Small stocks have gotten a lot of attention recently. The dive of the Russell 2000 into correction territory (-10%) has raised the question of whether this is a bad omen for other big stock indices?
The first chart below compares the absolute 6-month returns of both the S&P 500 and the Russell 2000 since 1980. It shows that in many instances, small stocks suffered negative returns without impacting the returns of big stocks. 1987 and 1993 are good examples. The 1999 experience gives credence to the possibility that small stocks have behaved poorly recently because technology is suffering. A disconnect was also noticeable in early 2013.
The conclusion is straightforward: big stocks need more than a fall in small stock returns to post negative returns.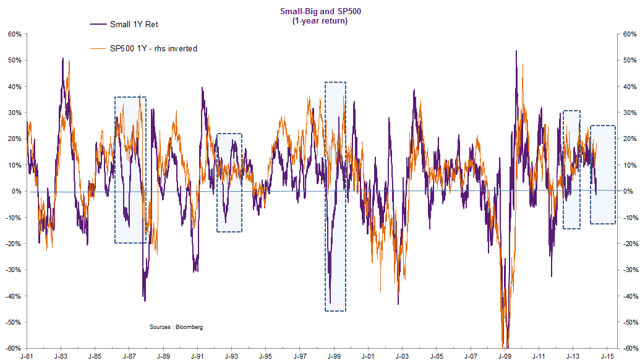 If absolute returns do not provide an answer, maybe the relative performance of small versus big stocks is a good leading indicator of the forthcoming return on big stocks. Things are much more complicated here. We can distinguish three historical phases:
i. In the 1980s, an underperformance of small vs. big would clearly be a leading indicator of forthcoming negative return for the S&P 500. But it would come with an opportunity cost. In 1985 and 1989, it took several quarters of small vs. big underperformance for the S&P 500 to post negative returns.
ii. In the 1990s, every underperformance of small stocks would be a false alarm!
iii. The signal sent by small stocks in 2007 could have been valuable for many long only investors. But what should we think of the signal in 2005?
iv. Over the recent past, the small vs. big relative return has been either a coincident (hence, useless) or false indicator.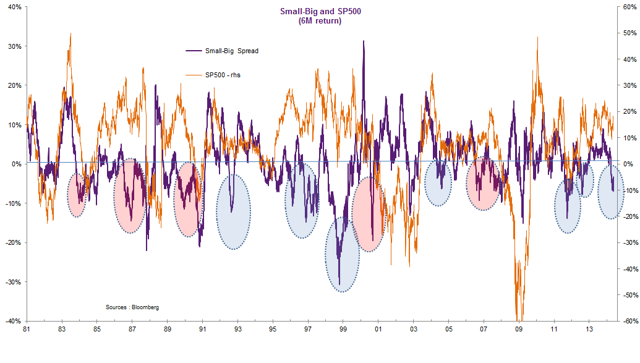 Bottom line: This leaves me quite skeptical about the ability of small caps to deliver a genuine and, above all, reliable message. This is even more important, since a simple model of the relative 6-month performance of small to big stocks suggests that the recent undershooting is far below the low end of fair value bracket. I would expect a rebound in small stocks soon.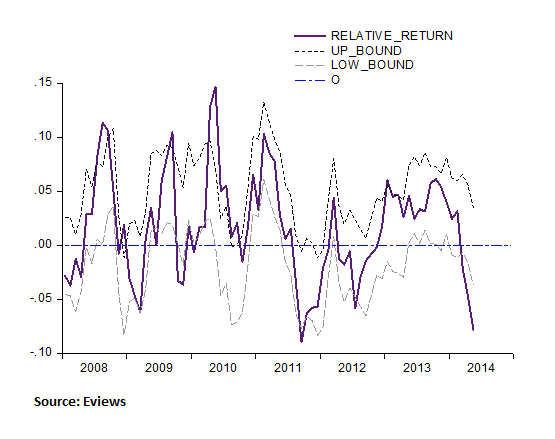 Disclosure: I have no positions in any stocks mentioned, and no plans to initiate any positions within the next 72 hours. I wrote this article myself, and it expresses my own opinions. I am not receiving compensation for it (other than from Seeking Alpha). I have no business relationship with any company whose stock is mentioned in this article.