The share price of Transocean (NYSE:RIG) has dropped by 24% over the past 12 months, compared to a 13% gain for the S&P 500 Index. The company's board recently recommended a proposal to increase annual dividend by 34% to $3.00 per share. The proposal will be subject to shareholder approval in the annual shareholder meeting which takes place on May 16, 2014. If the plan is approved, dividend yield will rise to 7.2% given the current share price at $41.75. In my view, income investors should stay on the sidelines, as the sustainability of RIG's dividend prospects is questionable given the current developments.
RIG just reported better-than-expected Q1 2014 results, primarily driven by lower costs as a result of effective cost-control measures. In light of the positive performance, management has taken down their 2014 cost guidance by approximately $100M. However, the company still expects the harsh industry environment and pricing pressure to persist. On the operation front, management also announced a plan to create a separate entity - Caledonia, that will operate 8 of the company's drilling rigs in an effort to divest non-core assets and improve the quality of the existing fleet. The entity is expected to be created in the second half of 2014.
Based on $3.00 annualized dividend per share (assuming the proposal is approved) and a 12.5% cost of equity (calculated by using CAPM model, based on 3% risk-free rate, 6% equity risk premium, and RIG's 5-year beta of 1.6), the Gordon growth dividend model suggests that the current share price of $41.75 implies a ~5% perpetual dividend growth rate (see chart below).

Taking into perspective the recent developments and the dividend growth assumptions embedded in the share price, I have performed an illustrative cash flow analysis to gauge RIG's capacity to sustain the dividend commitment (see chart below).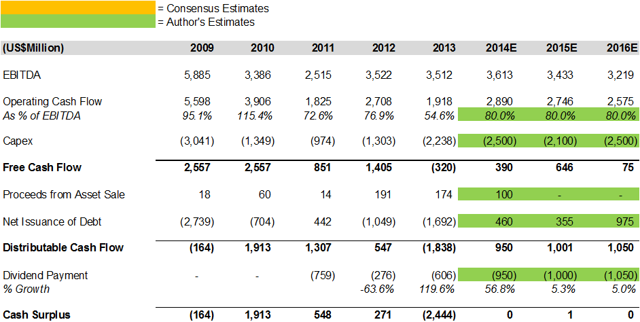 My analysis started with consensus EBITDA estimates which predict the metric to decline from $3.6B in 2014 to $3.2B in 2016. It is noted that RIG's EBITDA to operating cash flow conversion rate has deteriorated since 2009/2010 to 54.6% in 2013. Given the current industry downturn and rate pressure, I would not expect a significant improvement for this conversion rate in the near term. However, to test RIG's cash flow capacity in a more favorable scenario, I assumed a flat 80% EBITDA to operating cash flow conversion rate throughout the forecast period, which is almost in line with the metric's average in the past 5 years. For capex, I used consensus estimates which project $2.5B spending in 2014 and 2016 and a lower level at $2.1B in 2015. Based on these assumptions, free cash flow was projected to just break even by 2016. By incorporating the proposed annual dividend of $3.00 per share, I estimated the annual dividend payment to be $950M for 2014 and assumed it to grow by 5% per annum through 2016 (which is consistent with the dividend growth rate implied by the current share price). Based on this model, to meet a cumulative dividend commitment of approximately $3B in between 2014 and 2016, RIG would need about $1.9B to close the funding gap, as the company can only generate $1.1B free cash flows in this period. The source of funds can be RIG's current cash pile, sale of non-core assets, or additional debt borrowing. Given that RIG has about $2.0B cash and its leverage level is in line with industry average, the $1.9B funding need in 3 years seems not a mission-impossible. However, it should be noted that these projections are based on a fairly high EBITDA to operating cash flow conversion rate, and if the industry downturn is longer than expected, the worsened cash flow prospects will likely increase balance sheet risk (through debt borrowing) and put a dent to dividend growth.
As such, given the significant uncertainty in RIG's cash flow and dividend prospects, income investors are not recommended to pursue the potentially higher dividend yield.
All charts are created by the author, and data used in the article and the charts is sourced from S&P Capital IQ, unless otherwise specified.
Disclosure: I have no positions in any stocks mentioned, and no plans to initiate any positions within the next 72 hours. I wrote this article myself, and it expresses my own opinions. I am not receiving compensation for it (other than from Seeking Alpha). I have no business relationship with any company whose stock is mentioned in this article.