My two $15 price target articles for Advanced Micro Devices (NYSE:AMD) for 2016 received a lot of positive endorsements. I thank all the Seeking Alpha users who shared my optimistic forward valuation for AMD. I would also like to thank the editors who understood my hypothesis behind the $15 price target.
I would like to make a follow-up article on Justin Jaynes's very excellent write-up on the release of Mullins and Beema. Mr. Jaynes is the best technical contributor when it comes to AMD. Re-reading his article convinced me that Mullins is perfect for hardcore tablet gamers. Mr. Jaynes is not enthusiastic about Mullins's future in tablets this year.
Intel's contra revenue is just too sweet a bribe that OEM companies will again largely ignore Mullins. Nevertheless, Beema and Mullins are 2014's step towards AMD's new ambidextrous assault on mobile. The thesis of this article is to show that Mullins is ideal for tablet gamers. AMD SoCs for tablets will only become significant when K12 is released.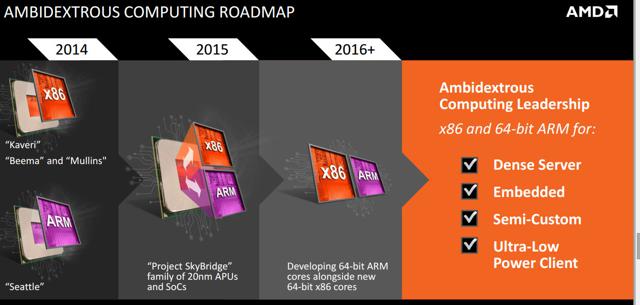 However, I believe that Rory Read needs only to persuade one or two big-name manufacturers to use Mullins on a $300 game-centric tablet to open up the tablet market for AMD SoCs. I know that AMD cannot afford to bribe OEM tablet producers like what Intel (NASDAQ:INTC) is doing now. However, Mr. Read can still try to persuade Sony (NYSE:SNE) to help AMD's tablet efforts.
Mullins Needs Sony's Support
AMD's custom SoC is instrumental in making the PlayStation 4 a blockbuster cash cow for Sony. A little propping up of Mullins by Sony is just fair. Sony might even improve its horrendous bottom line if it starts selling cheaper Mullins-powered hybrid Windows 8.1/Android OS 4.2 tablets or 2-in-1s.
Sony acknowledged that poor PSVita sales were due to smartphones and tablets. Consumers are now loath to spend on dedicated handheld mobile game consoles. Tablets and bigger-display smartphones (phablets) are good enough for most advanced 3D games. One design win for a Mullins tablet for Sony will do a lot in boosting AMD's non-PC efforts.
Mr. Rory Read can try explaining to Sony that a $199.99 Mullins-powered 5.5-inch or 7-inch tablet with Windows 8.1 and BlueStacks can be a great dual OS portable game console. This concept product helps attract both Windows-only gamers and casual Android gamers. The 2W TDP Mullins-powered Project Discovery reference tablet design can run most Windows 3D games.
Sony should also take note that AMD's Wireless Display technology is already built in to the Windows 8.1 OS. Mullins-powered tablet gamers can use their big-screen HDTVs. Wireless Display is an ideal solution for living room gaming with family members. Instead of a gaming laptop, customers can just buy a $199 Mullins tablet with AMD Wireless Display technology.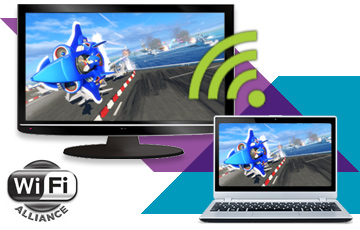 Source: AMD
Should Sony ignore the potential of Mullins and continue relying on PSVita for its mobile gaming efforts, Rory Read can just go to Nintendo (OTCPK:NTDOY). Amazon (NASDAQ:AMZN) is also a potential parent for Mullins-powered Windows/Android hybrid gaming tablets. The Amazon Fire TV box uses Qualcomm (NASDAQ:QCOM) Snapdragon SoC. It cannot play Windows games.
There are also many OEM companies that are not yet under Intel's contra revenue payroll. AMD can approach them to put Mullins on the tablet radar map. Read can also do a John Chen and make a deal with Terry Gou for Foxconn-made tablets with Mullins. Quanta (OTC:QUCPY) is also a good potential partner.
More People Are Using their iOS/Android Devices For Gaming
I'm very bullish on the future revenue stream from Mullins gaming tablets. AnandTech benchmarked the AMD Project Discovery tablet, which has an 11.6-inch display and is powered by the A10 Micro-6700T Mullins SoC.
CPU Performance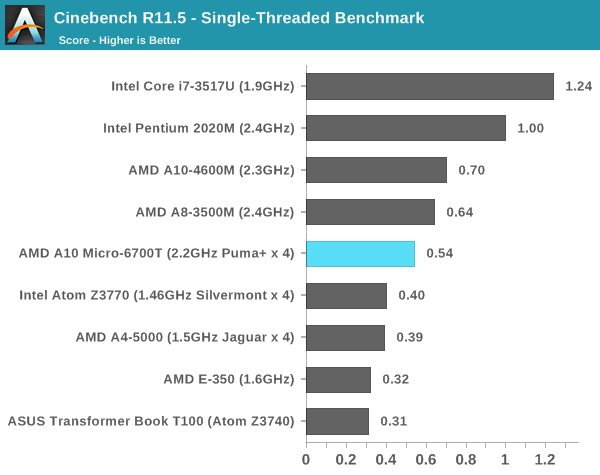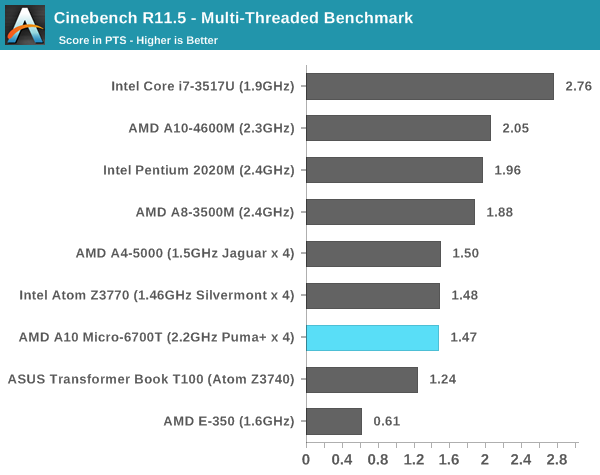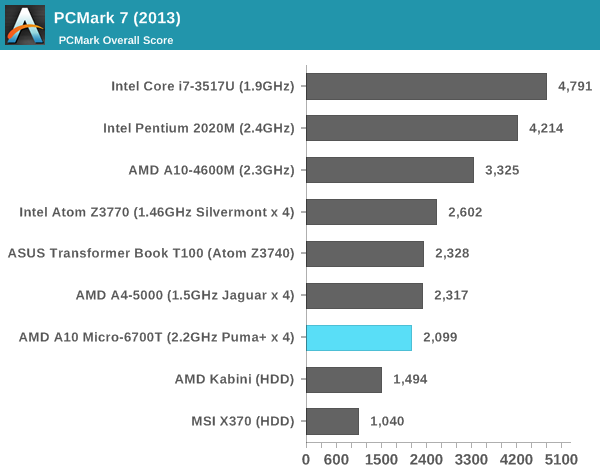 GPU Performance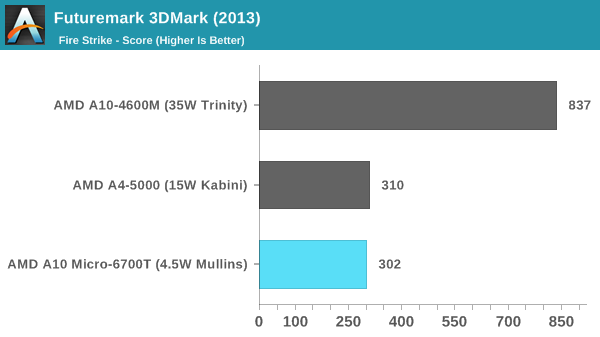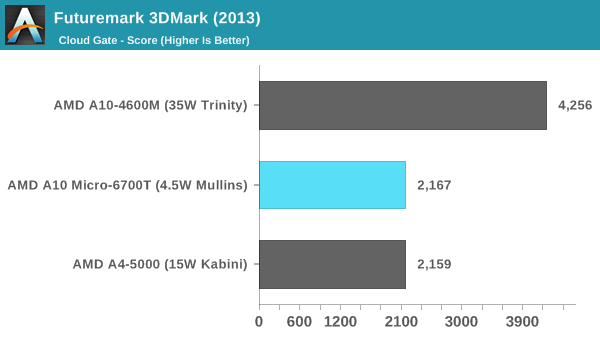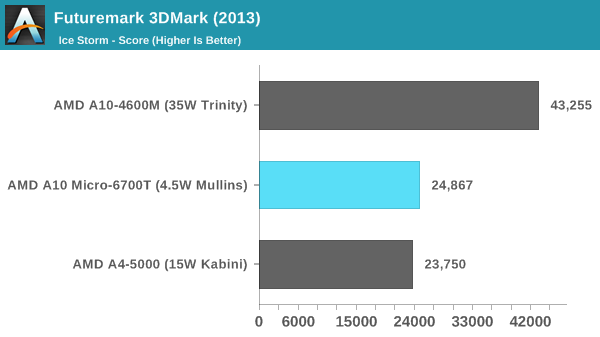 Mullins is AMD's best performer/power consumption APU product to date. It is ideal for fanless gaming tablets.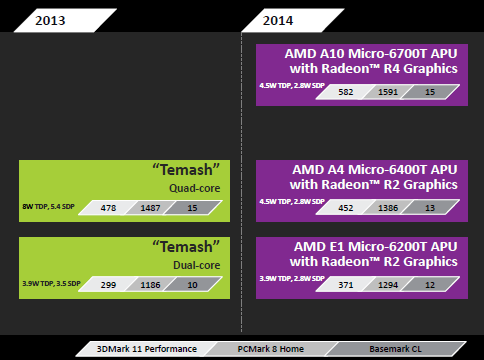 Source: Hardware Canucks
The very power-efficient and top gaming GCN-powered features of Mullins will help it ride the rising number of tablet gamers. Yes, more and more people are using their iOS/Android devices for gaming purposes.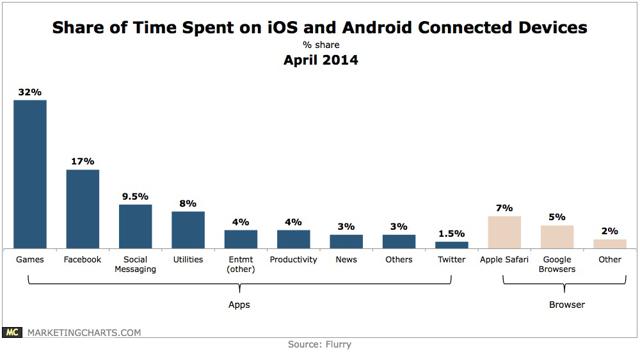 AMD's established brand of providing the best gaming experience should help Mullins receive industry support. Investors ought to really appreciate just how big the market is for tablet gaming. Once AMD's K12 ARM SoC arrives in 2016, AMD will also be able to offer game-centric smartphones.
Tablets are becoming more popular than notebooks and handheld gaming consoles. Gaming is 32% of tablet/smartphone activities.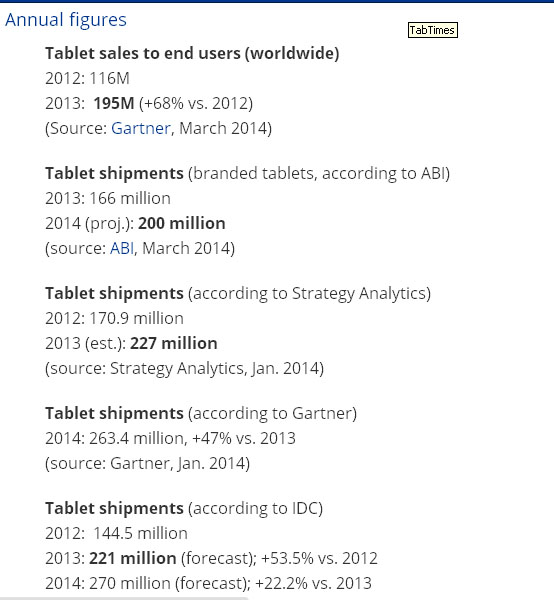 Source: TabTimes
Rory Read ought to really put Mullins inside tablets this year. The potential revenue stream is small but it is very important towards its mobile efforts. Waiting until next year or 2016 means Mullins is just a wasted effort. The said APU is ideal for fanless gaming tablets.
Conclusion
AMD's stock market performance will definitely receive a boost if Mullins gets a design win this year. This article also states that AMD should not spar with Intel on chasing the low-end tablet market. AMD is better off focusing on higher-margin products.
Rory Read has led AMD back to profitability. I expect him to deliver double digit EPS and sales growth for 2014, 2015, and 2016. AMD is a Buy right now. My bullish call for AMD is supported by 4 analysts at BarChart.com.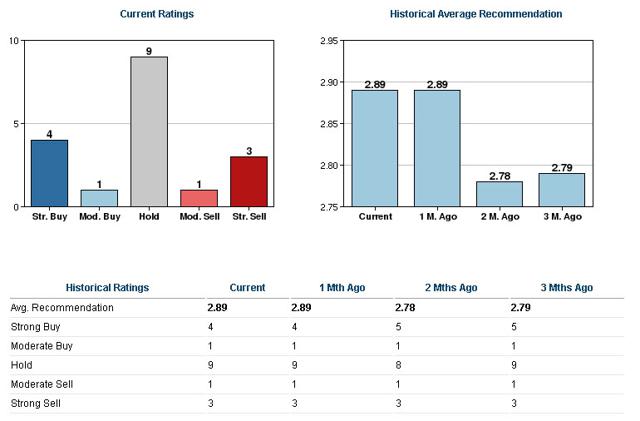 Five analysts at FT.com also gave AMD a Buy rating.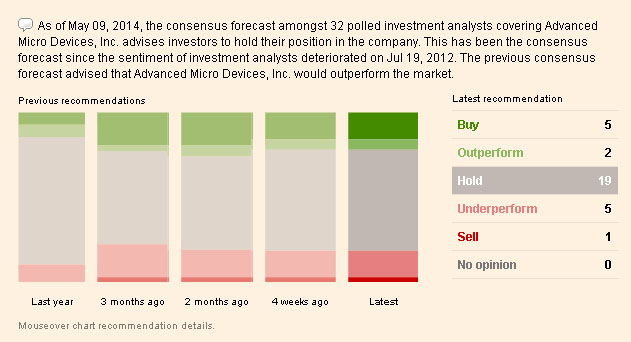 Going against the Hold consensus is risky but raising one's bet now may prove to be a long-term multi bagger win. AMD used to trade higher than $40 in 2006 when it had over 20% market share in desktop and server processors. The ambidextrous x86/ARM core strategy is like getting a pair of Queens in poker. A QQ may still beat Intel's current pair of Kings in x86 server/desktop markets.
The flop turn will be 2016, when AMD K12 arrives and ARM Opterons take foothold. Intel's expensive all-in and recalcitrant push for x86 on mobile might prove to be a bad beat two years from now.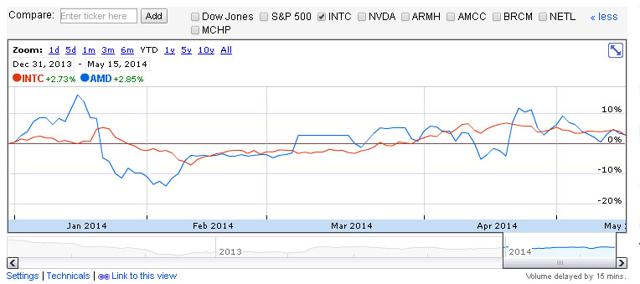 Source: Google Finance
Disclosure: I am long AMD, INTC. I wrote this article myself, and it expresses my own opinions. I am not receiving compensation for it (other than from Seeking Alpha). I have no business relationship with any company whose stock is mentioned in this article.