Apple's (NASDAQ:AAPL) gross margin peaked at over 47% in the first half of 2012. Later that year, the stock price peaked at around $700 before dropping to around $400 last year. The stock has since recovered to the $590s. The fears surrounding Apple's stock back in 2012 were about shrinking gross margin due to competitive pressure from Samsung (OTC:SSNLF) and others that would cause Apple's sales prices to drop, thus squeezing margins. Although the gross margin dropped to about 37% last year, it has recovered to about 39%.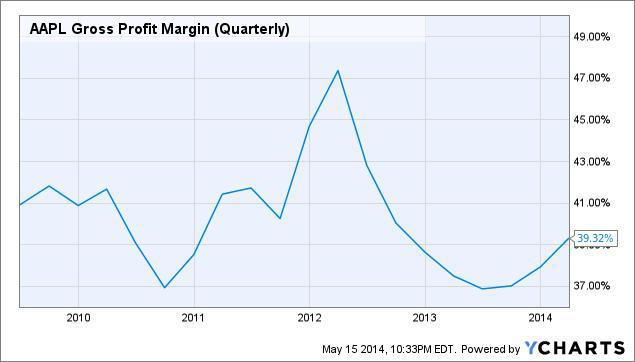 Source: YCharts
The gross margin is important for the stock since it has a significant impact on earnings, which influences the stock price. Earnings growth can be determined by adding the percentage change in revenue growth to the percentage change in gross margin. Looking at 2014, Apple is expected to grow revenue at about 6%. The gross margin is expected to rise by about 5% for expected earnings growth of approximately 11%. This is much less than the average earnings growth that the stock experienced for the past five years. However, it reflects the maturity of the business as Apple's newest and best-selling products have been on the market for a number of years. The stock doesn't have the same buzz that it had when those innovative products were still new in the marketplace.
The good news for Apple is that the gross margin has been increasing since about mid-2013, after bottoming at about 37%. The current gross margin is about 39.3%. These increases will contribute to earnings growth along with the company's revenue growth. Revenue growth has slowed down significantly since 2011. Apple experienced revenue growth of over 80% back in 2011 due to strong sales of iPhones and iPads. However, revenue growth has now dipped to under 10% in 2013 and 2014 as the products have matured in the market and faced more competition.
For 2015, Apple is expected to grow revenue at about 6% to approximately $193 billion. At the same time, the gross margin is expected to increase by about 2%. This should allow for earnings growth of about 8%. Apple is expected to grow earnings at 11% for 2014 and 8% for 2015. As the gross margin continues to increase along with respectable single-digit increases in revenue growth, Apple's stock is poised to continue higher.
Valuation and Catalysts
Apple's valuation and catalysts support further increases in the stock price. I don't expect Apple to become a high-flying momentum stock any time soon, but I think that the stock will make steady gains that are likely to beat the S&P 500's returns for the next two years. One reason for this is due to the stock's undervaluation as compared to the S&P 500. Apple is trading at only 12 times next year's expected EPS of $47.81. As a comparison, the S&P 500 is trading at about 16 times next year's earnings.
Apple's 5-year expected earnings growth of about 15%, is higher than its trailing and forward P/E ratios of 14 and 12 respectively. The stock is also trading with an EV/EBITDA of just 8.3. As a comparison, Google's (NASDAQ:GOOG) EV/EBITDA is over 16. I typically like to see EV/EBITDA below 10, so Apple is sitting in the sweet spot. This low valuation shows that the stock has room to run higher. I think that investors will be willing to give the stock a higher valuation based on the catalysts that I'll discuss.
One of the catalysts includes mass purchases of iPads from other companies. Various large companies use iPads to help increase the efficiency of their operations, thus reducing costs. Here are a few examples: FedEx (NYSE:FDX) uses thousands of iPads among its pilots and maintenance crews to save the company millions of dollars. Eli Lilly (NYSE:LLY) ordered 20,000 iPads as part of its laptop replacement program to increase employee productivity. The U.S. Department of Veterans Affairs purchased 11,000 iPads for providers to transform the way doctors and patients communicate. Data published by IDC, shows that the iPad has over 95% share of the U.S. education tablet market. The iPad Air and iPad Mini scored a 98% customer satisfaction rate in a February survey by ChangeWave. All of this shows that the iPad is a valuable tablet for helping businesses, teachers, and students. The product should continue to see significant sales as more companies, schools, and other entities see the iPad's value.
Although iPad sales were 13% lower for FQ2 2014, the sales were at the high end of the company's expectations. However, the decline was due to the company increasing its iPad channel inventory in FQ2 2013, and reducing it in FQ2 2014. The lower sales were also a result of having a large backlog of iPads at the end of FQ1 2013 that was shipped during FQ2 2013, as compared to a supply demand balance for the past two quarters. Looking forward, I think that future iPad sales will get a boost from large orders from businesses and other entities as they look to increase productivity and reduce costs with the device. Apple should benefit as tablet shipments are expected to exceed PC shipments by 2015, according to IDC.
Another upcoming catalyst is interest in the yet to be released iPhone 6. ChangeWave's research found that there is a high level of demand for this unannounced product - stronger interest now than in previous years for the iPhone 5 and 5s models. The speculation is that consumers expect the iPhone 6 to have a larger screen. ChangeWave's research also shows that 47% of planned smartphone buyers are most interested in purchasing a 5-inch screen or larger. If the iPhone 6 does have a larger screen, this is a great chance for Apple to take market share from Samsung, who is the current leader in large screen smartphones. Apple did reference ChangeWave's research in its last earning's report, so it is likely that the company is listening to what consumers are demanding in terms of a larger screen. The iPhone 6 has the potential to provide a nice boost to Apple's largest segment.
The iTunes segment, which includes the App store, is the less talked about part of Apple's business, but it is growing at a double-digit pace. This segment achieved sales of over $10 billion in 2013. This is like a biotech having 10 blockbuster drugs on the market in terms of total sales. However, this is just Apple's fourth highest revenue producing segment. The iTunes segment is likely to become the company's third highest revenue producing segment within the next year or two considering its high growth rate and the slowing growth rate of the Mac segment.
In addition to future sales from its products and software, Apple's large share buyback program is likely to catalyze the stock. The company increased the share repurchase plan from $60 billion to $90 billion. This should help boost EPS growth and increase the value of existing shares for shareholders, putting upward pressure on the stock.
The 7 for 1 stock split should have a positive psychological effect for retail investors. Investors may be more inclined to purchase Apple's stock when its price appears lower, allowing them to purchase more shares. The actual split won't change the valuation of the company, but investors may be willing to give the stock a higher valuation with everything working together: increasing sales, increasing gross margin, the dividend payment, and the stock buyback program.
Conclusion
Overall, Apple looks like a solid investment going forward. The stock is undervalued as compared to the S&P 500. The company rewards investors with a dividend of over 2% and with a large share repurchase program. The company's gross margin is on the rise again as sales of the high-margin iPhone have been strong with a 14% increase in sales for FQ2 2014. The iPhone 6 is creating a buzz even though its details have not been released. If the iPhone 6 does have a larger screen, Apple would likely take market share from Samsung and experience many upgrades from current customers using older iPhone models. This should have a significant impact on the company's revenue & gross margin, which would positively impact earnings. Taking all of this into consideration, I think that Apple's stock will outperform the S&P 500 for at least the next year or two.
Disclosure: I am long AAPL. I wrote this article myself, and it expresses my own opinions. I am not receiving compensation for it (other than from Seeking Alpha). I have no business relationship with any company whose stock is mentioned in this article.
Editor's Note: This article discusses one or more securities that do not trade on a major U.S. exchange. Please be aware of the risks associated with these stocks.