The economy remains the key issue. Dining rates dropped over the past two years, and consumers plan to dine out even less in the coming days, based on the latest report from Alix Partners. Still, fast food demand is rising among the youth population, as a result of rising urbanization and a change in lifestyle trends.
According to MarketLine, fast food restaurants are growing faster than other restaurant models because of relative cost advantages and an increasing youth population. Consequently, fast food restaurants are expected to grow at a CAGR of 4% in 2014. The growth rate of non-fast food restaurants is coming down. From 2006 to 2010, non-fast food restaurants annual growth rate was at 3.7%, but it is expected to decrease to 3% by the end of 2015. For this article, I picked McDonald's Corp. (NYSE:MCD), a fast food restaurant chain, to see where it stands when compared to YUM! Brands (NYSE:YUM), another group of fast food restaurants. The goal is to gauge which company offers better returns.
Where Does McDonald's Stand?
McDonald's has been facing challenges in generating top- and bottom-line growth over the past few years. In the first quarter, the company reported earnings that resulted in a 1% top-line decline and a 4% bottom-line decline. McDonald's management has been taking measures to cope with flat-to-declining informal eating-out markets. The company has developed a strategy based on five key aspects: People, Products, Place, Price and Promotion. McDonald's plan calls for it to optimize its menu, modernize and upgrade nearly all aspects of its restaurants from design to service, and broaden its accessibility. The company is looking to expand its presence with the opening of new restaurants in both emerging and established markets. To support its menu and growth initiatives, the company is aggressively focusing on its marketing campaigns. McDonald's is seeking to create a greater emotional relationship between customers and its core products through its marketing campaigns.
McDonald's will concentrate on big markets like the U.S., Japan, Germany and Australia which have seen a decline in its comparable sales. The company has reshuffled its marketing strategy for the U.S. to more openly align its marketing efforts with targeted customer segments. In other key markets, it is making moves to strengthen the customer experience by providing better service execution and operations, maximizing its opportunities to grow its breakfast, and balancing focus between its core and new products while supporting them with effective marketing. Except for Germany, McDonald's sales are high in Europe. The Asian region is also growing, and China is among the biggest markets offering the most significant growth.
Where Does YUM! Brands Stand?
YUM! Brands business strategy is focused on two key areas: its Chinese Division and its International divisions. YUM has changed its international and U.S. division into three global brand divisions; Pizza Hut, KFC and Taco Bell. However, its strategy still focuses mainly on China, India and emerging markets and secondly on its other international markets including the U.S. Nearly 50% of its revenue and operating profit comes from China. Thus, YUM! wants to build a strong brand in China by penetrating every significant food category.
YUM! is investing heavily in China to do this. The company is looking to open 700 new restaurants in China. It is increasing KFC and Pizza Hut casual dining restaurants, combined with the additional restaurant concepts of Pizza Hut Home Service and East Dawning. It has also strengthened its market share in China with acquisitions like Little Sheep. The company is increasing the budgets for its marketing campaigns to back its growth initiative.
Its first-quarter results demonstrate that its focus on China is resulting in massive profits. In addition, the company is expecting massive growth potential in that region. In the first quarter, sales from the Chinese region increased by 17%, and operating profit went up by 80%. YUM!'s business strategy will also focus on building a strong brand in key emerging markets like India and other Asian and African countries, along with the rest of the world. YUM! is looking to open a record 1,250 new international units this year. This will be the 15th consecutive year that it opened more than 700 units. It will concentrate on opening units in emerging markets. The company is on its way towards generating 20% earnings per share growth this year, and double digit growth in the coming years.
Which Is the Better Stock to Buy?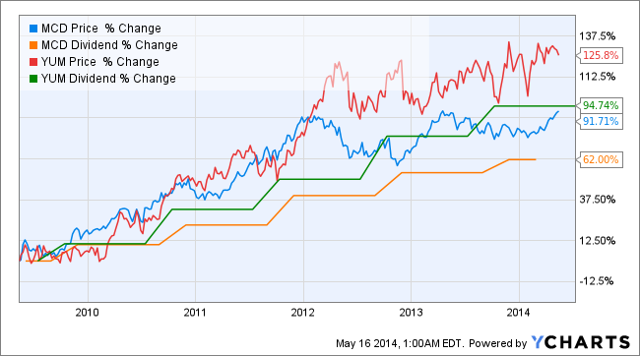 | | | | |
| --- | --- | --- | --- |
| | MCD | YUM | Industry Average |
| Price/Earnings TTM | 18.7 | 30.3 | 28.2 |
| Price/Book | 6.3 | 14.8 | 7.0 |
| Price/Sales TTM | 3.7 | 2.6 | 2.0 |
| Rev Growth (3-Yr Avg.) | 5.3 | 4.9 | 7.8 |
| Net Income Growth (3 Yr-Avg.) | 4.1 | -2.0 | 4.1 |
| ROE TTM | 35.7 | 50 | 26.2 |
| Debt/Equity | 0.9 | 1.3 | 1.2 |
Source: Morningstar.com
Because they are fast food restaurants, YUM! and McDonald's do not experience all the challenges that other sorts of restaurants have faced. However, they experience some headwinds because of the economic situation and people's sentiment about dining out. As a result, their growth has been soft over the past few years. Still, they changed their business strategies and performed well. In the last two years, McDonald's generated top- and bottom-line growth, but not been as good as it was before 2011. Consequently, its stock moved up by only 1.36% in 2013. Its financial performance seems to be impacting its share price. Further, the company's dividend growth has also been impacted by the slow demand, particularly in the U.S. In 2013, it increased its dividends by 5.19% compared to 2012, when it increased its dividend by 10% and 2011 when it increased the dividend by 14.75%.
Due to the soft top- and bottom-line growth, McDonald's cash flow has also been negatively impacted. The company's cash flow growth has been stagnant over the past two years, thus, slowing its dividend growth. Amid this, McDonald's has the potential to sustain its dividend as its free cash flow is still high enough to cover its dividend payments.
YUM! on the other hand, experienced hurdles in the past year due to concerns related to the quality of its food in China, fortunately the company has made a healthy rebound. It has demonstrated strong growth in China and all over the world with its innovative business measures. As a result, its dividend growth is better than McDonald's. I believe YUM will continue to beat McDonald's dividend growth just as it has in past years. Although, YUM's valuations are pricey when compared to McDonald's, I still recommend buying YUM's stock because of its potential to generate double digit growth in revenues and earnings.
Disclosure: I have no positions in any stocks mentioned, and no plans to initiate any positions within the next 72 hours. I wrote this article myself, and it expresses my own opinions. I am not receiving compensation for it (other than from Seeking Alpha). I have no business relationship with any company whose stock is mentioned in this article.