Pershing Square Capital Management, run by investor Bill Ackman, reported its equity ownership changes for the first quarter of 2014 in a 13F filing it made on May 15. According to the filing, during Q1, Pershing made very few changes, as is generally the case. This is a review of the changes Pershing Square made last quarter, discussed alphabetically.
It should first be noted that Pershing's 13F includes holding 597,431 shares of Allergan (NYSE:AGN). More recently, Pershing dramatically increased its holdings in the company as part of a takeover bid by Valeant (NYSE:VRX), in which Pershing is acting as a quasi investment bank. At the start of May, Pershing filed a 13D, where the company disclosed it had increased its stake in Allergan nearly 50-fold to 28,878,538 shares, or 9.7% of the company. See a recent performance chart for AGN (source: Finviz):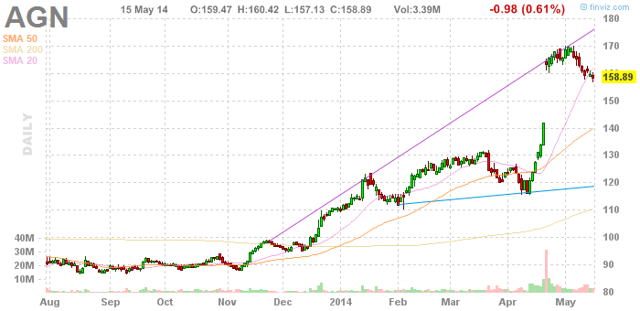 Two of Pershing's additions are real estate-related. Pershing initiated a 3,749,393-share position in Apartment Investment and Management Company (NYSE:AIV), a REIT engaged in the acquisition, management and redevelopment of apartment properties. Pershing also acquired 473,778 shares of Home Properties Inc. (NYSE:HME) in the first quarter. Home Properties is very much like Apartment Investment and Management Company in that both are REITs concentrating on apartments. These positions appear to be both plays on the long-term domestic real estate turnaround and the reduced rate of home ownership creating demand for rental units.
Pershing acquired 33,333,330 shares of Platform Specialty Products Corporation (NYSE:PAH), a specialty chemicals company that serves the electronics, industrial, offshore and printing industries. Platform appears a rather similar investment to Pershing's substantial position in Air Products & Chemicals Inc. (NYSE:APD). Pershing's sizable acquisition may have substantially contributed to PAH's strong performance in the first quarter. See a recent performance chart for PAH (source: Finviz):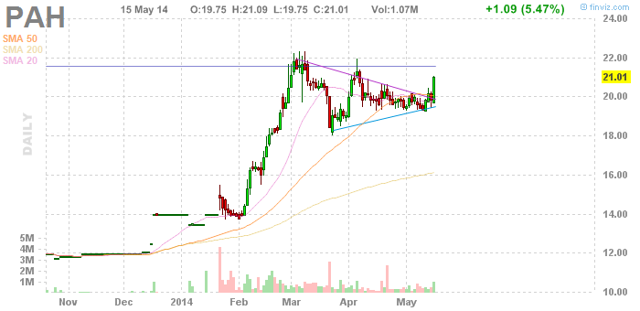 Other than the above-mentioned acquisitions, Pershing also exited two positions. Pershing sold out of General Growth Properties (NYSE:GGP) after negotiating an exit with GGP and Brookfield Asset Management, its largest shareholder. Pershing had previously significantly reduced its stake in the company. Nonetheless, Pershing is continuing to hold its stake in Howard Hughes Corporation (NYSE:HHC), which was spun off of GGP and which is a housing play, much like the new AIV and HME positions. Additionally, Pershing sold its 739,605 shares of Procter & Gamble (NYSE:PG), the mega-cap personal products company.
Pershing's investments in apartment REITs indicate the Ackman continues to believe that domestic housing is a good long-term allocation. Pershing's stake in PAH appears the most interesting, as it may indicate Ackman believes it is a proper acquisition target, and possibly one for APD. Nonetheless, the Allergan stake will likely continue to be the most heavily covered of Pershing's newer positions as acquisition attempt progresses.
Disclosure: I have no positions in any stocks mentioned, and no plans to initiate any positions within the next 72 hours. I wrote this article myself, and it expresses my own opinions. I am not receiving compensation for it (other than from Seeking Alpha). I have no business relationship with any company whose stock is mentioned in this article.