I reiterate my "hold" rating on Windstream (NASDAQ:WIN). The company has been struggling to grow its revenues due to secular changes and competition in the industry. In 1Q14, WIN's total revenues were down 2.4% YoY due to weak consumer and business service revenues. Also, the company's aggressive advertisement spending on the promotion of broadband services continues to burden EBITDA margins; however, in the long term it could help WIN strengthen its subscriber base. Moreover, WIN offers a high dividend yield of 11%, which makes it a good stock for dividend investors, but limits the company's ability to make investments to address secular changes in the industry. I believe the company should adjust its dividends and should direct more investments towards available growth opportunities.
Revenue and Subscriber Base, Still Struggling…
WIN's recent quarter results, with a soft revenue trend, showed that the company's overall revenue story is still struggling to get out of the declining zone. The company's total revenues were $1.5 billion in the first quarter, meaning a decline of 2.4% YoY. The following table shows the total revenue trend for WIN.
| | | | | | |
| --- | --- | --- | --- | --- | --- |
| | 1Q13 | 2Q13 | 3Q13 | 4Q13 | 1Q14 |
| Total Revenue (Y-O-Y Growth) | (2.5%) | (1.8%) | (2.7%) | (3%) | (2.4%) |
Source: Company's Quarterly Earnings Report
Despite the fact that the company implemented new initiatives to grow its business revenues, WIN's overall business service revenues were $748 million, flat year-over-year. However, the sales of IP-based solutions and next generation data grew the data and integrated services' revenue by 3% YoY in 1Q14. Moreover, the data center and managed services' revenues, which total approximately $30 million, increased 23% from the same period a year ago. WIN's management expects to roll out some pricing initiatives for its business service segment by mid-2014, which will help the company improve the segment's revenues in the coming quarters.
Total consumer service revenues in 1Q14 were $313 million, down 4% YoY. However, the increased focused on marketing and sales, as well as network enhancements and expansion, drove the consumer broadband revenue up 0.5% YoY in 1Q14. The following charts show WIN's revenues for the Business and Consumer Service segments.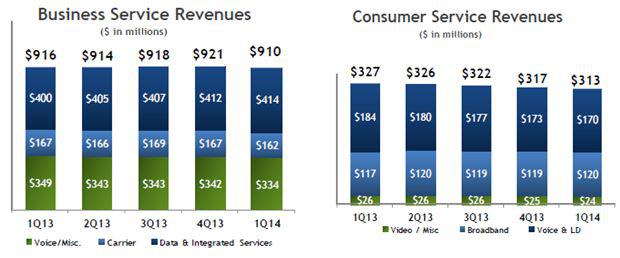 Source: Company's Quarterly Presentation
The company has been losing its subscriber base due to the current industry environment. To counter the tough industry conditions, WIN has been pushing its broadband stimulus project, which is helping moderate the broadband subscribers decline. Total broadband subscribers were flat in 1Q14 as compared to approximately a 13,000 subscriber loss in 4Q13. Also, the company has expanded broadband services to 27,000 new homes, as part of the broadband stimulus project, by the end of 1Q14 and expects to substantially complete the stimulus build-out this year; reaching a total of 75,000 homes.
Moreover, despite the moderating access line losses trend, the overall subscriber metric of WIN is still under pressure due to increasing cable/LTE competition in the telecom sector. I believe with these secular changes in the RLEC stock market, subscriber metric growth requires that WIN aggressively spend towards network quality improvement.
The following chart shows moderating the net access line losses and broadband subscriber losses trend over the quarters.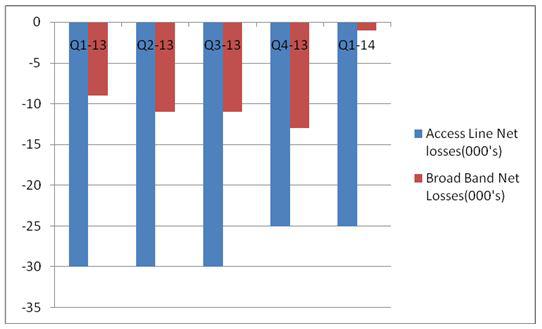 Source: Company's Quarterly Earnings Report
Soft EBITDA Margins
The company has recently been aggressively spending on advertisement and marketing to support its weak subscriber trend. The spending on advertisements has brought WIN's EBITDA margin under pressure in recent quarters. However, as the company expects to attain an annualized cost savings of $20 million from its workforce realignment initiative, I believe the underlining EBITDA margins will strengthen in the coming quarters. The following chart shows the EBITDA margin decline for WIN.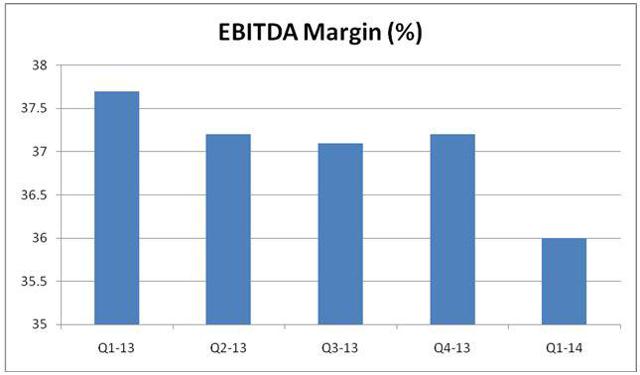 Source: Company's Quarterly Earnings Report
Dividends and Balance Sheet
I believe it is time WIN's management should reconsider its dividend policy. The company's commitment to pay high level dividends and maintain its peer-group-leading dividend yield of 11% has immensely affected its flexibility to invest in business growth opportunities. The following table shows the dividend yield comparison of WIN with CenturyLink (NYSE:CTL) and Frontier Communications (NYSE:FTR).
| | |
| --- | --- |
| Companies | Dividend Yield |
| WIN | 11% |
| FTR | 6.60% |
| CTL | 5.80% |
Source: Guru Focus
Other than the current dividend policy, the company's highly leveraged balance sheet remains a concern for investors. WIN currently has a debt-to-equity of 12.05x, higher than CTL's and FTR's debt-to-equities of 1.25x and 2.05x, respectively.
Moreover, the company does have considerable debt maturities in the near-to-medium term, which might put pressure on cash flows, and it might have to opt for debt refinancing to repay debt. The following chart shows WIN's debt maturity profile.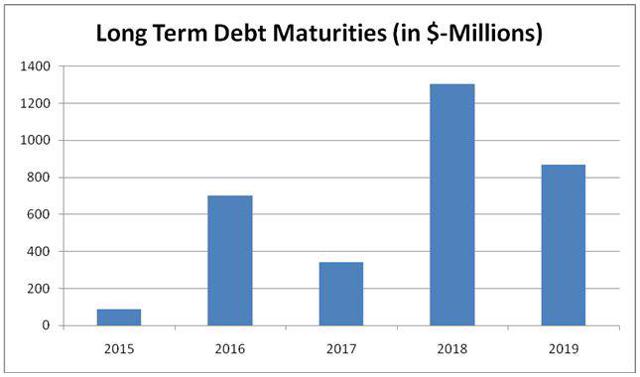 Source: Form 8-K
Conclusion
The struggle to stabilize WIN's revenues and subscriber base is still an ongoing process. Moreover, the high dividend yield, which I believe is not sustainable in the current industry environment, along with the weaker balance sheet, is a concern for WIN's long-term growth prospects. WIN should cut/re-size its dividends to strengthen its cash flow base to support future growth investments and debt repayments. The uncertainty regarding dividend size and subscriber base is likely to keep the stock price volatile in the near term.
Disclosure: I have no positions in any stocks mentioned, and no plans to initiate any positions within the next 72 hours. I wrote this article myself, and it expresses my own opinions. I am not receiving compensation for it (other than from Seeking Alpha). I have no business relationship with any company whose stock is mentioned in this article.