By Craig Bowles
Overview
Salesforce.com (NYSE:CRM) is slated to report 1Q 2015 earnings after the bell on Tuesday, May 20th. The earnings release is expected at approximately 4:05 p.m. EST followed by a 5:00 p.m. conference call available at Salesforce.com Investor Relations. The company's broad software as a service (SAAS) CRM suite has steadily transitioned into cloud computing solutions for various businesses and industries worldwide.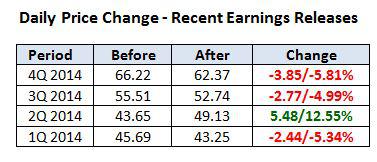 Outliers & Strategy
Key measures:
Non-GAAP Earnings Per Share: Company guidance is $0.09 - $0.10. The Street estimate is $0.10 (range $0.09 to $0.12). (source: Yahoo! Finance)
Revenues: Company guidance is $1.205 bln to $1.210 bln. Analysts expect an increase of 35.4% y/y to $1.21 bln (range $1.16 bln to $1.23 bln).
Adjusted Earnings Per Share Guidance for Q2 2015: In most cases, Salesforce.com provides earnings guidance for the upcoming quarter that tends to have a direct impact on the direction of the share price. The current estimate is $0.12.
Revenues Guidance for Q2 2015: The current Street estimate is at $1.27 billion.
Adjusted Earnings Per Share Guidance for FY2015: Company guidance is $0.48 - $0.50. The current Street estimate is $0.50 (range $0.46 to $0.54).
Revenues Guidance for FY2015: Company guidance is $5.25 bln to $5.30 bln. The current Street estimate is toward the high end of that range, at $5.29 billion.
Salesforce.com insiders sold 885,088 shares over the last six months versus 200 shares purchased.
Salesforce.com shares have a 1-day average price change on earnings of 7.17%. Options are pricing in an implied move of 7.13% off earnings.
Recent News
05/13 Bank of America reiterated a Buy rating on Salesforce.com; Ned Davis Research upgraded to Neutral from Sell, according to a post on Mideast Times.
05/13 Pacific Crest Securities thinks Salesforce.com will report a strong Q1 and likely raise fiscal 2015 guidance above expectations based on channel checks and transaction volume, according to a post by Investor's Daily.
05/05 Salesforce.com growth is driven by the company's ability to meet customer demands, according to a post on The Motley Fool.
05/05 Deutsche Bank upgraded Salesforce.com to a Buy from Hold after the stock price dropped 20% while billing growth is expected at 25-30%, according to a post on Benzinga.com.
05/05 Salesforce.com overview is a 6-part report on the company and points out the declining operating margins and intense cloud computing competition, presented at MarketRealist.com.
Technical Review
Even after the recent pullback, Salesforce.com stock has still doubled since 2011. The $50 area of support is being tested with the next area at $42.50, so this makes for an interesting earnings report. Recent resistance is at $54 and $56, above which is the recent all-time high established in late February. (Chart courtesy of StockCharts.com)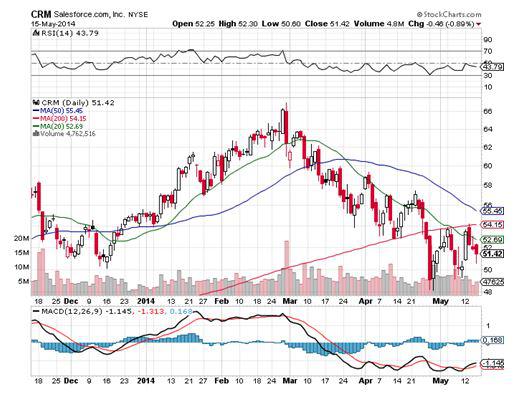 Summary
Analysts are more bullish on Salesforce.com following the recent stock price pullback and positive channel checks. The company has met or beat estimates by a penny or two the last four quarters but the stock has been driven more by guidance. The bullish view is that the company will report a stronger than expected quarter and increase FY guidance. Company FY guidance currently has the high end of the range at $0.50 with revenue up to $5.30 bln. The most optimistic analysts see $0.54 EPS for FY2015.
DISCLAIMER: By using this report, you acknowledge that Selerity, Inc. is in no way liable for losses or gains arising out of commentary, analysis, and or data in this report. Your investment decisions and recommendations are made entirely at your discretion. Selerity does not own securities in companies that they write about, is not an investment adviser, and the content contained herein is not an endorsement to buy or sell any securities. No content published as part of this report constitutes a recommendation that any particular investment, security, portfolio of securities, transaction or investment strategy is suitable for any specific person.
Disclosure: I have no positions in any stocks mentioned, and no plans to initiate any positions within the next 72 hours. I wrote this article myself, and it expresses my own opinions. I am not receiving compensation for it (other than from Seeking Alpha). I have no business relationship with any company whose stock is mentioned in this article.