By Chris McKhann
It seems like everyone is looking to hedge long exposure these days, but the trick is finding a reasonably priced way to do it.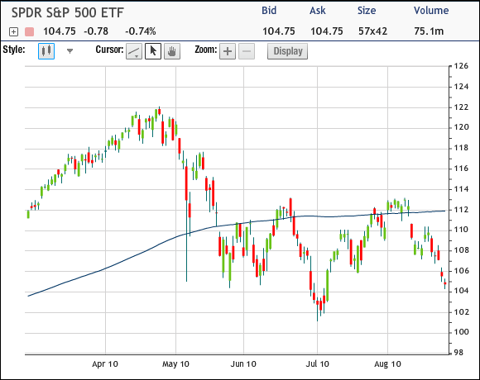 (Click to enlarge)
"Tail risk" hedging is the buzzword these days, with seemingly everyone coming out with program to hedge the next Black Swan. I won't discuss here the issues of even attempting to do that, but for those who want to hedge the downside it is often best to stick with the basic methods, such as buying puts or put spreads, the latter being most appealing right now due to the high implied volatility.
On Friday's Options Action Web Extra, Scott Nations suggested buying protection with a put spread in the S&P 500 ETF (SPY). He recommended the December 107-December 97 put spread for 3.20. This would have involved buying the December 107 puts and selling the December 97 puts in one trade for a total cost of $3.20.
As Nations points out, the spread provides 10 percent protection to the downside (at the time – we have now eaten into about 3 percent of that). Further, he is spending about 32 percent of the spread – "that is a relationship we always look at." Finally, the spread cuts the price of the outright put roughly in half. Using December expiration to get through September, October time frame gives the trade more time to work out and reduces the time decay.
I like this form of protection, as it gives immediate results and a decent spread. The biggest risk is that shares can fall more than 10 percent, but adjustments can be made to the spread. As it is, the SPY has fallen from $107.50 to its current $105 level, widening the spread from $3.20 to $4.90. So, if you owned SPY, you lost $2.50 on the equity, but hedged it with a gain of $1.70 in the put spread.

Disclosure: No positions