Overview
In this series of articles, I will be identifying which stocks for various S&P industries are best suitable for income investors, based on dividend growth and yield. For Part 9, I will be taking a look at Specialty Store stocks. These stocks include:
The following stocks currently do not pay a dividend: AutoNation, AutoZone, Bed Bath & Beyond, CarMax, O'Reilly Automotive,
When ranking the dividend-paying stocks by yield, the order is as follows:
Staples - 3.63%
GameStop - 3.55%
Genuine Parts - 2.70%
PetSmart - 1.19%
Tractor Supply - 1.01%
When ranking them by dividend growth over the past five years, the order is as follows:
Tractor Supply - 357.10%
GameStop - 120.00%
PetSmart - 95.00%
Staples - 45.45%
Genuine Parts - 43.75%
Staples has the highest yield, but the second lowest dividend growth over the past five years, while Tractor Supply has the lowest yield, but possesses the largest growth over the past five years.
Looking at the chart below, you can see that Tractor Supply has seen the highest revenue growth over the past five years while Staples is the only stock to see a decline in revenue over the past five years.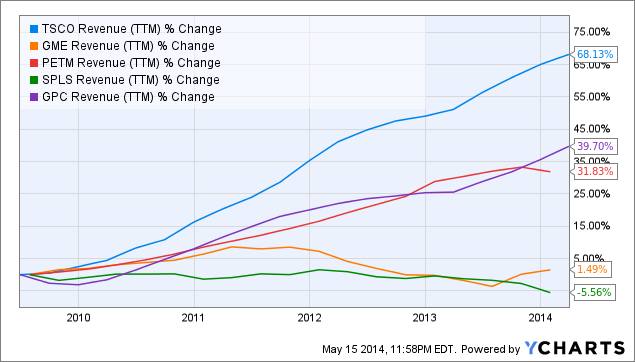 TSCO Revenue (TTM) data by YCharts
When looking at earnings over the same time period, Tractor Supply is once again the leader, while Staples remains the laggard.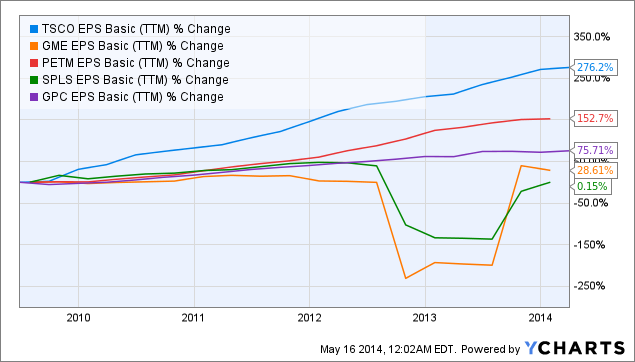 TSCO EPS Basic (TTM) data by YCharts
Tractor Supply has the highest trailing PE ratio and GameStop has the lowest.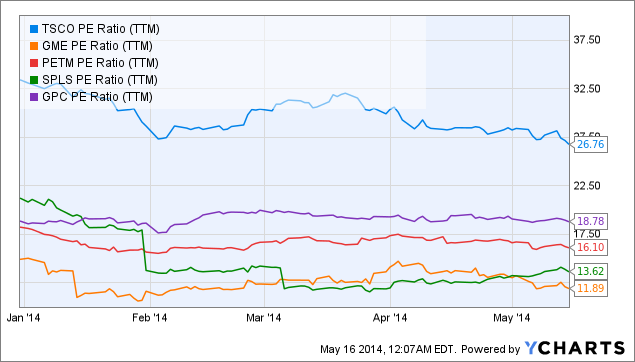 TSCO PE Ratio (TTM) data by YCharts
Looking at forward PE ratios, the same stocks take the top and bottom spots.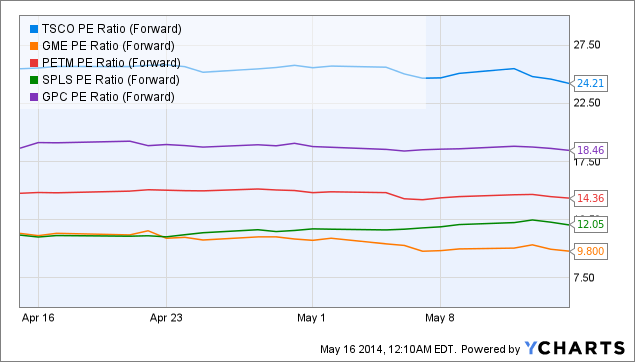 TSCO PE Ratio (Forward) data by YCharts
PetSmart has the lowest payout ratio, while Staples has the highest.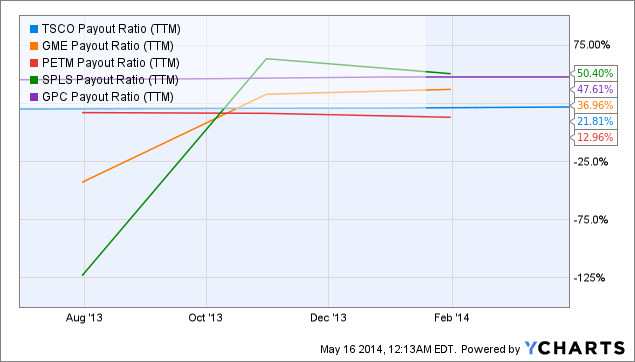 TSCO Payout Ratio (TTM) data by YCharts
Conclusion
Normally, I wouldn't recommend a stock as an income investment that yields just over 1%, but in this case I am. While Tractor Supply has a low dividend yield, it has more than tripled its dividend since 2011. I fully expect the significant dividend growth to continue considering Tractor Supply's payout ratio remains low, while revenue and earnings continue to increase.
I am a firm believer that a diversified dividend portfolio should contain a number of high yield stocks, medium yield stocks, and low yield stocks. Often the higher yielding stocks will see less growth, while the low yielding stocks will see far greater distribution increases.
Overall, I like PetSmart, but not as an income investment. While its yield is comparable to Tractor Supply, its dividend growth has been significantly less, just like its revenue and earnings growth.
Genuine Parts would be my second choice for an income investment out of this group of stocks. Its dividend yield is higher, but its growth has been less. Genuine Parts has also seen lower revenue, earnings and overall price returns growth over the past five years.
I don't view GameStop or Staples as suitable income investments due to their flat/decreasing revenue and earnings. Both companies have a number of risks associated to them related to increased competition and low growth. Out of the two, I prefer GameStop because I feel that with a bit of innovation, they will be able to overcome some of the difficulties facing them.
In its latest quarterly report, Tractor Supply's CEO stated, "Our focus continues to be on driving growth and operating income through a balanced approach of managing sales, margins, expenses and inventories." It is a focus that I believe management has and will continue to deliver on. As the company continues to expand in various areas (new product offerings, new platforms, new store openings, etc.), I feel that significant revenue, earnings, and dividend growth will continue throughout the company's future.
As always, I suggest individual investors perform their own research before making any investment decisions.
Disclosure: I have no positions in any stocks mentioned, and no plans to initiate any positions within the next 72 hours. I wrote this article myself, and it expresses my own opinions. I am not receiving compensation for it (other than from Seeking Alpha). I have no business relationship with any company whose stock is mentioned in this article.