The market has not been kind to Bank of America (NYSE:BAC) lately. Its quarterly results announced on April 16 - a loss of $0.05 per share compared to a profit of $0.10 last year - was an unwelcome surprise to many analysts and investors. The disappointing quarter included yet another $6 billion in litigation expense. And on April 28 came an even more embarrassing disclosure: the bank said it had discovered a material error in its capital ratio calculations, and promptly suspended its previously announced share buyback and dividend increase plans. Ouch!
These announcements accelerated the decline in BofA's share price over the past two months, which have now dropped 19% from their 2014 peak of $18.03 to Thursday's close of $14.55. Over $36 billion in market cap has been wiped out during that time.
A proportional market response? Or a buying opportunity?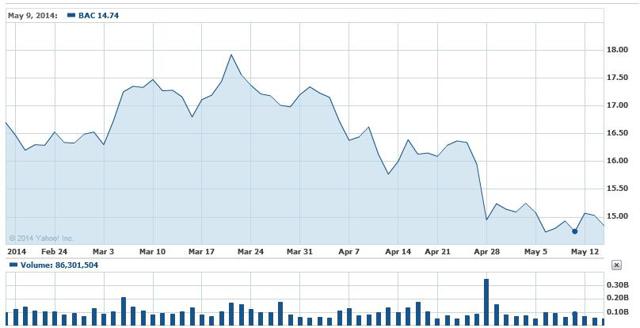 It is well-understood that a rising interest rate environment will be a huge positive to US banks, but that environment still seems a couple years away, given the Fed's continued statements regarding both employment and housing. In the meantime, BofA's dividend remains at a paltry 1 cent per share. The shortfall of dividend payments over the past five years, of course, has helped the bank dramatically improve its balance sheet and capital ratios. But has also clearly suppressed demand by yield-seeking investors.
To be sure, the headwinds confronting Bank of America are not trivial: continued litigation costs as well as negative industry trends such as shrinking trading revenue and softening mortgage volumes. The vivid and painful memory of the financial crisis still lingers in the minds of many investors. Although banks are the essential lubricant of capital and liquidity within any economic engine, they are still publicly emblematic of the worst of Wall Street. Their macro brand remains tarnished.
In answering the valuation question, one simple comparison between the 'big four' US banks is their Price to Tangible Book Value (PTBV = share price divided by tangible book value per share):
1. Wells Fargo (NYSE:WFC): 49.2. / 22.17 = 2.22
2. JP Morgan Chase (NYSE:JPM): 54.36 / 38.68 = 1.4
3. Bank of America: 14.84 / 13.11 = 1.13
4. CitiGroup (NYSE:C): 47.12 / 55.58 = 0.84
The tangible book value represents (in theory) the amount an investor would receive if the company were to cease operations and liquidate all of its assets. Interestingly, all except Wells Fargo are at the lower end of their historical PTBV values. Clearly, both Bank of America and CitiGroup are underperforming their peer group, primarily due to uncertainty of asset valuations and because neither has yet been allowed by the Fed to pay a dividend greater than a penny a share.
At the same time - tarnished brand notwithstanding - the balance sheets of major U.S. banks have rarely been healthier. According to well-known banking analyst Dick Bove of Rafferty Capital Markets, not since 1938 have their capital levels been as strong. Even after the self-inflicted capital calculation error, BofA is still ahead of regulatory capital targets. The eventual increase in interest rates will absolutely be a net positive for the banks - the question is not if, but when. And even though regulators are starting to soften mortgage underwriting standards again, they are still far stronger than they were prior to the financial crisis.
Bottom line: both the micro and macro indicators tell us that the market has disproportionately punished Bank of America stock.
Timing is always an issue, of course: it's not clear if significant upside to BoA will be realized this year, next year or the year after that. One can reasonably expect a slight positive spike after a new capital plan is announced later this month, particularly if the dividend is increased or stock repurchases initiated, and continued long-term upside as litigation costs finally wind down and profits ramp up. But for patient investors who seek mispriced assets, there are few better buying opportunities today than Bank of America at less than $15 per share.
Disclosure: I am long BAC. I wrote this article myself, and it expresses my own opinions. I am not receiving compensation for it (other than from Seeking Alpha). I have no business relationship with any company whose stock is mentioned in this article.