There are a lot of people coming out of the woodwork now proclaiming to be bears. We would say that there are a lot of bears coming out of the woodwork except these seem to be fair weather talking heads. As soon as the market turns, they will be calling for boom times ahead and ignoring the next possible pullback. Our view is that most of the pullback has probably already been missed, and if one is of that opinion then the only way to play the current pullback is to buy on weakness and not take on unnecessary risk. Being smart about what you are buying is key; in our case we are looking at adding or establishing positions in index funds which have already had a significant pullback and not those which could still have a few percentage points left to the downside.
Having stuck to the high quality dividend stocks with our new capital it is time to add risk, something many market participants are not even thinking about right now. Generally we like to try and stay one step ahead of the market, or at least certain sectors in the market, but right now this transition feels like we may be a few steps ahead. Historically this either leads to significant outperformance in the near-term or volatility because we are a bit too soon in our contrarian call. We do want to stress that this time we are not making a contrarian call, but rather having to adjust the overall portfolio by taking on more risk to bring it inline with our benchmark.
Chart of the Day:
India continues to get good news with the latest elections and it seems the recent economic weakness cost those currently in power at the polls. The currency has stabilized over the past few months but look for it to pick up some strength against the US Dollar if the new leaders are serious about economic reforms and start releasing plans in the coming months for how they will turn around the economy.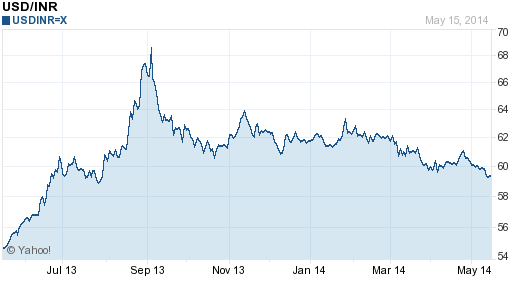 Source: Yahoo Finance
We have economic news today, and it is as follows:
Housing Starts (8:30 a.m. EST): Est: 975k Act: 1072k
Building Permits (8:30 a.m. EST): Est: 1008k Act: 1080k
Michigan Sentiment (9:55 a.m. EST): Est: 84.5
Asian markets are mixed today:
All Ordinaries -- down 0.58%
Shanghai Composite -- up 0.08%
Nikkei 225 -- down 1.41%
NZSE 50 -- down 0.17%
Seoul Composite -- up 0.16%
In Europe, markets are lower this morning:
CAC 40 -- up 0.04%
DAX -- down 0.28%
FTSE 100 -- down 0.03%
OSE -- down 0.29%
Correction Territory
With the Russell 2000 already in correction territory we are looking to put some of our capital to work in the iShares Russell 2000 (NYSEARCA:IWM) in coming trading sessions as we look to balance out our portfolios. Over the past few months we have been adding and creating new positions in 'nifty fifty' type of names along with high-yielding, high quality utility type stocks. As we have avoided allocating new capital to higher beta securities we have drifted towards an overall portfolio with a bond portfolio-like volatility.
Needing to add some risk, while also maintaining our domestic focus, we are left with the option of adding further exposure via the iShares Russell 2000 ETF or the SPDR S&P 500 ETF (NYSEARCA:SPY). Due to the sharp pullback in the Russell 2000 and the fact that it has less international exposure we have decided to use it as our preferred instrument to add general market exposure for the foreseeable future.
One should buy on weakness and in this instance it makes more sense to buy an index ETF that has already seen a correction rather than one which could still yet see a correction in the weeks ahead.
Discount Brokers
It is no secret that when the stock market does well so too do the discount brokers. Ameritrade (NASDAQ:AMTD), E-Trade Financial (NASDAQ:ETFC) and The Charles Schwab Company (NYSE:SCHW) have all been strong performers as new money has entered the market as we have hit new all-time highs. The recent volatility appears to be taking a toll on their operations though with their month-over-month figures taking a dip in April.
E-Trade has been the best performer over the past year but the entire industry has done quite well. We view the recent weakness as a buying opportunity, especially for those needing to add exposure to the financial sector.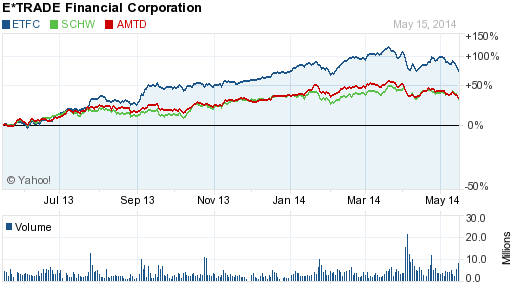 Source: Yahoo Finance
The market action we have seen over the last month or two is exactly the type which scares new investor money away. Retail investors are a fickle bunch and when easy gains no longer appear the norm, their willingness to invest decreases sharply.
We have been bullish these names for some time, specifically Ameritrade and Charles Schwab for our more conservative readers, and think that even with the current market volatility that the long-term trend is for new capital to find its way into the market. With rates so low in the bond market and bank CDs paying next to nothing, blue chip and dividend paying stocks have become quite attractive to the masses. We would not close out positions in the discount brokers at this time as we think that we are still in the early stages of the current bull market and believe that it will provide a tailwind for these names moving forward.
Disclosure: I have no positions in any stocks mentioned, and no plans to initiate any positions within the next 72 hours. I wrote this article myself, and it expresses my own opinions. I am not receiving compensation for it (other than from Seeking Alpha). I have no business relationship with any company whose stock is mentioned in this article. Both IWM and SPY have previously been recommended.