By Chris McKhann
The put selling continues today, as we see in Amylin Pharmaceuticals (AMLN).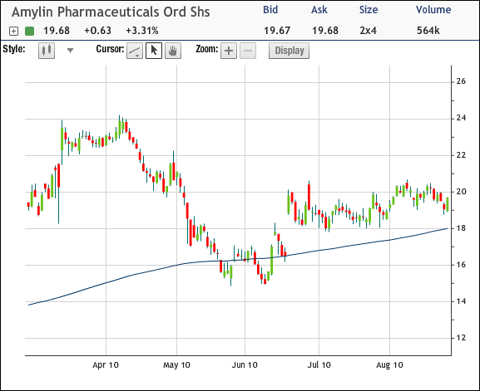 (Click to enlarge)
AMLN is up 3.31 percent trading at $19.68, making up most of the losses from yesterday's action. Shares have been range-bound between $18 and $20.50 since mid-June.
Today's options volume is more than twice the daily average and skewed toward the puts, which outnumber calls by more than 6 to 1. Much of that put volume comes in the January 16 puts, which saw one block of 3,989 sold for $1.85 against open interest of 944 contracts.
This trade does not appear to be tied to activity in the underlying stock, and continues the volatility selling that we have seen in the last several days. The trader keeps the credit, which will be the maximum profit, if shares are anywhere above $16 at expiration. If AMLN falls below that at expiration, he or she will be obligated to buy the stock at the strike price regardless of how low the market price has fallen.

Disclosure: No position