The market continues to be volatile and Thursday investors weathered the second day of the deepest two day decline in equities since April. The small cap Russell 2000 index broached the 10% loss level from its March highs, so officially entered "correction" territory.
Other negatives yesterday included famed money manager David Tepper stating he has become "cautious" on the market and the ten year treasury yield broached the 2.5% level.
It has quite amazing (and horrifying if you owned the shares) to see the recent decline of one time growth stars like Splunk (NASDAQ:SPLK), Amazon (NASDAQ:AMZN) and Tesla Motors (TSLA). I would not be buyers of any of these names even after their pull backs.
However, other growth stars that have been thrown out with the bathwater are providing great entry points for patient long term investors. The other day I profiled Gilead Sciences (NASDAQ:GILD) which sold off in the momentum driven decline to ~$65 a share but has already bounced back to the ~$80 a share level.
Today, I would like to discuss another growth play that has been unfairly punished in the recent momentum based pull back. It is online travel purveyor Priceline (NASDAQ:PCLN). The stock is down almost $250 a share or 15% from recent highs. The decline has occurred even as the company's business keeps just purring along.
The company recently crushed quarterly earnings estimates by reported $7 a share in profits, more than 85 cents a share above the consensus. It did issue conservative guidance which is standard fare during their earnings reports.
This leading online travel play is trading at under 18x FY2015's projected earnings per share. This might seem a bit expensive on the face but earnings should grow on average better than 25% annually over the next two years as revenues continue to increase at better than a 20% annual clip. Given the company's growth projections, the growth stock seems undervalued and is priced near a five year projected PEG near (1.09).
In addition, the company has a habit easily beating expectations. Priceline has beat consensus earnings estimates each of the last twelve quarters. The company also has approximately $5B in net cash on its balance sheet or ~8% of its market capitalization. Finally, the stock has some good medium term technical support just below its current trading levels (See Chart). BUY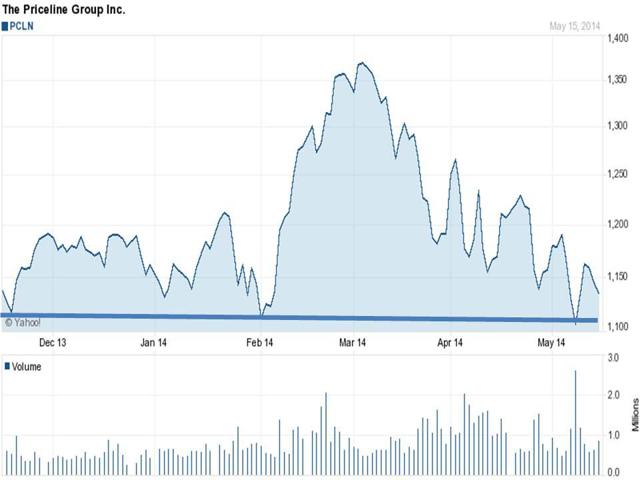 Disclosure: I am long PCLN. I wrote this article myself, and it expresses my own opinions. I am not receiving compensation for it (other than from Seeking Alpha). I have no business relationship with any company whose stock is mentioned in this article.