With a current market cap of $18 million, it has been a "Catch 22" ride for Adaptive Medias' (OTCPK:ADTM) shareholders up to this point. On one hand, shareholders are grateful that Adaptive entered the picture last summer when it was acquired by Mimvi, Inc. to save the day and prevent an almost certain bankruptcy after a failed Mimvi partnership with Microsoft (NASDAQ:MSFT), but on the other hand, shareholders have had to patiently wait for Adaptive to free itself from Mimvi's legacy issues.
Mimvi, Inc. made splashing headlines back in September of 2012 when it announced a partnership with Microsoft, sending Mimvi's stock soaring and leading many people (including myself) to believe that Microsoft's Bing would adopt Mimvi's touted algorithm search technology (assuming it ever actually existed) and ultimately lead to an acquisition of Mimvi. That partnership was never discussed again, left a very bitter taste in the mouths of shareholders and many referred to Mimvi as nothing more than a stock promotion.
When it became clear to everyone last summer that Mimvi had no viable business whatsoever, an advisor stepped in to bring Ben Padnos into the picture, one of the first 200 employees at Yahoo! and a very successful technology entrepreneur. With Padnos being very well connected throughout the technology corridors of California, he knew of a small, but very rapidly growing company that wanted to go public. The company, Adaptive Medias, Inc., a multi-channel audience and content monetization company, made it clear to Padnos that they did not want to hook up with venture capitalists and thus lose control of their ultimate destiny along with future value of the company. This is when Padnos consulted Adaptive about being acquired by a failed publicly traded company. It was at this point that the two companies got together and worked out a deal, effectively kicking out the Mimvi team altogether and eventually changing the name to Adaptive Medias, Inc. Adaptive was now a publicly traded company, a status they were able to achieve for the funding of rapid growth and thus avoided the route whereby they would be raped by venture capitalists. The dilution that followed as a result of meeting the terms of what Mimvi wanted, was harsh, but Adaptive maintained that it would be far cheaper and more beneficial in the long run for shareholders.
Mimvi had no institutional investors whatsoever and the last move they made before being thrown out the door was entering into a toxic financing deal, basically a last gasp effort in trying to keep the doors open. Adaptive Medias knew about this, but at the same time, they knew they would have institutional backing on a straight, non-toxic, restricted stock equity basis, thus the first thing Adaptive did was to retire the toxic note, quickly demonstrating they were very aware that convertible debt could destroy shareholder value in a heartbeat.
With Adaptive Medias operating in just about the fastest growing sector in technology, the digital content monetization space, they wanted a real-time bidding platform and acquired Ember, Inc. after Ember received the blessing from their advisors, Howard Marks, Co-Founder of Activision and Paul Kessler, notorious financier. Both advisors founded business incubator and accelerator, StartEngine, in which Ember was launched. As part of the deal in which Marks and Kessler had to have really liked, they both joined Adaptive's advisory board. Being able to make this move right out of the gate gave Adaptive much needed credibility, as investors were still sour about the hand that Mimvi dealt them.
Not wasting any time in utilizing the assets of Ember, which promptly launched a mobile ad-serving platform at the end of February that helped increase Adaptive's number of customers to 60, Adaptive subsequently inked a licensing deal with OneScreen, a synergistic deal in which Ember is powering OneScreen's video ad-serving requirements. The deal is expected to be a prelude to an acquisition of certain OneScreen assets in exchange for up to 150 million shares pre reverse split, a company recently named as #105 by Deloitte in a list of the fastest growing 500 private companies. While there's no certain date established, the acquisition is expected to close in Q2. The deal would value the acquisition up to $15 million, just $3 million shy of the entire current market cap.
With a recent approval of an up to 1 for 30 reverse split after the consummation of certain OneScreen assets, it doesn't take a brain surgeon to figure out that Adaptive wants to uplist and play in the big leagues with other sector players like Rocket Fuel (NASDAQ:FUEL), Criteo (NASDAQ:CRTO), Brightcove (NASDAQ:BCOV), the Rubicon Project (NYSE:RUBI), YuMe (NYSE:YUME), AOL Inc. (NYSE:AOL) and others, with AOL being the only other player in the entire sector that offers an end-to-end solution like Adaptive. Smaller players in this space have been acquired in a frenzy-like atmosphere, with Adap.tv being acquired by AOL, MoPub acquired by Twitter, Jump Tap acquired by Millennial Media, BlueKai acquired by Oracle and FreeWheel acquired by Comcast. I would never advise anyone to buy a stock based on the belief that it could be an acquisition target, but it's something to ponder in a space whereby companies are tripping over each other in an effort to "one-up" the competition.
Adaptive just reported Q1 results this week and investors expected revenues to be sequentially lower since advertisers statistically spend the most dollars in Q4 and spend the least in Q1. That said, Adaptive surprised investors and posted revenues of $731,604, a 19% sequential increase from Q4, thus validating what Adaptive's CEO, Qayed Shareef, stated on April 22nd, that "revenues will increase sequentially for many many quarters to come." Operating expenses dropped 32% from $2,107,106 to $1,427,564 YOY and although Adaptive lost money for the quarter, EPS improved from -.03 to -.01 YOY.
The chart from the time of the acquisition up until today looks like my last EKG reading from my recent visit to the doctor's office, with the stock trading in a range from .05 (time of the acquisition) to .16 and higher lows seem to have been established, even in the face of significant dilution.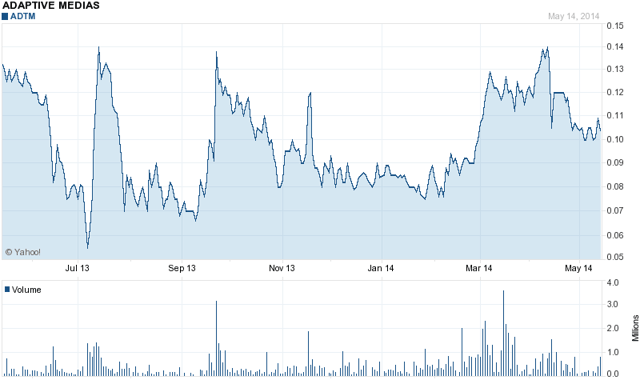 When Adaptive was acquired by Mimvi, the company was comprised of a very small team led by Shareef, with a great idea and a proven concept on a small scale, but no real resources to turn to for growth in addition to having to deal with legacy issues surrounding the exit of the failed management team of Mimvi. With the stock trading in a range of .05 to .10 cents immediately after the acquisition, the company was able to pitch their business plan successfully to some small institutions that agreed to financing on a straight restricted stock equity basis between .075 and .10, thus giving Adaptive some breathing room and a chance to execute on its strategy. Along the way, Adaptive has been able to gradually put together a very impressive team of talent and it's hard to believe that this magnitude of brainpower would jump into a Start-Up if they weren't convinced the end result would be very successful. That sort of a move is every bit as risky as investing in stocks, so they better have done their homework. In addition, two recent industry heavyweights with powerful connections were welcomed to the Board of Directors and Advisory Board.
Risks associated with investing in Adaptive Medias, Inc.
While there are many promising growth stories in technology, many will ultimately fail. Even as Adaptive's end-to-end platform gains traction and may be superior to what other competitors have to offer, there's always someone looking to build a better mousetrap and competition is fierce. There's no guarantee that restricted stock, straight equity financing will always be available for Adaptive, as has been the case to date. Revenues need to keep climbing significantly or current financiers could lose faith. This means that Adaptive must prove it can become cash-flow positive and self-sustaining by the end of the year in my opinion or until a coinciding reverse split/uplisting/capital raise occurs. While Adaptive has demonstrated very impressive sequential revenue growth of $373,737, $614,216 and $731,604 in the only three quarters it has operated as a publicly traded company, they're still losing money and closing of the "certain assets" transaction with OneScreen is crucial.
Conclusion
While a reverse split is viewed negatively much of the time since a lot of these types of splits are associated with a failing business, I have witnessed countless reverse splits associated with uplistings that led to significant stock price appreciation afterwards. A recent successful and coinciding reverse split/uplisting/capital raise that I follow is that of Adamis Pharmaceuticals (NASDAQ:ADMP) in which I recently wrote about. As was the case whereby Adamis raised $25 million at $5.95 as part of the split/uplisting, I expect Adaptive to do the same in conjunction with its move, although I would think a capital raise between $5 and $10 million would be sufficient and allow them to not have to tap into small institutions on a monthly basis. Raising $5 million after a 1 for 20 or 1 for 30 split would only be 12.5% dilutive and I think shareholders would applaud the move in a big way.
Taking a starter position in the stock in a size that you can be comfortable with and not afraid to lose is very much warranted in my opinion, as the company isn't that far away from being cash-flow positive, especially if the OneScreen acquisition closes soon.
There's just too much talent and brainpower coming together all at once for me to believe that Adaptive doesn't have a very good chance at success and profitability along with further rapid adoption of their end-to-end platform.
Disclosure: I am long ADTM. I wrote this article myself, and it expresses my own opinions. I am not receiving compensation for it (other than from Seeking Alpha). I have no business relationship with any company whose stock is mentioned in this article.
Editor's Note: This article covers one or more stocks trading at less than $1 per share and/or with less than a $100 million market cap. Please be aware of the risks associated with these stocks.