Good day for J.C. Penney (NYSE:JCP) shareholders yesterday: The beleaguered department store chain delivered a top quarter -- by the standards of retail companies -- and, once again, caused massive cognitive dissonance for a variety of convinced Shorts and critical analysts. Since the previous months have shown a supportive retail environment, I found it very risky that so many investors still held on to their Short position going into earnings; a surprise announcement in terms of sales, comps and margins was very much a possibility.
Results in a nut shell
In any case, J.C. Penney had a fantastic first quarter: Revenues increased by 6.3% to $2.80 billion from last year's $2.64 billion and beat analyst estimates of $2.71 billion by more than 3%. Top line growth has been a focus of analysts and investors for a long-time. The retailer also reported a net loss of $1.15 per share compared against $1.58 per share a year ago and compared against a consensus analyst net loss estimate of $1.25 per share: A beat of $0.10. Most importantly, J.C. Penney reported positive comparable store sales growth of 6.2%: An impressive figure considering J.C. Penney's troubled past in terms of comps.
In addition to beating revenues and earnings estimates and delivering strong comps, J.C. Penney further improved gross margins: J.C. Penney's Q1 2014 gross margin stood at 33.1% compared to 30.8% in Q1 2013 -- a y-o-y improvement of 230 basis points though reported margins were still impacted by negative clearance margins.
From a financial (and psychological) point of view, J.C. Penney also delivered comforting news (Source: J.C. Penney Investor Relations Website):
The Company also announced today that it has obtained a fully committed and underwritten $2.35 billion senior secured ABL credit facility to replace the Company's existing $1.85 billion ABL bank line, which matures in April 2016. Due to favorable market conditions, the Company decided to pursue this new facility proactively to extend the maturity several years and enhance its liquidity position. This financing is expected to provide better pricing terms and is expected to add $500 million of incremental liquidity during peak seasonal needs. The Company expects to close the facility during the second quarter.
This is particularly noteworthy for two reasons: First, for way too long Bears have hit the 'liquidity drum', implying that J.C. Penney will need to pursue another equity offering to ease liquidity concerns (which, at the time, I debunked as a myth). The news mentioned above should alleviate any fears investors have about a strained liquidity profile of J.C. Penney. Secondly, the underwritten credit facility reflects the trust of the banking sector and the belief that J.C. Penney is fully creditworthy. After a successful equity offering last year, banks are another important group of stakeholders supporting J.C. Penney -- they would unlikely be willing to help meet J.C. Penney's financing needs if they expected a collapse of the retailer (underwriter due diligence is usually very efficient).
First quarter results put into context
Just last week I wrote an article about the retailer and recommended investors go all-in on J.C. Penney:
It is noteworthy that some leading research institutions have materially changed their outlook on J.C. Penney and updated their target prices, which suggests that brokerages are willing to take more risk with their J.C. Penney coverage. I personally think there is a 60-70% chance that J.C. Penney will surprise investors and deliver a positive comparable store sales growth rate next week, probably accompanied by a positive outlook for the remainder of the year. Investors who are looking for a retail investment with an asymmetric return profile and higher-than-average volatility, could consider J.C. Penney before the company releases first-quarter results.
Taking a step back and looking at the bigger picture, I think J.C. Penney is in the process of hugely transforming investor perceptions with its first quarter results. Investors now can reasonably expect a large-scale reevaluation of J.C. Penney's stock in the sell-side analyst community while Short interest should fall further and might even accelerate the increase in J.C. Penney's share price. While I expect more analysts, investors and market commentators to endorse J.C. Penney in light of first quarter results, I also think, J.C. Penney's turnaround story is only in the early stages. Why do I think that? First, my experience with distressed equity investments suggests that a change in investor perceptions is a tremendously powerful catalyst. Secondly, there is no reason why improvements in gross margin, more financial flexibility and sustained sales momentum should not translate into an operating profit for J.C. Penney in 2014 or 2015 and higher share prices that approximate my J.C. Penney fair value estimate of $18 per share.
Share performance
J.C. Penney was down 2.79% as equity markets sold off yesterday but soared to over $10 per share in After Hours trading at some point. Shares are now still trading more than 18% higher at $9.90 and I expect high volatility in today's regular trading session.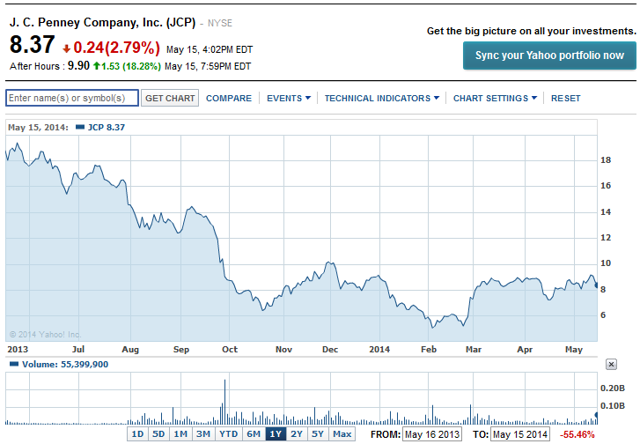 Click to enlarge
Insistence on pessimism is wrong
It is very easy, convenient and tempting, to kick a company that is in a sorry state. Bears, however, made two crucial mistakes when they evaluated the business prospects of the retailer lately: They fell prey to the conservatism and confirmation bias. The conservatism bias stipulates that investors inadequately incorporate new information (successful capital raise, improved liquidity guidance of the retailer, fundamental broker upgrades) and hold on to their previously formed views. The confirmation bias alleges that investors are looking only for information that is consistent with their beliefs and otherwise ignore evidence to the contrary ("But earnings are still negative", "But liquidity is expected to fall"). Both conservatism and confirmation biases are cognitive errors and fall in the sub-category of belief perseverance biases. In other words: Shorts hold on to their Short thesis despite mounting evidence to the contrary. I think it is time for the Short side of the trade to acknowledge the materiality of J.C. Penney's success -- on an earnings, sales, comps, margin and liquidity level.
Major short squeeze coming?
I also expect continued decreases in J.C. Penney's Short interest after yesterday's results. J.C. Penney's short interest skyrocketed in January and February as the company was in the process of preparing fourth quarter results. J.C. Penney's short interest has fallen to approximately 91 million shares or 30% of its outstanding shares at the end of April, but its cover ratio (days to cover) has actually increased to 5.60 days. The massive share pop in yesterday's After Hours trading session is likely to be at least partly driven by a short squeeze, and by investors who acknowledge the new information on the ground which will help in fundamentally re-pricing J.C. Penney's stock.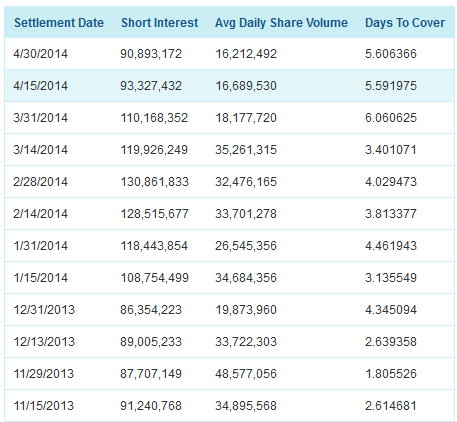 (Source: Nasdaq)
Final thoughts
If two consecutive quarters of positive comps and increasing sales momentum don't indicate that J.C. Penney's turnaround is gaining traction, I don't know what is. As a consequence of J.C. Penney's top first quarter results, I expect a flurry of broker reevaluations, an increase in target prices and much more investor interest in the stock. While I don't argue that J.C. Penney is out of the woods just yet, one has to acknowledge that the chances of a turnaround have never been better than now; which is also why I reaffirm by positive outlook on the retailer with a target price of $18. Strong BUY.
Disclosure: I am long JCP. I wrote this article myself, and it expresses my own opinions. I am not receiving compensation for it (other than from Seeking Alpha). I have no business relationship with any company whose stock is mentioned in this article.