The Target (NYSE:TGT) data breach last year caused heightened concern for numerous corporations across the country as they attempted to improve their security measures in order to prevent similar situations from happening. Symantec (NASDAQ:SYMC), which is renowned for its consumer-based security software Norton Antivirus, has recently shifted its attention from consumer-based products to software designed for enterprise and businesses in an attempt to capture this rapidly growing field. With the security of big data becoming a major issue for companies, software providers such as Symantec will have to step up to the playing field and take a few swings. As Symantec looks to re-adjust its strategy going into the next few years, the company is an invaluable pick for astute investors who are looking for exposure to big data and enterprise.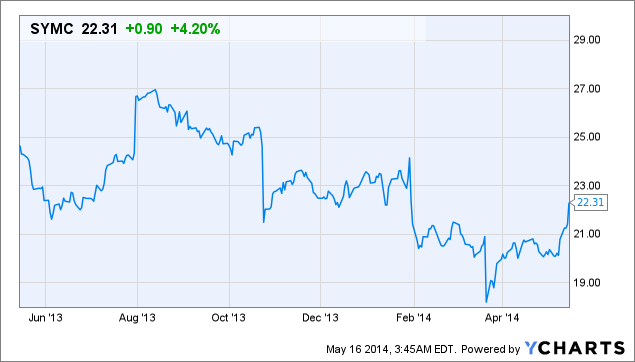 SYMC data by YCharts
Transitional Period and Products
The company is currently in a transitional period as mentioned previously. Management understands that in order to take the next big leap in the industry, the company will have to re-strategize and look towards new avenues such as big data security in order to thrive and succeed. Throughout much of its history, the company has relied on revenue from consumer products such as Norton Antivirus bundled in with new computers. As PC sales have declined, however, Symantec is looking to reallocate its attention to providing advanced security systems and solutions for corporations. The company has a diverse line of products and three of those products particularly stand out:
Symantec Storage Foundation 6.1 - an efficient adoption of SSD as a storage device. It enhances the software's high-availability and disaster recovery capabilities.
Net Backup 7.6 - protects and monitors physical and virtual machines. It optimizes VMWare (NYSE:VMW) virtualization software.
Norton Zone - a secure cloud device that allows employees to easily share corporate data.
The company has also designed Advanced Threat Protection which will be released in June and is the first of its kind to allow companies to detect and respond to threats much sooner than before. By improving efficiency through the prioritization of threats, the software is an advanced method that can prevent situations such as the Target data breach from happening. The company believes that Advanced Threat Protection captures the benefits achieved when security technologies work together, and ultimately transform the fight against threats into a manageable function that delivers strong protection and value to businesses.
News
Symantec revealed that there had been a 62% increase in data breaches in 2013, resulting in over 552 million identities being exposed. This shows that cybercrime is still a real and damaging threat that can harm both consumers and businesses, so it is fortunate for Symantec that the company's new strategy is in line with emerging technology trends. Ed Ferrara of Forrester Research stated, "Security incidents, managed well, can actually enhance customer perceptions of a company; managed poorly, they can be devastating." Businesses utilizing Symantec's new products such as Advanced Threat Protection can help their own operations out.
A week and a half ago, Target CEO Gregg Steinhafel resigned from his position as the leading figure of the company after it poorly handled the mess surrounding its data breach. The breach, which was revealed in December, resulted in the data of 100 million Target shoppers and 40 million credit cards being accessed by cybercriminals. Both Target's and Steinhafel's statements regarding the resignation mentioned the infamous breach, indicating that it had a huge role in the decision to resign. For the management of other companies, this news has had a sweeping impact, making sure that it is known that big data breaches can be serious vulnerabilities. Companies will begin looking more closely at software providers such as Symantec and see what they can do for their businesses.
Porter's Five Forces
Threat of New Entrants - Moderate. Competitors such as Palo Alto and FireEye Security have the potential to steal market share in mobile and cyber-attack security
Threat of Substitutes - High. Technology as a whole is incredibly competitive, not just the software and services sector. However, Symantec is well-established as a major security company that has a long history, and because of this, it already maintains a solid consumer base.
Bargaining Power of Suppliers - Weak. Symantec creates most of its own products and most of its suppliers are similar companies, anyway.
Bargaining Power of Buyers - Moderate. There are many large buyers, but the entire transition to focusing on enterprise can be costly and time-consuming for the companies involved.
Rivalry within the Industry - High. The entire industry is competitive in nature and there are always going to be major players competing with each other to release the latest and greatest product in security. As mentioned before, though, Symantec is already well-established.
Market Trend of Software as a Service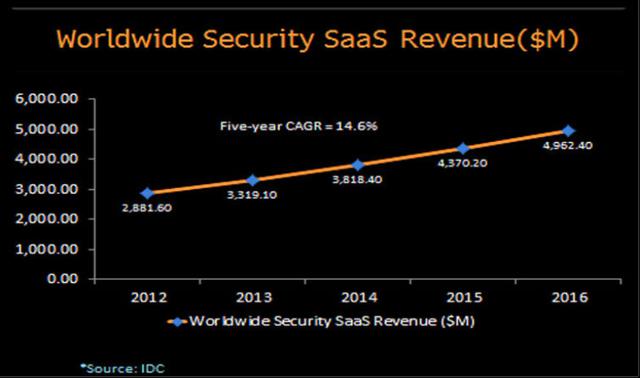 The entire SaaS industry is showing very steady growth and has a five-year CAGR of 14.6%. This is one of the best growth sectors in the entire technology industry, as the general trend seems to be a shift towards virtual enterprise, the cloud, and mobile. Symantec products that are based off of the Software as a Service model can truly benefit from this trend, and the company can see increased growth in the future.
Investment Risks and Going Forward
One of the biggest risks that Symantec faces right now is the question as to whether or not it can find the correct CEO to manage the company. It fired Steve Bennett in March of this year for reasons such as lack of quality innovation and declining sales figures, and replaced him with interim CEO Michael Brown. Symantec's management is looking to continue Bennett's vision of becoming larger in the enterprise sphere of security, so it is hopeful that whoever will take over the company next has a vision that remains true to Symantec's current restructuring.
Another concern that is held towards the company is its seemingly poor relative valuation. The company is very red in many categories including profitability and solvency, but this can be explained through its current strategy change. As Symantec continues to make moves into enterprise and focusing on businesses, it can increase its margins and return ratios by becoming a leading provider for big data protection. Also, it is not necessarily a bad thing that the company has such high debt. It is not a good picture right now, of course, but it could mean that it is looking to finance its new activities through liabilities, and in time, it can pay it back off. The company's key ratios are generally fantastic, though, with lower P/E, P/B, and EV/EBITDA than its peers to indicate that it is undervalued.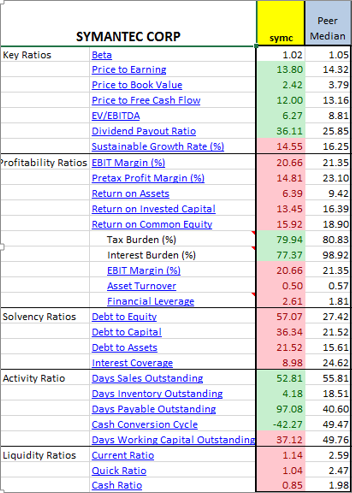 Going forward, Symantec seems like a great investment just based off of the latest trends regarding big data, virtual enterprise, and the shift towards business-based protection. If Symantec can capitalize on these trends and shift its attention away from consumer-based products, it probably will not be a surprise to anybody that its future revenues and market share will increase and keep the company steady as a security powerhouse.
Final Take and Conclusion
Big data protection is on the minds of everyone after the Target data breach late last year. As a large company in the security sphere, business leaders and consumers will start looking at Symantec to see what they do in reaction. With their new focus on enterprise and businesses, Symantec has the ability to revitalize its business and take it to new areas unseen before.
If you need exposure to enterprise or security, long SYMC.
Disclosure: I have no positions in any stocks mentioned, and no plans to initiate any positions within the next 72 hours. I wrote this article myself, and it expresses my own opinions. I am not receiving compensation for it (other than from Seeking Alpha). I have no business relationship with any company whose stock is mentioned in this article.