So let me get this straight, in Q2 '14 total sales increased 9.7% Y/Y to a record 3.3 billion dollars, 7 new stores are set to open in the third quarter and another 11 - 14 stores are set to open in the fourth quarter, the balance sheet is rock solid, yet Whole Foods Market (NASDAQ:WFM) sold off over 18% on May 6th in after hours trading. Welcome to Wall Street.
What happened? Comparable store sales came in at 5.0% that did not meet expectations for the third quarter in a row. It also didn't help when John Mackey Co-CEO said management was "overly optimistic" about the company's ability to match results in the past, but I appreciate the honesty. The good news is we've seen this before. The table below was created to put the company's current comparable store sales into perspective. It's not the first time comps were below the historical average of 8.3% and I have a hard time believing the days of double digit comps are over. J.P. Morgan had a good quote, "It will fluctuate."

Average Comparable Store Sales: 8.3%
Source: Annual Reports
Comps of 7.5% percent as of 3Q13 (only nine months ago) in this "competitive market" are better than comps in 1992, 1995, and 1996 when the company apparently had the playing field all to itself. So how do you explain that? It was a bizarre economy in 2008 and 2009 so I'm not going to focus on those years but it's remarkable how well WFM held up given the circumstances. Everyone knows the market for organic products has grown dramatically and the important thing to remember is that WFM has grown with it. Just like Home Depot (NYSE:HD) and Lowe's (NYSE:LOW) have grown together, so will WFM and its competitors. My point is there's enough demand to go around.
I could see someone selling WFM in 1995 because comps declined from 9.9% in 1994 to 6.2% in 1995. To make matters worse, comps continued to decline in 1996 and that was the same year WFM had a net loss of over 12 million dollars. Raise your hand if you wish you could buy the stock in 1995. Hindsight is 20/20, I get it, but going forward I still believe this company hasn't come close to reaching its full potential. WFM hasn't even opened half of the stores it plans to. Management believes the market could support 1,200 stores and currently the company is operating 379 stores. Even if the company only opens 200 more stores, I do not feel that growth is priced into the stock when you look at a forward P/E of 25.
"I skate to where the puck is going to be, not where it has been." - Wayne Gretzky

Discussing competition on an investor conference call is normal but you can see the dramatic increase in how often the word "competition" or "competitive" was used from 3Q13 to Q2 '14. In 3Q13 when comps were higher everyone on seemed pretty content with management. Now all of a sudden because comps have trended down for the last three quarters some analysts act like WFM has lost its touch and forgot how to compete. Really? John Mackey forgot more about selling to sophisticated consumers than most people will ever know. Let's be honest, he created this market. He started WFM in 1980 with a staff of 19 and now it's a business approaching 14 billion dollars in sales with over 80,000 employees. WFM just recorded its highest sales ever so guess what, they're doing something right. Mackey also surrounded himself with smart people that have been with the company for years. Analysts can question the company's strategy all they want, I'm sure they did it in 94, 95, and 96, but I know Mackey manages the company for the long-term and sometimes his decisions are not popular with Wall Street but he doesn't care, and I like that.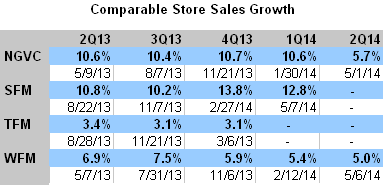 (Earnings Release Date)
Declining comps for three quarters in a row is worth looking into so I created the chart above to see if competitors are experiencing the same thing. Each company ends its quarter on a different date but it's clear comps have declined for Natural Grocers (NGVC), The Fresh Market (TFM), and WFM. The exception is Sprouts Farmers Market (SFM) but even its comps declined 1% in 1Q14. When three out of four companies experience declining comps that tells me all three have either really dropped the ball or it's probably the consumer spending less for whatever reason. Here's how NGVC, TFM, and WFM explained the decline in comps:
NGVC
Q2 '14 - Comps guidance is reduced from 8.5% - 9.5% to 5.5% - 6.5% for 2014 FY. "We believe our comparable store sales are lower than our recent trends due to increased localized competition some weather events more cautious consumer spending and to a certain extent changes in advertising that we have been testing over the last quarter."
TFM
Q3 '13 - "During the latter part of the quarter, the Company experienced an unanticipated sales slowdown across its store base, which it attributes to changing economic conditions and softening consumer confidence. Sales from stores in new markets were mixed."
Q4 '13 - "Craig Carlock, president and chief executive officer commented, "Our core business continues to perform well. Despite meaningful headwinds from a more cautious consumer, condensed holiday calendar and harsh winter weather, we achieved a comparable store sales increase of 3.1% in the fourth quarter."
WFM
Q2 '14 -"We believe our comps have been impacted by many factors, including our own strategies around value and growth, as well as increased competition, the macro-environment and weather….Since Q3 last year, our average price per item growth has moderated to 160 basis points from 3.3% to a three-year low of 1.7% this quarter. We attribute this primarily to our proactive value strategy and believe this is the biggest contributor to the change in our comp trends over the last several quarters….Our comps have always included some impact from cannibalization, with our accelerated growth over the last few years we're seeing a slightly greater impact today."
If you adjust for an unusually bad winter, cannibalization due to accelerated growth and the company's value strategy, I'm actually ok with 5.0% comps.
What will it take to produce higher comps? Lower unemployment and higher inflation will certainly help. Currently, both rates are working against us. Over the last four months unemployment has averaged 6.6% and over the last three months inflation has averaged 1.4%. Since 1948 unemployment has averaged 5.83% (source) and since 1914 inflation has averaged 3.33% (source).
The sample size is small but looking at the data (below) from different angles I think you have to conclude that there is a correlation between comps, unemployment and inflation. However, there are exceptions. For instance, in 2011 and 2012 with unemployment at 8.9% and 8.1% you would think comps should be much lower but both years were above the company's historical average rate of 8.3%.
Overall the data is consistent. High comps are produced when the unemployment rate is low and low unemployment produces higher comps. In each of the three scenarios low inflation had a negative impact on comps and vice versa.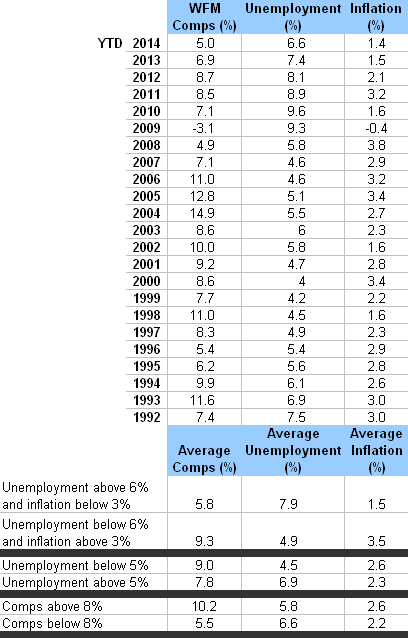 In the past, when unemployment was above 6% and inflation was below 3%, comps averaged 5.8% and inflation averaged 1.5%. When unemployment was below 6% and inflation was above 3% comps averaged 9.3% and inflation averaged 3.5%. Unemployment averaged 7.9% whenever the unemployment rate was above 6% and inflation was below 3%. Unemployment averaged 4.9% whenever the unemployment rate was below 6% and inflation was above 3%.
Anytime unemployment was below 5%, comps averaged 9% and inflation averaged 2.6%. Anytime unemployment was above 5%, comps averaged 7.8% and inflation averaged 2.3%. The average rate for unemployment above 5% is 6.9% and the average rate for unemployment below 5% is 4.5%.
Anytime comps were above 8%, unemployment averaged 5.8% and inflation averaged 2.6%. Anytime comps were below 8%, unemployment averaged 6.6% and inflation averaged 2.2%. The average of all comps below 8% is 5.5% and the average of all comps above 8% is 10.2%.
An improvement in the economy should benefit every grocery store equally. I would consider investing in SFM or NGVC if either company traded at a low enough multiple relative to its expected growth rate (PEG ratio).

WFM has the largest market share, the lowest D/E ratio, and the lowest PEG ratio. Even if WFM traded at a higher PEG multiple, I prefer to invest in companies with the least amount of debt.
Conclusion
Comps have come down and the company lowered guidance so that brought down the P/E ratio which is nice for anyone interested in buying. And you can't forget that more stores will result in greater sales and net income. After opening 379 stores throughout the US, Canada and Europe, I'm confident management has this routine down cold. Most importantly, management would not open new stores unless it made sense.
How do I feel about the stock at 38? Well, coming from someone who already agreed to buy the stock at 50 in 2016, I like 38 a lot better than 50. I feel the decline in comps is temporary and once that number improves the stock will break 60 just as quick as it broke 40. But I'm realistic; I know things could get worse before they get better. If that happens, it's not a bad idea to keep this in mind:
"There's no reason we should become fearful if a stock goes down. If a stock goes down 50%, I'd look forward to it. In fact, I would offer you a significant sum of money if you could give me the opportunity for all of my stocks to go down 50% over the next month." -Warren Buffett, 2008 Berkshire Hathaway's (NYSE:BRK.A) (NYSE:BRK.B) annual meeting

"Most people get interested in stocks when everyone else is. The time to get interested is when no one else is. You can't buy what is popular and do well." -Warren Buffett
The third bullet point in this article references Buffett's Op-Ed, Buy America. I am.
The article has been prepared solely for informational purposes, and is not an offer to buy or sell or a solicitation of an offer to buy or sell any security, product, service or investment. The opinions expressed in this article do not constitute investment advice and independent advice should be sought where appropriate. The author does not guarantee information expressed in this article is accurate or complete.
Disclosure: I am long WFM. I wrote this article myself, and it expresses my own opinions. I am not receiving compensation for it (other than from Seeking Alpha). I have no business relationship with any company whose stock is mentioned in this article.