Introduction
A few weeks ago, I wrote an article offering another reason why I believe Advanced Micro Devices (NYSE:AMD) is off the bench and back in the game. In that article, I focused on the world's fastest graphics card, AMD's top of the line R9 295X2. By now I was expecting Nvidia (NASDAQ:NVDA) to revoke that title with its double-the-price $3000 Titan Z, but with two delays this still hasn't happened. In addition, a recent Hong Kong publication from a magazine called E-Zone has shown that the Titan Z may not have what it takes to overpower the 295X2. I was already shocked with the launch of AMD's R9 295X2 as I was expecting AMD to take a break from high-end cards after launching the R9 290 last year. But in addition to the R9 295X2, it is expected that AMD is already reading another card to go head-to-head with the 780Ti for the single GPU crown.
R9 295X2 vs. (supposed) Titan Z
According to a find by VR-Zone on the first review of the Titan Z published by E-Zone, the significantly cheaper R9 295X2 is outperforming or performing at an equal level with the Titan Z. This would make sense as the article confirms that the Titan Z is using downgraded cores from the from its top-of-the-line single GPU, the GTX 780Ti. These cores have a base clock of 706MHz as opposed to the 780Ti's 875MHz. On the other hand, AMD took its slightly inferior top-of-the-line single GPU core and increased the clock speed which was made possible due to the water cooler. These differences allowed for a very similar performance as seen in the chart below.
The results indicate that AMD matched or outperformed the Titan Z in most benchmarks with the exception of some games that were optimized for Nvidia: Batman: Arkham Origins, Stone Giant and Tomb Raider. In the 3DMark benchmarks AMD was at a slight advantage with the exception of the physics score where it was down by a mere 1.5%. With the Titan Z posting a premium of double the price of the R9 295X2, it is possible that AMD is the reason behind all of the delays.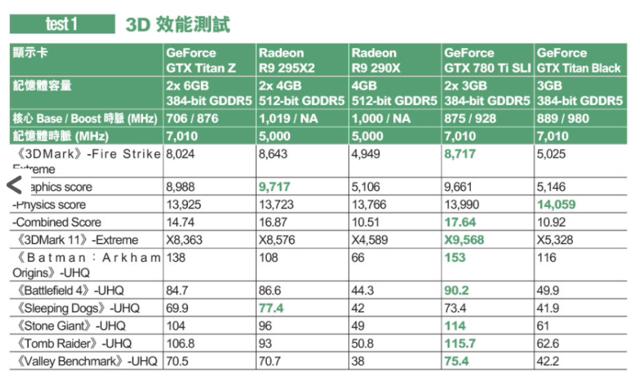 Click to enlarge
Source: VR-Zone
To briefly cover power usage and temperatures from the chart below, AMD expectedly consumes significantly more power. As I mentioned in my last article, AMD's R9 295X2 requires a power supply with two 8-pin connectors with at least 28 amps of current each. With such requirements, it's no surprise that it uses 10% more power under load as seen below. Efficiency is something Nvidia has consistently beat AMD at and with its latest Maxwell architecture, its efficiency is reaching a whole new level. However, this type of efficiency isn't worth an extra $1,500. Temperature wise the R9 295X2 runs significantly cooler under load thanks to its water cooler. The water-cooled design is really what made the whole card possible as the single R9 290X is running at an incredible 89 degrees under load. Two of them together with a traditional cooler would be an inferno accompanied by fans that sound like the Blue Angels under your desk.

Click to enlarge
Source: VR-Zone
Titan Z Delayed Twice
The launch of AMD's R9 295X2 most definitely took the industry by surprise. As a quick reminder, the R9 295X2 launched with a price tag of $1,500 shortly after the Titan Z was announced with its outrageous $3,000 price tag. Taking the results above into consideration, it is possible that AMD is contributing to all of the Titan Z delays. The Z was originally delayed to be launched at the end of April and then again on May 8th but we're still without a Titan. The problems have been officially announced as driver issues and it is currently unclear when it will reach the shelves. Some people are suggesting that Nvidia will increase the clock speeds, go back to the drawing board, or just plain cancel the project altogether. I would be very surprised to see it cancelled, but after all it is advertised to be a real powerhouse on its website:
"GeForce GTX TITAN Z is a gaming monster, built to power the most extreme gaming rigs on the planet. With massive 5760 cores and 12GB of 7Gbps GDDR5 memory, TITAN Z gives you truly amazing performance - easily making it the fastest graphics card we've ever made.

This is a serious card built for serious gamers. TITAN Z is designed with the highest-grade components to deliver the best experience - incredible speed and cool, quiet performance - all in a stunningly crafted aluminum case."
With AMD already fitting that description really well even down to the aluminum housing, the Titan Z has big shows to fit in. Even if it does outperform AMD, without mind-blowing results it is unlikely that the $3,000 price tag will be justified.
AMD's next threat
With the Titan Z out of the question, Nvidia's 780Ti is still the single GPU champion. As seen in the chart above, two of them working together in SLI generally gives them the best performance overall. In addition, a pair of 780Ti's are also more affordable than the R9 295X2. However, according to an article from Videocardz.com, AMD is ready to strike back and take back the crown in the single GPU category. By utilizing first generation high-memory bandwidth (HMB) a new technique which focuses on vertically stacking dies, AMD will offer improved speeds and improved power efficiency for its upcoming cards. Unfortunately, we don't know what this card will be called or when it will be released - or even if it will be from the Hawaii-series architecture or a newly designed one. But in the end, it's great knowing that AMD is taking good efforts to stay on top of the competition.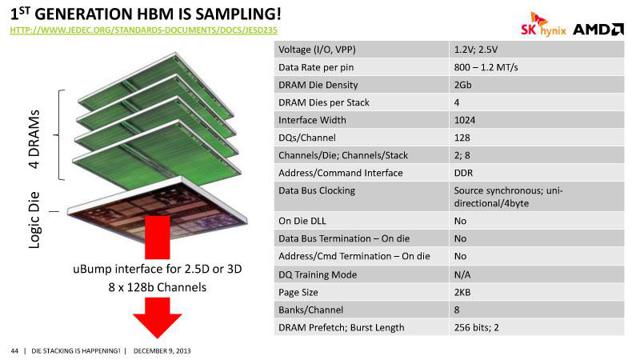 Click to enlarge
Conclusion
AMD really got it right with the R9 295X2. It realized its fallbacks in its previous hot and loud graphics cards and by innovating a water cooler straight on its reference design it was able to improve clock speeds, keep it cooler, and offer an unmatched performance at an affordable price. Graphics cards are only a small portion of AMD's focus right now but the company is giving it its best and it's paying off. AMD's graphics department is on a roll and I expect this ability to reflect on its other projects and keep it on track to a bigger, more profitable future.
Disclosure: I am long AMD. I wrote this article myself, and it expresses my own opinions. I am not receiving compensation for it (other than from Seeking Alpha). I have no business relationship with any company whose stock is mentioned in this article.