The SEC-enforced quiet period on underwriter research on Ares Management LP (NYSE:ARES) will come to an end on May 26th, 25 days after the firm's May 1 IPO.
The expiration of the quiet period will allow ARES' IPO underwriters to publish research reports on the alternative asset manager, likely leading to at least a temporary increase in the price of ARES shares.
Inconsistent Performance Thus-Far
ARES has seen a rocky start on the market since its IPO priced well below the expected range of $21-$23 per share at a disappointing $19 per share. ARES has since trended steadily downwards, closing at $17.15 per share on May 14.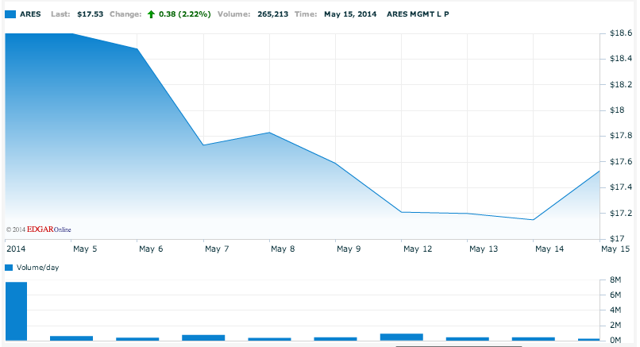 (Nasdaq.com)
Strong Underwriting Could Lead To Flood of Positive Reports
The firm's lengthy roster of underwriters, including BofA Merrill Lynch, J.P. Morgan Securities LLC, Barclays Capital Inc, BNY Mellon Capital Markets LLC, BMO Capital Markets Corp, Citigroup Global Markets Inc, Deutsche Bank Securities Inc, Credit Suisse Securities (NYSE:USA) LLC, Goldman Sachs & Co, Imperial Capital LLC, Houlihan Lokey Capital Inc, JMP Securities LLC, Mitsubishi UFJ Securities Inc, Keefe Bruyette & Woods Inc, Morgan Stanley & Co LLC, SMBC Nikko Securities America Inc, RBC Capital Markets LLC, SunTrust Robinson Humphrey Inc, Wells Fargo Securities LLC and UBS Investment Bank, will attempt to breathe life into the stock by unleashing a wave of positive research on ARES at the conclusion of the quiet period.
Correlation Between Underwriting and Share Price
Both the results of recent academic studies and our own research over the past two years have provided empirical evidence of a correlation between the reputation and quantity of IPO underwriters and a rise in share prices with the expiration of the quiet period; ARES' impressive list of underwriters should prove an asset at the end of the quiet period.
Share prices usually begin to rise a few days in advance of the expiration as aggressive investors purchase shares in order to take advantage of the upcoming underwriter reports. These early buys generate an atmosphere of rising demand, causing a rise in the price of shares before the underwriters have had the opportunity to publish their reports.
Overview of ARES Business
ARES is an alternative asset management firm, offering a variety of investment strategies to its growing investor base.
ARES has secured more than 500 direct institutional relationships and a sizable retail investor base. The firm has proven successful in nurturing its assets under management, which have seen a CAGR of 31% over the past decade.
ARES has seen strong growth in revenue generated through management fees over the same period, with a CAGR of 33%. ARES manages some $74 billion in assets, focusing on four key investment groups: tradeable credit, private equity, direct lending, and real estate.
ARES competes with other investment managers, including hedge funds, private equity funds, specialized funds, real estate development firms, corporate buyers, traditional asset manager, banks, and others.
Highly Experienced Management
Antony P. Ressler co-founded ARES and serves as Chairman and CEO of ARES' general partner. He previously co-founded Apollo Management L.P., and led the capital markets activities of Apollo Management L.P. and Lion Advisors L.P. from 1990 until 1997. He also served as a Senior Vice President in the High Yield Bond Department of Drexel Burnham Lambert Inc.
Mr. Ressler received a B.S.F.S. from Georgetown University's School of Foreign Service and an M.B.A. from Columbia University.
Conclusion Of Quiet Period For Investors
ARES' reception on the market has been surprisingly cold thus far, given the firm's excellent income and revenue figures--$813.4 million and $2.2 billion for the year ended December 31, 2013, respectively--and solid underwriting.
ARES also boasts a highly experienced management team and impressive track record in growing its assets under management.
The upcoming quiet expiration may represent a good opportunity for investors to get a piece of the rising firm at a relatively low price.
Disclosure: I am long ARES. I wrote this article myself, and it expresses my own opinions. I am not receiving compensation for it (other than from Seeking Alpha). I have no business relationship with any company whose stock is mentioned in this article.