Automotive pioneers like BMW Group (BAMXY) and Mercedes-Benz maker Daimler Group (OTCPK:DDAIY) have been passionately shaping the industry's future for years now. When it comes to groundbreaking technologies and products superiority, both automakers figure amongst the best in the world.
The two leading global automakers develop, manufacture and sell cars around the world along with other vehicles. Guided by the principle of sustainable and safe mobility, both companies are designing/customizing models so as to steadily grow into new markets and attract additional groups of customers.
Most of the world's car markets reported growth in the first quarter of 2014 and the trend is expected to carry on through the year. While Europe's auto markets are gradually turning the corner and returning to the road of positive growth, the US market, which has grown strongly in preceding quarters, took a breather in the first three months of 2014, growing at a rate of only 1.5%. China's vehicle registration figures rose sharply during the first quarter and sales from other Asian markets are also expected to grow over the year.
Despite the growth seen in automakers' share prices over the last 15 months or so, both BMW and Daimler trade at humble levels of around 10 times their past earnings. However, to determine which company would be a better investment candidate for your portfolio, let's consider the following:
Revenue and earnings growth
BMW and Daimler have appreciably grown revenues for the last several years. At the end of 2013, BMW's five-year average top-line growth was 10.9%, which is comparable to Daimler's 10.8%.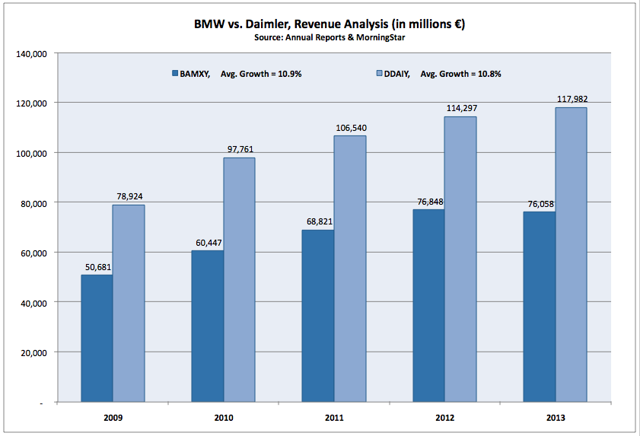 After a dismal 2009, both companies significantly improved their earnings in the following years. While BMW grew its net income by €1.28 billion, on average yearly, the Daimler group grew its earnings by €2.84 billion, on average yearly, since 2009.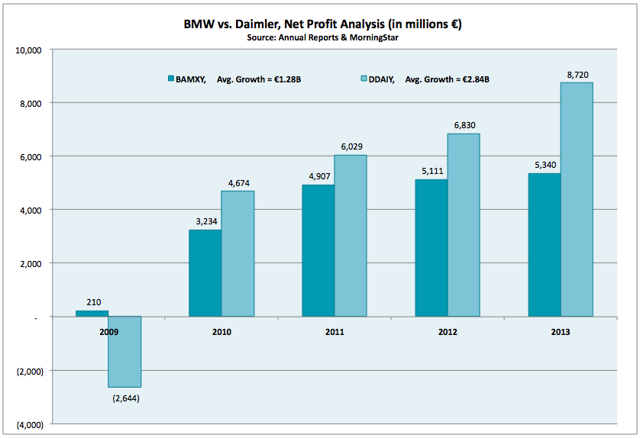 Excluding 2009, BMW has grown its EPS at an average annual rate of 19.9% compared to Daimler's 14.6%, between 2010 and 2013.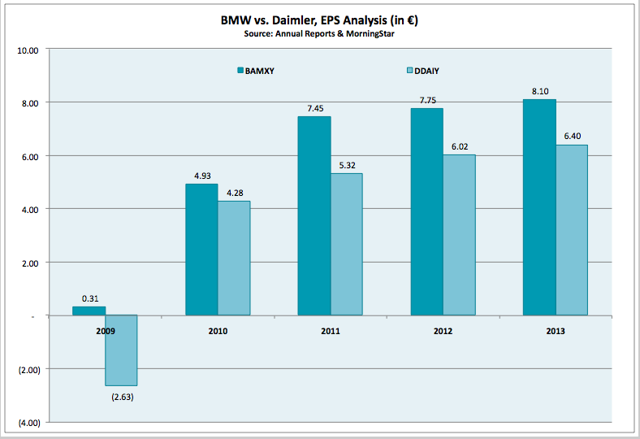 In the first quarter of 2014, BMW delivered results that in line with analysts' expectations. Below is the breakdown of the report and year-over-year comparisons:

Sales volume significantly above prior-year level at 515,743 units: Auto segment volume increased 8.7% to 487,024; Motorcycle segment volume increased 16.1% to 28,719.
Strong sales volume performance reflected in Groups revenues, which increased €18.24 billion, up 3.9% from €17.55 billion in the year-ago period.
Net income in the three-month period increased 11.4% to €1,462 million. As a result, earning per share rose 11.6% to €2.22.
Group's worldwide workforce increased 4.6%, mainly attributable to the increasing need for engineers and skilled workers in order to keep pace with continued strong demand for vehicles one hand and to push ahead with innovation and develop new technologies on the other.
Daimler reported a mixed first-quarter in comparison. Below is the breakdown of the report and year-over-year comparisons:

Unit sales were 13% above prior-year level at 565,799 units Mercedes-Benz cars sales rose 13% to 389,476 Daimler trucks sales rose 7% to 108,529; Mercedes-Benz vans sales rose 16% to 61,119; and Daimler buses sales rose 11% to 6,675.
Group revenue rose to €29.46 billion, up 13% from prior-year period.
Net income increased by a whopping 93%, to €1.09 billion, from €564 million in 1Q13. This translated to earnings per share of €0.96, a 92% increase, and yet it missed the analysts' estimate of €1.03.
Daimler employed 276,322 people at the end of the first quarter, i.e. an increase of 1% from year-ago number of 274,555
Cash flow analysis
Cash in the bank is what every company strives to achieve. Investors generally keep an eye on a free cash flow as it's an indicator of company's cash-generating ability, not to mention it's the pool of cash, from which dividends are distributed, shares are bought back, and new investments are made.
In the case of BMW and Daimler, the financial services segments of both groups tend to skew their consolidated cash flows. This is because banks or financial institutions are in the business of selling money. For that reason, individual assessment of cash flows from the industrial (or automotive) segment provides a clearer picture of company's profitability.
Just to provide a context, consolidated free cash flows of both companies from last five years are provided below.


On the surface, it seems both groups are struggling to grow free cash flows, however, taking a closer look, you will find the companies are actually doing well.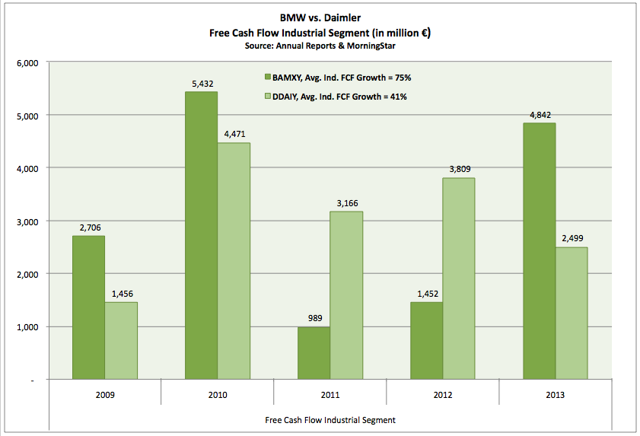 The chart above compares the industrial free cash flows of the two automakers. Over the last five years, Daimler has grown its industrial free cash flow at an average annual rate of 41%. In comparison, BMW has grown its automotive free cash flow at an average annual rate of 75%.
On quarterly basis, the consolidated cash flows appear to be somewhat better of late. As illustrated in the chart below, both companies have grown their operating cash flows over the last 5 quarters, while capital expenditures have been in the €1-€2 billion territory for the most part. Although both automakers saw a considerable drop in free cash flow in the fourth quarter of 2013, they started 2014 on a positive note.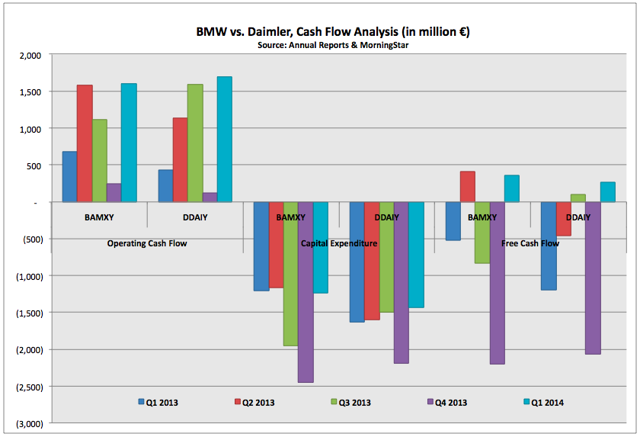 BMW reported a consolidated free cash flow of €361 million in 1Q14 compared to (€524) million in 1Q13. Daimler also returned to the positive territory in the last quarter, reporting a consolidated free cash flow of €263 million versus (€1,192) million in the year-ago period.
Sure enough, automotive free cash flows were better in the first quarter as well. Daimler's free cash flow of industrial business reached €694 million from (€1,152) in Q1 2013, whereas BMW's automotive segment improved its free cash flow from €624 million in Q1 2013 to € 932 in Q1 2014.
Key margins and return ratios
Unequivocally, auto manufacturing is a capital and labor-intensive industry. Among the major cost for production and sales of units are the cost of labor, material and advertising. Moreover, luxury carmakers invest a sizeable amount back into the business, for instance, in R&D. Therefore, it is essential to look at the margins and returns these businesses generate normally.
The bar chart below compares the ten-year averages of gross-, operating- and net margins of BMW with Daimler.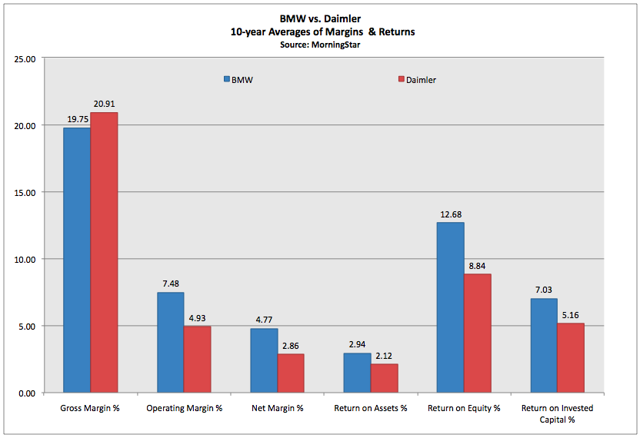 Although both groups have had comparable average gross margins, BMW significantly outperforms its German-peer in operating- and net margins.
The next thing to see is the kind of returns these businesses are generating on their assets (RoA), equity (RoE) and new investments (ROIC). As per the 10-year averages of these metrics[1,2] (also indicated in the chart above), BMW outdoes Daimler in each of the three metrics.
Outlook for the year
Although Daimler identifies a number of risks to its business and believes that there is still great uncertainty regarding the future development of the global markets, the company assumes that the Group's revenue will grow significantly in 2014. Barring Daimler Financial Services and Mercedes Benz Vans segments, it anticipates significant earnings growth over the prior-year level. According to consensus estimates on Reuters, the company is expected to report full-year 2014 sales of €125.66 billion and earnings per share of €6.09. That translates to a 6.5% sales increase, but -4.8% earnings decline.
BMW predicts high levels of expenditure for future technologies, fierce competition and higher personnel expenses to continue to dampen the pace at which the Group's earnings would rise in 2014. Nevertheless, the company forecasts another successful year, with Group revenues and earnings to be significantly up over the previous year's figures. In doing so, the Group expects a solid increase in its workforce at year-end. Owing to strong market demand for Company's products and to develop new technologies, particularly in the field of electromobility, its staffing needs are expected to rise over the year.
Thanks to its attractive and extremely young model range of the motorcycles, the segment is expected to post a slight growth in 2014. The BMW Group's Financial Services segment is expected to remain on growth course during the year, as degree of investment necessary is likely to dampen the return on equity slightly. Nevertheless, it is expected to surpass the required minimum level of 18%. Although the company doesn't provide guidance figures for revenue or earnings, the consensus estimates of analysts on Reuters expect the top line to grow 5.3% and bottom like to grow 7.7% in 2014.
Returning cash to shareholders
BMW and Daimler pay dividends of €2.60 and €2.25 per share to their shareholders, while their respective managements try to increase payouts annually. BMW began cash distributions in 2009, Daimler did so a year later.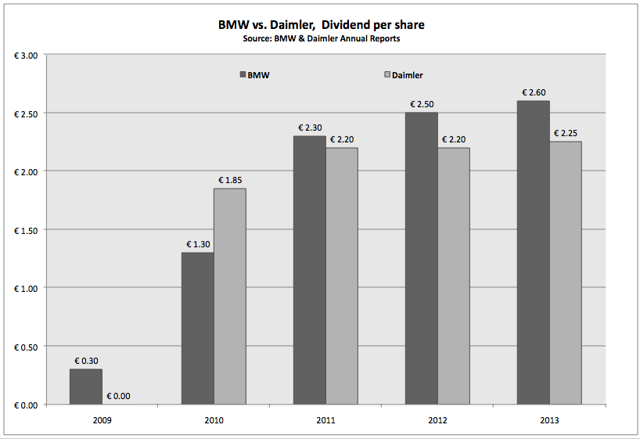 In terms of dividend-raising streak, BMW has clearly grown its dividends at more consistent year-over-year rates than Daimler.
Both Daimler and BMW have comparable payout ratios of 35.2% and 32.0%, respectively, of the net profit attributable to shareholders.
Final thoughts
Both companies are strong global brands, which is also obvious through social media trends. Daimler has 14.2 million fans on the social media networks such as Facebook (NASDAQ:FB), Twitter (NYSE:TWTR), etc, compared with 17.4 million fans of BMW. To put it into perspective, Coca-Cola (NYSE:KO), world's leading brand, has nearly 85 million fans on social networks. Despite a notable difference in fan-following, BMW trades at only 1.4 times its book value, while Daimler trades at 1.62 times its book value. Both stocks trade around 10 times their respective past earnings, which is lower than the industry average is around 11.6.
Verdict
Both BMW and Daimler appear to be viable long-term investments in the auto manufacturing industry. Both have grown well in the past and are forecast to continue doing so in the future. However, from the above analyses, it can be concluded that BMW is a better play than Daimler in the luxury car space.
Disclosure: I have no positions in any stocks mentioned, and no plans to initiate any positions within the next 72 hours. I wrote this article myself, and it expresses my own opinions. I am not receiving compensation for it (other than from Seeking Alpha). I have no business relationship with any company whose stock is mentioned in this article.
Editor's Note: This article discusses one or more securities that do not trade on a major U.S. exchange. Please be aware of the risks associated with these stocks.