It has been a good week to be a bull in Kinder Morgan [(NYSE:KMP), (NYSE:KMI), (NYSE:KMR)]. The company has been added to Goldman Sachs' much coveted "Conviction Buy List". As a result, Kinder Morgan bucked the trend, posting gains yesterday even while the indices are down nearly 1%. At current prices, KMI yields around 5% while KMP around 7.30%.
Why does Goldman Sachs like Kinder Morgan?
Below is the blurb regarding Kinder Morgan ratings change from Goldman Sachs analyst Theodore Durbin via Barron's. Do note that the rating is technically only for KMI. However, much of the same bullish points can be made for KMP.
After a large wave of long-haul natural gas pipeline construction across North America in the 2007-2011 timeframe, construction has slowed significantly over the last several years. We believe the midstream industry is now entering a new wave of long-haul natural gas infrastructure investment focused on supply and demand opportunities, including Appalachia takeaway, gas-fired power generation, LNG, and Mexico exports. As the largest gas pipeline operator in North America, we expect Kinder Morgan will win multiple growth projects in coming years. Kinder has identified $15bn of potential natural gas growth projects, of which only $2.7bn is in its current backlog as of its late January analyst day, and we therefore see large potential upside to its organic growth capital spending in gas alone.

Kinder also provides well diversified, highly stable, fee-based cash flows and solid 8-10% annual dividend growth. We believe shares are attractively valued on an absolute basis, and relative to peer midstream C-corps.
Kinder Morgan has massive natural gas growth opportunities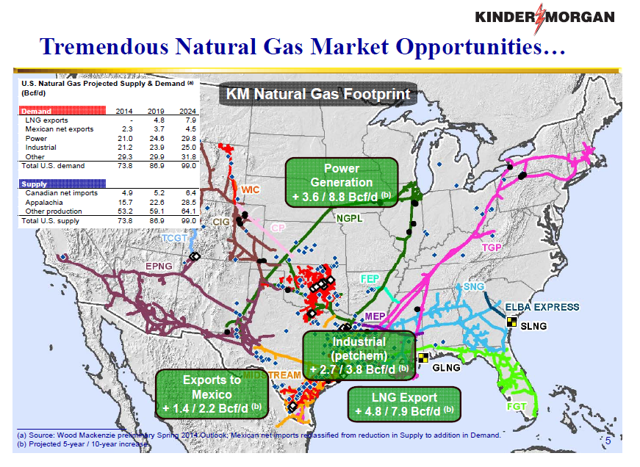 Click to enlarge
Goldman's main bullish argument revolves around organic growth in natural gas and LNGs. Natural gas prices were in the gutter for years. However, prices have finally recovered this year yet are still well off their 2008 to 2010 highs. As shown below, Kinder Morgan has only put a small portion of its natural gas projects on its backlog.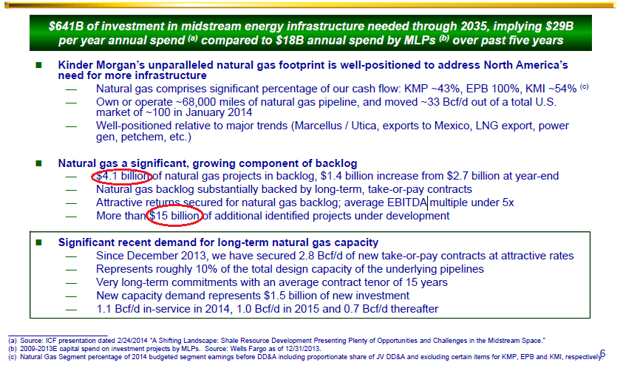 Click to enlarge
Current natural gas production growth is coming from areas such as the Marcellus and Utica shale plays. Kinder Morgan is well positioned there with its Tennessee Gas Pipeline pipeline ("TGP") and its proposed expansion/reversal.
U.S. based demand for natural gas is expected to skyrocket as certain industries, mostly petrochemical based, shift towards its use. Large plants are being built near current pipelines and infrastructure along the Gulf Coast. Companies such as Chevron (NYSE:CVX) and Phillips 66 (NYSE:PSX) are leading the way in investments via the CPChem joint venture.
Furthermore, utilities are shifting towards natural gas fired plants and away from coal. Not only is generating electricity with gas cheaper, but it is also cleaner than coal.
In addition, Kinder Morgan has long been the leader of natural gas exports to Mexico and Canada. Indeed, export capacity to Mexico is nearly maxed out on both sides. The company has noted that that country could potentially need up to 2.3 to 4.5 BCFE/D of exports to meet growing demand for electricity generation and industry.
As for LNGs, terminals are being built for its export to Asia and Europe, which should spark volume demand for Kinder Morgan's refined products pipelines. Demand here could exceed 8 BCFE/D in 10 years.
Kinder Morgan: Three ways to buy into the largest midstream MLP in North America
Kinder Morgan offers several methods to buy into its asset base. Do note that while El Paso Pipeline Partners (NYSE:EPB) is part of the Kinder Morgan family, its asset base is separate from KMP's. As a result, its growth is not at all correlated with the others.
Kinder Morgan Inc, or KMI, is a dividend paying C-corp which owns the general partner interest of KMP and EPB and thus receives 50% of incremental cash flow growth from both. The current dividend yield is around 5%, well above the other pure-play GPs in the market. KMI's is projecting to grow its dividend 8% per year in 2014.
Kinder Morgan Energy Partners (KMP), is one of the master limited partnership "MLP" of Kinder Morgan. This basically means that it owns the physical assets of the company. It offers a 7.30% yield and is projecting a distribution growth rate of 5% in 2014.
Kinder Morgan Management (KMR), is basically KMP stock dividend paying peer. It owns zero physical assets. However, its shares have the same economic value compared to a unit of KMP. KMR also pays via non-cash stock dividends equal to KMP's cash dividends.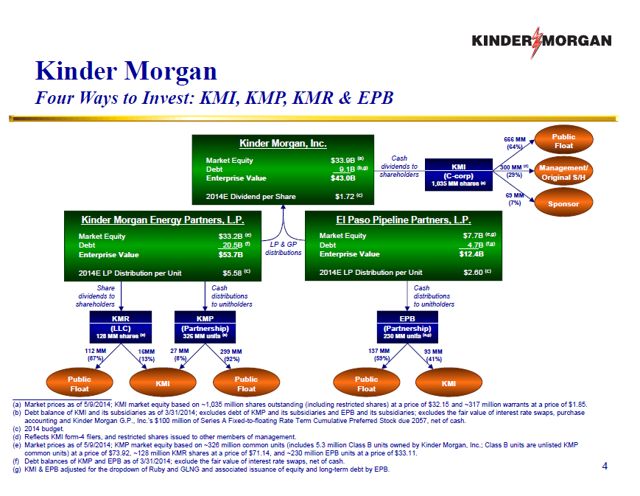 Click to enlarge
Conclusion
"You sell. I'll buy. And we see who comes out best in the long run."

Richard Kinder
It is easy to see why Goldman Sachs likes Kinder Morgan. Due to its massive asset footprint, the company is well positioned to benefit from demand growth in various energy related segments, especially natural gas. Furthermore, the stock prices for both KMP and KMI recently received a boost when news broke that Richard Kinder was buying 100,000 shares of KMI. When added together, it has been a good week overall for Kinder Morgan.
Disclaimer: The opinions in this article are for informational purposes only and should not be construed as a recommendation to buy or sell the stocks mentioned. Please do your own due diligence before making any investment decision.
Disclosure: I am long KMI, PSX. I wrote this article myself, and it expresses my own opinions. I am not receiving compensation for it (other than from Seeking Alpha). I have no business relationship with any company whose stock is mentioned in this article.