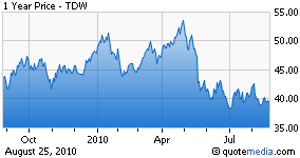 Click to enlargeTidewater (NYSE:TDW) is a stock that's caught our attention lately. It's been hurt along with the oil services sector first by BP's (NYSE:BP) Gulf of Mexico disaster and more recently by the slowdown in US growth and consequent drop in oil prices.
Its price is now 25% lower than it was just three months ago, and as a result is trading modestly below tangible book value (after removing goodwill). This doesn't necessarily make it a good investment, since its assets (mainly vessels used to support offshore drilling) may be incorrectly valued.
However, TDW appears to value their vessels conservatively. They regularly upgrade the age and quality of their fleet, and as a result frequently sell older vessels. These sales usually generate gains versus their carrying value, most recently $5.6 million in the June 2010 quarter and $28 million in their 2010 fiscal year (ended March 31, 2010).
So there's some reason to think that the $2.365 billion carrying value on their balance sheet (net of accumulated depreciation) is a good number. They have $499 million in current assets, and these two items constitute the bulk of their assets.
Tidewater Selected Balance Sheet Items

ASSETS

June 30, 2010, (000s)

Current Assets

$498,648

Properties and Equipment (net of accumulated depreciation)

$2,365,377

Other Assets

$130,703

Goodwill

$328,754

Total Assets

$3,323,482

Tangible Assets (less Goodwill)

$2,994,728

LIABILITIES

Current Liabilities

$205,231

Long Term Debt

$300,000

Deferred taxes

$213,867

Other liabilities

$130,239

Total Liabilities

$849,337

Tangible Stockholders Equity

$2,145,391

Adjusted weighted average common shares

51,562,208

Tangible Book Value per Share

$41.61
They have very little debt, and generally finance capital expenditure through operating cashflow. They regularly repurchase stock ($20 million in the last quarter) and normally run a conservative balance sheet.
While the GOM spill has hurt the stock prices of affected companies, TDW reported strong North American results due to demand from BP for support vessels to help with the clean-up. However, this illustrates that most of their revenues and income are derived outside the US, since they can obviously reposition vessels to where demand is strongest.
Even in the current weak day-rate environment analysts expect TDW to earn around $3.54 per share for fiscal 2011, and the discount to tangible book value provides some downside protection if these estimates turn out overly optimistic. TDW has generated a trailing five year ROE of 16.6%, and in our opinion the current price offers an attractive risk/reward.
Tidewater Selected Segment Income Statement Items

Quarter ended June 30, 2010

Quarter ended June 30, 2009

% Change

International

$237,145

$285,988

-17%

US Operations

$24,851

$24,448

+2%

Other

$529

$16,173

NM

Total Revenue

$262,525

$326,609

-20%

Net Income

$39,831

$44,482

-10%
Disclosure: Author long TDW