Millennial Media (NYSE:MM) reported Q1 2014 results last week and it was a bad bloodbath, with the stock falling 35% due to Q2 2014 guidance. The results themselves were mixed, MM missed revenue expectations, gross margin surprised and EBITDA was in line. However, guidance for Q2 2014 was disastrous as the company guided towards $70-$75 million in revenue and a $5-$6 million loss in EBITDA. The street was anticipating $96 million in sales and a positive EBITDA of $1.4 million.
I am long Millennial Media given the large price decrease and feel last week's sell-off was over-driven and provides good value at the current level with a price target to $6.30. Despite the recently poor guidance, I do believe management is taking the right steps to combat MM's shortcomings with four new strategic initiatives (discussed in more detail below). I did expect some headwinds in the near-term as the company integrates a few acquisitions and partnerships. I am looking at this stock for the longer term and am buying on the dip.
I like Millennial Media for the following reasons:
Gives pure-play exposure to mobile advertising
It is still the 2nd biggest independent mobile ad network on the market
In a consolidating industry, I believe MM will be one of the few remaining
The company made a few key acquisitions and partnerships in 2013 that make them well poised to take advantage of longer-term industry trends
2014 was always going to be a difficult year and I am buying it based on stabilized operations in 2015
It is a potential take-out target for Microsoft, Yahoo or a telecom provider
Due to the new strategic alternatives, I have downgraded my forecast. I have incorporated the weak Q2 guidance and time for the new strategic initiatives to fully contribute (management expects a few quarters of pressure) into my forecast. I have mostly altered the 2014 forecast, with a slight alteration to 2015 and beyond. Growth for 2014 has been brought down significantly due to managements uncertainty of a annual growth figure.
Updated Forecast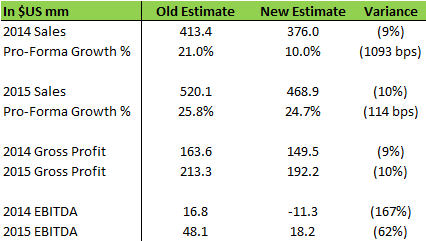 Source: RideBuyCycle
I am building on my valuation methodology to include a DCF target price and have adjusted my target multiples lower. After engaging in various discussions with portfolio managers, I have decided to incorporate the DCF analysis into my target price. Furthermore, I have lowered my target multiples for 2015 sales and gross profit because of management's opaque guidance (one quarter forward, no longer provide annual guidance).
Valuation - Target Price Calculation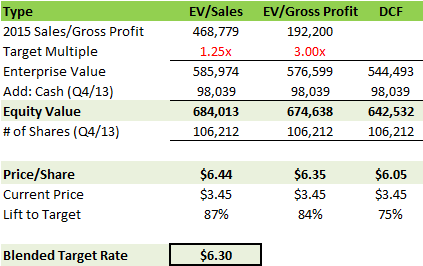 Source: RideBuyCycle
DCF Analysis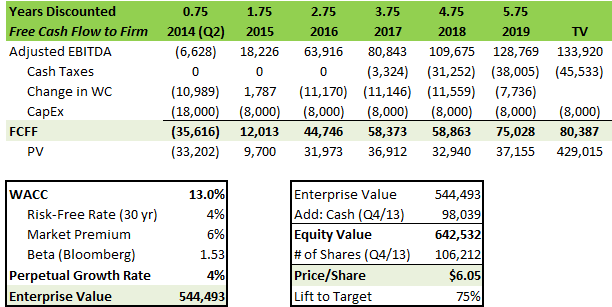 Source: RideBuyCycle
Terminal Value Sensitivity

Source: RideBuyCycle
Q1/14 Results

Source: Company Reports, RideBuyCycle
For the full press release of financial results, click here: Q1/14 results.
The weak guidance can be attributed to poor performance (advertising) sales caused by less spending and growth of competitors. On the conference call, management expressed their disappointment with their financial performance and noted that performance advertising (app downloads) was considerably weak. MM's performance advertising business relies on a few large clients, in which this quarter (and guided for next) have reduced their advertising spending. To mitigate this, the company intends to decrease their dependence on large clients going forward and emphasize revenue diversification. Furthermore, management noted that the company potentially lost market share to bigger market entrants.
Combating the weak performance segment, brand advertising (30% Y/Y) and exchange revenues performed above expectations. On the network side of the business, revenue was spilt roughly 50/50 between brand and performance advertising clients. Management noted that brand advertisers like MM's neutrality when it comes to the data collection. Thus, MM is not conflicted and gives advertisers an independent option (as opposed to going to Google or Facebook who own and look to monetize their data). Gross margin also surprised, coming in at 41.6% due to strong brand business (which has higher margins than performance business). As expected, management noted gross margin will be pressured in later quarters as MMX (exchange) revenues increase (which is a lower margin business). Video advertisements continue to grow in strength, doubling Y/Y and global CPMs (cost per thousand clicks) increased 18% Y/Y due to more highly targeted brand business and use of more engaging ads.
Looking Forward - Catalysts and Obstacles Ahead
A different tone from management -- a refreshing change. New CEO Michael Barrett, did not delude himself or investors and noted that there is a lot of work to be done. A refreshing change from previous management, in that he discussed the firm's shortcomings and how the company intends to address them. This is a positive step, but a worrying sign is that he reneged on his previous statement of annual growth within a 20% range. He did note it was reasonable at that time, given the strength in brand advertising and MMX. Brand advertising is likely to be stronger in Q2 and MMX is growing in triple digits (albeit a small portion of the business).
Performance business is fairly volatile which makes it difficult to have long visibility. The company is aiming to diversify its revenue base and obtain more stable streams of revenue. I am willing to give him the benefit of the doubt as Mr. Barrett had only started his role as CEO and relied on the input of individuals who have been there longer. He has done a great job with AdMeld (acquired by Google) and now that he has had the opportunity to spend more time with the firm, he can give a better assessment and suggestions.
To combat the firms short comings, MM has come up with four strategic initiatives to drive revenues and stabilize volatility:
Diversify performance customers - in order to counter the weak sales, the firm will have more emphasis on obtaining more but smaller clients. This will cut dependence on the large clients and diversify their revenue base.
Expand their programmatic presence - this is already occurring with the acquisition of Jumptap and their strength in programmatic buying. I noted in my initial report, programmatic real-time buying is the emerging trend in digital advertising. Furthermore, programmatic real-time buying allows clients to better measure and control their advertising spend. A facet very important to smaller clients, and thus ties into point 1 above.
Continue to invest in brand business - building on the strong growth, the company will continue to innovate with new products. Two such products that were recently launched was PATH (cross-screening product) and POINT (location-based targeting), along with other post campaign products to help better measure the effectiveness of advertising campaigns.
Continue expansion into international markets - MM is opening more offices globally, especially in the Asian region which was again a strong performer this quarter (international revenues were ~20% of total revenue in Q1). I believe international revenue will be a key driver going forward.
The market is currently pricing 4% growth in sales. Testing the current DCF analysis, I lowered the growth rate in every period after Q2 2014 to perpetual growth rate (no change to other variables from base scenario). Doing so, yields a target price close to the current market price. I believe this to be unreasonable, as the company is likely to achieve a higher growth rate than 4% in the near-term due to the high-growth trajectory of the industry.
Downside Scenario DCF Analysis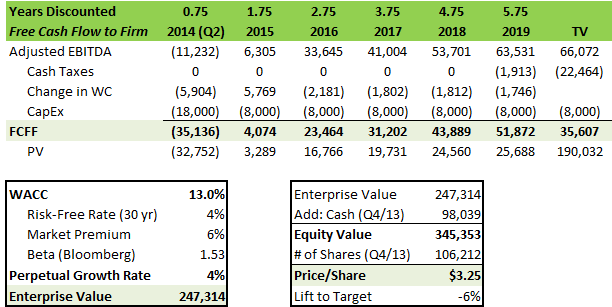 Source: RideBuyCycle
On a relative basis, MM continues to trade at a wide discount. Current valuation is less than 1.0x 2015 sales and 1.4x 2015 gross profit. Despite the lofty valuations in the tech space, MM is trading at a fairly low multiple and there is not much room to fall further. It should be noted, a lot of these names have been sold off. In February, the peer average was at 6.3x 2015 sales but has since fallen to 4.7x. In this time, MM's EV/sales multiple only contracted by 0.4x due to last week's sell off (prior to that it was fairly stable when others were falling). I don't see much further room to fall given the firm's already low valuation to others.
Comp Table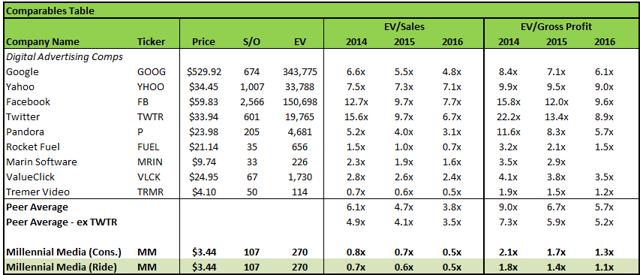 Source: Bloomberg, RideBuyCycle
MM only needs to obtain 2% of U.S. display ad market to meet my current valuation. As shown below, the company has losing market share in the total mobile display ad market (not to be confused with the independent ad network where MM has a much larger share) due to the emergence of Facebook and Twitter. Management noted on the call that they did suffer market share loss in Q1 from the entrance of the large players. I have been conservative in forecasting growth below the industry and believe international growth rates will be stronger (given its lower base and less market saturation). As shown in the table below, the company only needs to obtain a sliver of the market to meet the current targeted valuation.
Market Share Analysis

Source: eMarketer, RideBuyCycle
Investment Risks
A choppy year ahead is expected. 2014 was always going to be a choppy year with the integration of various acquisitions and partnerships. This was confirmed by management on the conference call. Q2 guidance was weak and I expected demand to return in Q3 and to end strongly in Q4 (due to holiday season). I expect margins to be pressured throughout the year (as confirmed by management) and feel this quarter was a one-off. Margins should stabilize by 2015-2016. I expect the stock to remain under pressure in the near-term but suggest buying on this dip. I expect 2015 to be much better once they complete their revenue mix shift and are fully stabilized in terms of company operations.
Facebook launched its own independent ad network recently, allowing clients to advertise through third party apps (externally of Facebook). It currently is in beta mode and only available to a limited amount of "top managed mobile app advertisers." At this time, it is difficult to obtain any revenue or run rate figures though it is reasonable to expect it will do well given Facebook's large data library. I have already baked this into my forecast and anticipate MM losing small market share. As a reminder, when it comes to the supply side (app developers), they go with multiple networks. A source of revenue is a source of revenue for them, so there is no loyalty to one ad network.
Large firms can undercut Millennial with competitive pricing. Large firms such as Google or Apple could essentially offer more competitive pricing to advertisers due to their larger resources. However, these concerns have been somewhat alleviated recently with the acquisition of Jumptap which has made Millennial a near number two to Google in the independent ad-network market. Furthermore, no competitor would want to risk their margin in fear of it becoming permanent shift down.
Mobile advertising is very competitive and its landscape could change. Given the two reasons above, and that technology is always improving -- I could be overestimating MM's value proposition as an independent. Mobile advertising is still in its infancy and large shifts could significantly damage Millennial's prospects. For example, the programmatic ad spending market has more than doubled in the past two years. If management were slow to react to a new trend, it would result in weaker revenues and profits.
Integration risk remains on Jumptap. Prior to the acquisition, Jumptap was the 4th largest competitor. The company is expected to be fully integrated by 2015 and any negative change in guidance is likely to cause downward pressure on the stock price.
Disclosure: I am long MM. I wrote this article myself, and it expresses my own opinions. I am not receiving compensation for it. I have no business relationship with any company whose stock is mentioned in this article.