Cardax Pharma
Cardax is a US-based company that went public earlier this year through the reverse merger process, similar to Organovo (ONVO) and Prolor Biotech (PBTH). For nearly a decade, the company has devoted its efforts into the research and development of products utilizing astaxanthin to address inflammation without the current harm side-effects demonstrated by currently used therapies.
Inflammation: A silent yet extremely sizeable market
When thinking about the individual market opportunities available in healthcare, inflammation hardly comes to mind. Surprisingly, inflammation is the third-highest area of activity (following oncology and CNS) as measured by the number of active studies by therapeutic area. As innocuous as it may seem, inflammation often lies at the heart of many conditions such as COPD, arthritis, MS, Crohn's disease, ulcerative colitis, among many others. As such, the anti-inflammatory market has continued to grow significantly over the last decade and is forecasted to produce revenues of $85.9 billion in 2017.
The need for a better anti-inflammatory product
Unfortunately, the complex biological mechanisms involved in inflammation make it difficult to address without side effects. The usage of current-day anti-inflammatories can lead to stomach ulcers, kidney damage, steroid dysregulation, immunosuppression, etc. With inflammation continuing to grow, the need for a better, safer anti-inflammatory becomes obvious.
I believe Cardax Pharma (OTCQB:CDXI) may hold the key with Astaxanthin.
What is Astaxanthin?
Astaxanthin is a naturally occurring compound found within the ocean ecosystem. Produced within algae, this compound is relatively ubiquitous given the nature of the food chain. Studies have shown that astaxanthin has potent antioxidant activity in humans, holding promise in multiple indications including inflammation. As a result, astaxanthin has grown massively in popularity as a nutraceutical product over the past few years. Unfortunately, current production processes for nature-identical astaxanthin are expensive and labor intensive involving the growth of algae in specially designed ponds in Hawaii with subsequent extraction. This yields astaxanthin of a lower purity that is simultaneously limited by the day-to-day fluctuations in weather conditions, rendering it nearly impossible to create a consistent product for the public.
The Cardax Solution
Cardax Pharma has been able to find a solution for these issues. Since the formation of the company in 2006, millions of dollars and years of research in collaboration with chemists from BASF (the largest chemical company in the world with 73.97 billion euros reported as revenue in 2013) has led to the development of a proprietary, but more importantly, an IP-protected protocol for the synthesis of nature identical astaxanthin. This breakthrough allows Cardax to overcome traditional problems such as low yields and fluctuating purity levels. Due to the clean cut nature of synthesis, as opposed to extraction, large scalability and consistency becomes possible.
It is important to draw focus to the safety of the compound; naturally occurring astaxanthin carries the highest possible safety designation by the US FDA (GRAS). Cardax and BASF are currently working with the FDA to extend GRAS status for their synthetic product.
Once completed, this should allow BASF to take the lead as the exclusive marketing partner for worldwide sales. BASF operates a multi-billion dollar presence in the vitamin market, retailing its products through channels such as Walmart, Costco, Walgreens, among many others. After GRAS status is granted, Cardax will begin to receive royalties from world-wide sales of astaxanthin by BASF from these same channels.
More than nutraceuticals
Although nutraceuticals provide a clear picture for the potential revenue stream of Cardax, I believe the far more exciting aspect is its potential in pharmaceutical applications of astaxanthin. Over the past few years, dozens of independent clinical trials and peer reviews manuscripts have been published stating the various beneficial effects of the compound on the body. As such, various paths of the cellular anti-inflammatory mechanism of action for astaxanthin have been established.
Incredibly, clinical data has shown that astaxanthin significantly reduces TNF-alpha, a pro-inflammatory molecule seen as the "holy grail" of targets. If this holds to be true, astaxanthin may in fact have similar anti-inflammatory potency as some of the most potent steroids available: prednisone and cortisone. Raising the curtain for the possibility for a strong anti-inflammatory with none of the side effects as traditional therapies.
While TNF-alpha plays a significant role in inflammation, it is also a critical component of highly important biological pathways. With chronic use of these drugs, these pathways may not function normally, resulting in adverse events.
Astaxanthin is not a TNF-alpha inhibitor. Instead, astaxanthin aligns optimally in plasma, mitochondrial, and nuclear membranes where it scavenges or quenches the reactive oxygen and nitrogen radical species (ROS and RNS) which pathologically initiate and perpetuate the unwanted activation of inflammatory pathways (including the NF-kB pathway to which TNF-alpha belongs) (McNulty et al. 2007) - with no evidence of the immunosuppression of the TNF-alpha drug class, the cardiovascular damage of NSAIDS, the gastrointestinal ("GI") bleeding of aspirin or ibuprofen, or the liver damage of acetaminophen (Tylenol).
Due to Cardax's proprietary process for the synthesis of astaxanthin, it is the first company able to obtain high enough concentrations of pure astaxanthin to allow for the possibility of a pharmaceutical product. The icing on the cake comes from Cardax's issued patent, which protects it from any competitor attempting to use or explore astaxanthin as a drug in human beings.
Significant market opportunity in TNF-Alpha Inhibitors
As mentioned earlier, astaxanthin has demonstrated a meaningful effect on TNF-alpha levels. Over the past decade, the majority of approved TNF-inhibitors have reached blockbuster-status, with three out of five approved TNF-inhibitors standing in the top 10 of Pharma's greatest sellers.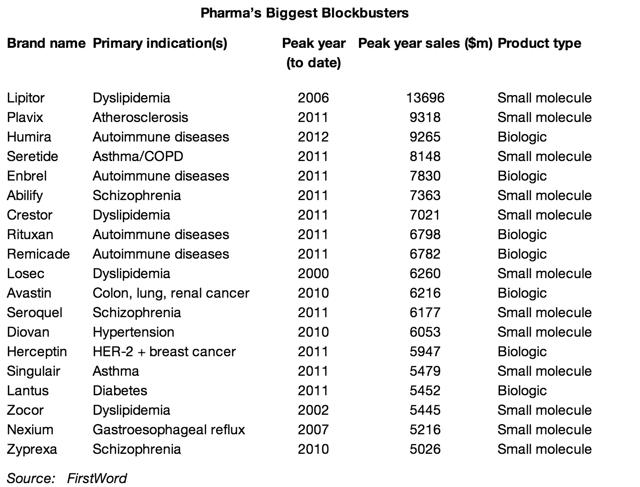 Humira, developed by Abbott/Abbvie (ABBV)
Enbrel, acquired and marketed by Amgen (AMGN)
Remicade, owned by parent company Johnson & Johnson (JNJ)
Reduction or modulation of TNF-alpha is the mechanism of action underlying the top-selling prescription drug Humira with $9.6 billion in sales and the second top-selling class of drugs (TNF-alpha inhibitors) at $41.1 billion. Inflammation is now understood to be a major underlying cause of most chronic disease and TNF-alpha is one of the most important actors in inflammation so reducing or modulating it has significant health or disease benefits.
Although TNF-inhibitors are well established and have continued to be strong revenue drivers, they are well documented in their noted side effect of immunosuppression. This can lead to serious infections, cancers, reactivation of Hep B/TB, among many others. Despite these potentially fatal adverse effects, these drugs command over $20 billion in sales annually. If astaxanthin is able to demonstrate a similar level of performance on TNF-alpha levels in the human body without the closely related immunosuppression, Cardax stands to tap into the multi-billion dollar market currently dominated by Abbvie, Amgen, and Johnson & Johnson. The prospect of an effective TNF inhibitor without the traditional adverse effect profile poses a significant threat for these companies, and potential data down the line for Cardax could necessitate a swift defensive acquisition.
Future catalysts
As mentioned earlier, Cardax's nearest catalyst lies in the expected FDA approval for GRAS status of its astaxanthin. I expect this to occur sometime by the end of 2014. If successful in this endeavor, we should expect to see the beginning to royalty-based revenues from its partnership with chemicals giant, BASF. With the latter company's massive established network of distribution channels, and growing awareness of astaxanthin as a health product, the end of the year should mark the beginning of sizeable cash flow into the newly public company.
In short, the key milestones investors should expect to see over the coming 18 months are the following:
1) Submission to the FDA for GRAS status for nutraceutical Astaxanthin
2) FDA GRAS status approval for nutraceutical Astaxanthin
3) Start of joint marketing with BASF
4) Initiation of a number of clinical trials for Astaxanthin as a pharmaceutical product
Strong Backbone at Cardax
Given the company's status as a recently public entity, I took a dive into the company's management team and board of directors in order to better assess their ability to execute upon its ambitious plans. Of particular interest are two members: Chief Scientific Officer Gilbert Rishton and Board Member Frank Herringer.
CSO Gilbert Rishton was the founding medicinal chemist at Amgen's original Thousand Oaks headquarters, who was responsible for initiating and building the company's Small Molecule Discovery Group. If you recall, small molecules formed the crux of Amgen's pipeline in its early stages prior to its transition to biologics. His experience in leading some of Amgen's clinical development programs should prove to be instrumental for Cardax as it begins to examine Astaxanthin's potential as a clinical product.
In a similar vein, Frank Herringer also shares a connection with Amgen, having served on its board of directors since 2004. He is also a director at other such companies such as Charles Schwab, Safeway, and AT&T.
I believe Cardax's connection with Amgen bodes favorably for the both the company and for investors by implicitly validating the foundation of its Astaxanthin platform.
Risks
As a company that has gone public through the reverse merger process, the most salient risk is liquidity. With average daily share volume being less than 12,000, it may be difficult to acquire or sell a position in the company and caution should be exercised while doing so.
Like all drugs, an astaxanthin drug will have to demonstrate safety and efficacy in pivotal trials and submit an NDA (New Drug Application) to receive an FDA drug approval. Because Cardax anticipates FDA nutraceutical approval of the astaxanthin product soon, it should be possible to bypass a meaningful amount of animal tox studies, CMC (Chemistry, Manufacturing, and Control) work, and Phase I studies and move directly to Phase II studies, saving considerable time and expense. In short, the risk associated with approval for an astaxanthin drug is substantially less than a traditional NCE (New Chemical Entity).
A nutraceutical approval, of course, is far less expensive and time consuming and would typically be measured in months, not years.
Over the past year, the company has raised a little over $10 million through sale of promissory notes and common stock and warrants sold during the consummation of the reverse merger. Outstanding warrants also entitle the company to gross proceeds of approximately $17,316,114 if all were them were to be exercised. As a result, financing risk is foreseeably and meaningfully mitigated for the following year and half, up to two years. By which point I fully expect revenue from the company from its BASF collaboration.
Closing Notes
As the company continues with its collaboration with BASF, it draws increasingly closer towards tapping the enormous nutraceutical market potential both in the US and overseas. The sizeable revenue stream, in addition to the cash recently raised by Cardax should enable it to pursue significantly more attractive opportunities available in the pharmaceutical applications of astaxanthin; namely, within the multi-faceted inflammation market consisting of arthritis, atherosclerosis, IBS, etc.
In this regard, Cardax is remarkably similar to Neptune Biotech (NEPT), which also has a two pronged growth strategy consisting of a nutraceutical and pharmaceutical arm.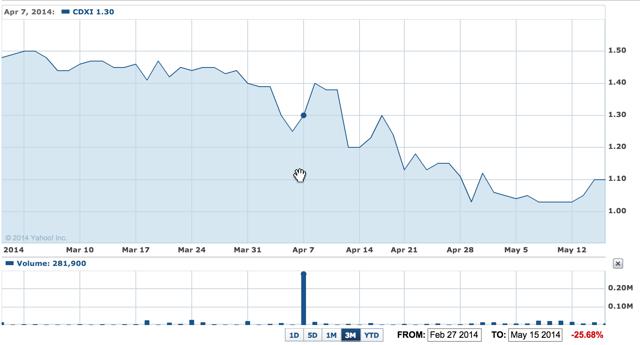 Cardax's current share price of $1.16 results in a valuation just below $73 million. I believe this highlights the possibility of a double in the company over the next 12 months given the following reasons. Cardax's development pipeline carries a minimal amount of risk as it proceeds towards submission for GRAS status for its astaxanthin product. Once approved, Cardax's proprietary method of manufacturing as opposed to the competitions' costly and lengthy extraction process allows for strong economies of scale. This is further strengthened by the company's strong relationship with BASF, the largest chemicals company in the world. BASF, which will also promote the astaxanthin product should allow for strong penetration in the nutraceutical market, subsequently allowing the development of Cardax's pharmaceutical arm with little to no risk of further dilution. Financing risk while salient is also relatively minimal for the newly minted company with over $10 million on its balance sheet with the ability to easily raise another $17 million through exercise of outstanding warrants.
Great management with roots in Amgen also serves to bolster my confidence in the company as it progresses into the nutraceutical commercialization and pharmaceutical development stages. Comparison to Neptune, a company with a similar business and development plan yields a valuation disparity of nearly $70 million, foreshadowing the potential for strong appreciation as the company continues to execute over the following years. Moreover, the thin trading volume of CDXI highlights the lack of awareness of the company within the investor community. Greater visibility should naturally lead to a more accurate valuation for the newly public company.
It seems that history repeats itself. Every time we as a society have looked for an advanced, novel product, nature provides us with another gem filled with efficacy and safety.
Disclosure: I have no positions in any stocks mentioned, and no plans to initiate any positions within the next 72 hours. I wrote this article myself, and it expresses my own opinions. I am not receiving compensation for it (other than from Seeking Alpha). I have no business relationship with any company whose stock is mentioned in this article.