Bank of America (NYSE:BAC), J.P. Morgan Chase (NYSE:JPM), Citigroup (NYSE:C), and Wells Fargo (NYSE:WFC), the four biggest mortgage servicers in the United States, have started to fix their mortgage compliance failures with a $25 Billion National Mortgage Settlement.
According to Joseph A. Smith, the settlement's monitor, the four megabanks passed all the requisite tests. Earlier, in December of last year, he had flagged Bank of America, J.P. Morgan and Citigroup for failing to pass an assortment of 29 metrics. These standards measured the ways banks had tried to provide homeowners under foreclosure relief options.
His report found that the 3 megabanks had failed on 7 metrics. Wells Fargo, meanwhile, had failed on one metric in June. This involved how the bank had conducted their loan modification program.
Banks Issue Statement after Positive Report
After the latest report from Mr. Smith proved positive, the spokespeople for the various banks issued statements.
The spokesman for Bank of America talked about how their bank was working hard to give mortgage customers fair, timely, and accurate decisions.
The spokeswoman for J.P. Morgan talked about how their bank had helped a million families in the past five years to avoid foreclosure.
The spokesman for Wells Fargo talked about how their bank had successfully resolved the issue about loan modification programs and how their services were now in full compliance with the National Servicing Standards.
And the spokesman for Wells Fargo talked about how their bank was committed to helping borrowers in distress find appropriate solutions when faced with the threat of foreclosure.
Financial Crisis Brought Bankers' Careless Foreclosures To Light
Before the financial crisis precipitated a surge in foreclosures, banks considered consumer mortgages to be an attractive business model.
However, the large number of foreclosures triggered a government investigation into the bank's lending practices.
Now the 49 state attorneys, as well as the Federal agencies involved in the probes, have agreed to settle the foreclosure processing abuses with the four megabanks, as well as with Ally Financial.
A Summary of the Settlement Agreement
The $25 billion National Mortgage Settlement included the following changes:
• The banks would comply with hundreds of new procedures related to loan modifications and the way foreclosures were processed.
• The banks would pay $5 billion in fines to consumers.
• The banks would provide refinancing, mortgage write-downs, and other consumer relief worth $20 billion
Particular Impacts for Bank of America
While this massive mortgage settlement is nearing finalization, BAC will likely take time to move forward and gain shareholders' and customers' trust again--if ever.
These fines and costs come on top of a litany of others fees in 2014, including a recent $4 billion accounting error, which cost shareholders dividends. BAC was also recently charged with pressuring customers to accept credit card add-ons.
At the recent London Barclay's conference, BAC CFO Mr. Thompson reflected the bank's new policy of playing it safe with regards to mortgages. The bank will favor low-risk borrowers and adhere to high-quality mortgage packages. His speech was riddled with qualifying statements, reflecting Bank of America's loss of clarity and momentum in creating a brighter future.
While some suggest that BAC could show upside, we reiterate this is not a solid blue chip investment, given its continued struggles. Investors should consider taking some profits in this megabank until the board of directors and management shows they can go six to twelve months without paying a huge fine for bad behavior.
In the interim, despite a tough environment for large banks, we suggest Morgan Stanley (NYSE:MS) and PNC Bank (NYSE:PNC) as alternatives, both of which are increasingly outperforming BAC in 2014.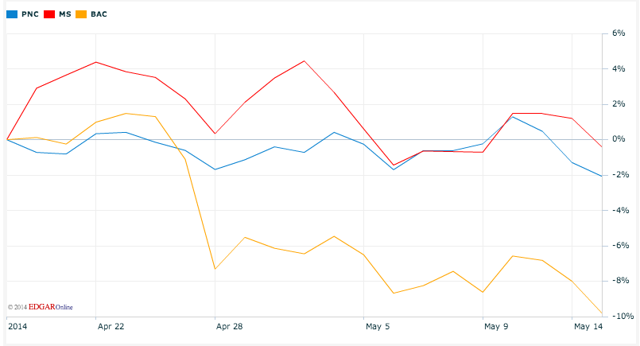 Click to enlarge
(Nasdaq.com)
Disclosure: I have no positions in any stocks mentioned, and no plans to initiate any positions within the next 72 hours. I wrote this article myself, and it expresses my own opinions. I am not receiving compensation for it (other than from Seeking Alpha). I have no business relationship with any company whose stock is mentioned in this article.