Phillips 66 (NYSE:PSX) has appreciated 150% since its spin-off from ConocoPhillips (NYSE:COP) two years ago. Along the way PSX's shareholder friendly management has rewarded shareholders with consistent dividend increases and share buybacks. With strong free cash flow from its refining operations the company is able to invest in growth opportunities within its chemicals and midstream businesses. As a result, PSX should hit $91 by year-end - delivering a total return of 13% from here. The long-term outlook is even brighter because growth plans are expected to double the company's enterprise value within 5 years.
PSX held its Annual Meeting on May 7th. This slide from the presentation pretty much sums up the shareholder friendly theme of this article: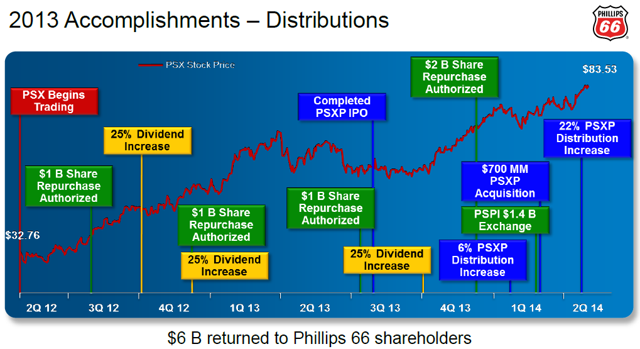 Click to enlarge
As if to reinforce the company's commitment to shareholder returns, the day of the meeting PSX announced yet another dividend increase (not shown on the slide above), raising it 28% to $0.50/share. That was the fourth dividend increase in two years, each of which was at least a 25% increase.
In addition, since the spin-off the company has paid down roughly $2 billion in debt while also buying back ~10% of the shares outstanding.
That is a look at the past, but what about the future? On that front, the company invested $2 billion in capital in 2013 to insure long-term growth. These growth projects include the following:
Launched PSXP and dropped down $700 million in assets to the MLP
Advanced plans on the Sweeny NGL fractionator.
Advanced plans on the Freeport LPG export terminal.
Approved final investment decision on the USGC petrochemicals project (CPChem).
DCP completed NGL pipelines and gas processing projects.
I previously reported on the LPG export terminal plans in the Seeking Alpha article Phillips 66's Big Deal To Sell LPG To Sinopec.
Each of the projects listed above should continue PSX's peer leading record of investment returns across each of its major business segments:
Click to enlarge
Phillips 66 Chairman and CEO Greg Garland remarked in his annual meeting presentation (see transcript here) that these growth plans are likely to double PSX's enterprise value over the next five years. He also said investors can expect PSX to raise dividends at a double digit rate from 2014 through 2016. Garland said as long as PSX trades at a discount to its intrinsic value (implying that it still does), the company will continue to buy back shares.
Outlook
The consensus 2014 earnings estimate for PSX is $7.29. S&P predicts $7.05. Taking the midpoint of the two estimates ($7.17), and assuming the current P/E of 12.8 stays constant through the year, that implies a year-end price of $91.
That said, I could make a good argument that the investment community will someday come to the same conclusion I have: that PSX may be the Best Play On "Shale USA." When that happens, PSX should be rewarded with a higher valuation - i.e. P/E expansion. After all, the current S&P 500 P/E is 17.9 and has a yield of 1.96%. My observation here is that PSX has proved it is much better than the average S&P 500 company and it is currently yielding 2.4%. So why is it selling at a discount to the broader market as measured by these S&P 500 metrics?
Summary And Conclusion
PSX continues to execute at a very high level. Like its mother ship ConocoPhillips, PSX management continues to meet (and usually exceed) its commitments. As a result, shareholders have been well rewarded over the past two years. But the ride is not over. Phillips 66's growth plans are on track to double the enterprise value over the next five years. On a fairly conservative earnings based estimate, PSX should hit $91 by year-end. I say "conservative" because that assumes the market will stick with what I consider a substantial valuation discount to the broader S&P 500. Phillips 66 Is A Strong BUY. Long-term dividend growth investors should consider the company a core long-term holding.
| | |
| --- | --- |
| Market Cap: | 46.53B |
| P/E (NYSE:TTM): | 12.86 |
| EPS : | 6.39 |
| Div & Yield: | 2.00 (2.40%) |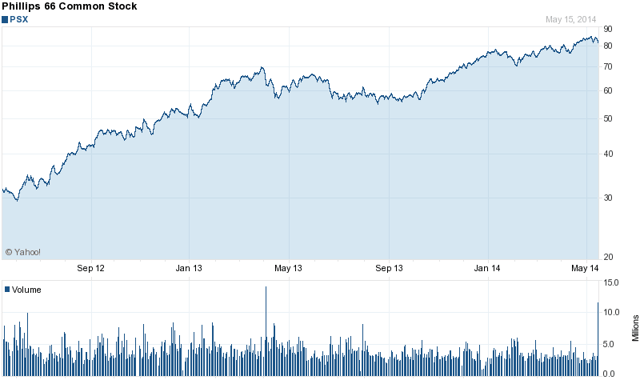 Click to enlarge
Disclosure: I am long COP, PSX. I wrote this article myself, and it expresses my own opinions. I am not receiving compensation for it (other than from Seeking Alpha). I have no business relationship with any company whose stock is mentioned in this article.
Additional disclosure: I am an engineer, not a CFA. The information and data presented in this article was obtained from company documents and/or sources believed to be reliable, but has not been independently verified. Therefore, the author cannot guarantee its accuracy. Please do your own research and contact a qualified investment advisor. I am not responsible for investment decisions you make. Thanks for reading and good luck!