Background
EMC (EMC) is a strong and well positioned data storage and software player that continues to benefit from a number of major technology trends. The company has a diverse portfolio of data storage, virtualization, cloud computing solutions, and big data analytics. The company has continually shown a savvy ability to identify major emerging computing and technology trends and leverage the steady earning power of its core storage business to innovate within the company, through acquisition, and joint ventures. EMC's operations consist of two major components, the traditional information infrastructure/hardware business of the larger parent EMC company and the younger and growing virtualization platform and software of VMWare (NYSE:VMW), EMC's 2007 spin-off of which it is a majority owner.
Data, Big Data and the Cloud
Awash in Data
The ability to collect, organize, and store data has always been a vital component of successful business operations. It is a fundamental property of economic activity that the act of buying and selling goods and services produces data; sales records, invoices, tax documents, and customer communication are just a few of the thousands of different types of data businesses generate every minute of the day. Computers began to revolutionize the storage, organization, and exploitation of data by businesses and governments some eighty years ago with an IBM punch (NYSE:IBM) card machine that improved data storage, filing speed, and efficiency. Modern computing power brought about the rise of growing data storage in discrete databases that individual companies and organizations could utilize to improve efficiency and service. The internet and innovative software has continued to connect and improve these once siloed databases to create a flow of information that can be searched and analyzed to improve the operations of businesses and institutions across the spectrum of society.
Today the billions of connected devices around the world are generating monstrous quantities of data every second of the day. Mobile penetration of the consumer market place and the widespread use of social media has touched off a data storm that was unimaginable even a decade ago. Experts at IBM have estimated that 2.5 exabytes (2.5 billion gigabytes) of data were generated every day of the year in 2012 alone. As global mobile penetration is expected to reach over 70% of the world's population by 2017, this massive data creation will continue to grow exponentially. Much of this data is so-called un-structured data generated by social media, blog posts, and person to person communication in the form of video, pictures, tweets, texts, and voice.
The storage of all this data has typically been handled by a network of on-site data centers that were costly and cumbersome to build and maintain. As a consequence, large, medium, and small businesses have increasingly been turning to virtualization platforms and an ever growing network of "cloud based" storage providers such as Amazon (NASDAQ:AMZN), Rackpace (OTCQB:RACK), IBM, Microsoft (NASDAQ:MSFT), Salesforce.com (NYSE:CRM) and dozens of other competitors in a crowded and highly competitive space.
Data Goes "Big"
While the generation of data is a natural by-product of economic activity, the simple archiving of data has no intrinsic economic value. The world's economic activity and the functioning of its governments and NGOs generates volumes of data so large that they simply overwhelm conventional means of analysis. Yet it is only with careful and insightful analysis that any collection of data can be utilized to add value to a business or organization. The exponential growth of data collection has coincided with the development of analytical software that can sort, categorize, and (most importantly) look for patterns in the vast quantity of data the world's nearly 7 billion people generate each day. It is the analysis and use of giant quantities of seemingly unrelated data sets by analytical software that allows online retailers to predict which products a consumer may prefer, super markets to tailor coupon offerings based on spending habits, cities to predict likely patterns of crime and more effectively deploy limited law enforcement resources, health systems to track, monitor, and predict the spread of infectious disease, intelligence services to filter billions of interpersonal communications, as well as thousands of other economically and socially important functions. The combination of powerful analytical software applied to exponentially increasing sets of data to generate useful insights for businesses, governments, and NGOs has been coined by popular culture as "Big Data".
Why the Cloud?
Simply defined, cloud computing is the practice of using a network of remote third party servers to store, manage, and process data over the internet instead of using a traditional local server or PC. While the practice may not yet seem valuable to every personal computer/mobile user for their computing lives, the rise of cloud computing is a direct result of a specific and acute business, government and NGO need. Using the cloud instead of local servers or PCs solves many IT problems plaguing institutions and businesses of every size including maintenance, cost, collaboration, and "right sizing" or the ability to scale a particular business's storage and IT needs up or down in response to its specific market conditions. As a result, the growth of the cloud has been strong and the pace of adoption by small, mid, and large businesses and organizations has been rising with each passing quarter.
An Iron in Every Fire
EMC is well positioned to benefit from each of the clearly emerging trends in technology detailed above; the exponential growth of data production and its corresponding demand for storage capacity, the growth of cloud computing and shared server space, and the rise of so-called 'Big Data' or the ability to leverage powerful analytical software to extract valuable insights from large data sets.
The old Stalwart: Data Storage
At its core EMC is still a hardware company providing data storage solutions to businesses and institutions around the world. EMC's Information Storage solutions were responsible for 70% of total revenues in 2013 and will likely continue to play a dominant role in the company's revenue in the long term. The company's reliance on data storage for a majority of its revenue should give investors pause as the storage market is one of high competition and extreme pricing pressure that has compressed margins and led giants like IBM to sell-off parts of their storage business to focus on higher margin software. Yet the constant expansion of data generation, innovative new storage products, and EMC's ability to provide packaged hardware/software data solutions has allowed the company to continue to grow its sales in specific segments of the storage space and gain market share from rivals. EMC is currently estimated to hold a commanding 30% of the total storage hardware market and is likely to grow this share as it leverages its latest emerging data products to take advantage of VMware software integration and trends in cloud computing. The growth of its data storage segment has been modest (4% in 2013) and driven entirely by its innovating emerging storage products, but long term data trends and continued innovation will likely lead to a slow steady build out of storage infrastructure with EMC at the center.
Emerging Storage Growth
While EMC's traditional data storage business has seen recent tepid to declining growth, the company's so-called "emerging storage" business and its unified backup products have shown impressive growth in both 2013 and the first quarter of 2014. EMC's emerging data business is composed of a suite of products including the ExtremIO all flash storage server, the Atmos cloud storage platform, and the VPLEX Virtulization platform. Taken together, Emerging storage still represents a small percentage of EMC's total revenue in its storage segment, but the innovative products have shown impressive growth in both 2013 (up 54% y/y) and the first quarter of 2014 (up 81% y/y) that were entirely responsible for growth in the larger storage business. This impressive growth clearly indicates the company's storage business is moving in the right direction to meet the growing trends of virtualzation, cloud computing, and big data and drive future growth. The performance of this emerging area of data storage products was likely the catalyst behind EMC's recent acquisition of the privately held flash storage developer DSSD.
VMware and Virtualization
VMware is a software company that provides industry leading cloud and virtualization software for x86 architecture servers. The company was acquired by EMC in 2004, who later spun-off a 15% stake in the company in a 2007 IPO. VMware has a dominant leadership position in the increasingly competitive virtualization space. Virtualization is a computing technique that has revolutionized the efficiency and capability of data servers as it enables multiple "virtual" computers to run separate operating systems and applications on one physical host machine. VMware's vSphere platform allows businesses to aggregate their computing power into a single pool that can be more efficiently utilized and expanded.
EMC's 85% stake in VMware has been a powerful growth engine for the company as VMware's earnings from software sales, service, and licensing grew some 43% from 2012 to 2013 and are projected to average a 16% growth rate over the next 5 years. In the 1st quarter of 2014, VMware accounted for over a quarter of EMC's total revenue and contributed greatly to the company's overall margin. This dramatic and steady growth has not gone unnoticed in the tech industry, and VMware will be competing in an increasingly crowded space, including some of tech's biggest players, as the industry moves towards VMware's vision of software defined data centers.
VMware is not standing still in the face of growing competition, however, and recently made an aggressive acquisition of the privately held Air Watch as a play in the enterprise mobile space.
Pivotal
In 2013 EMC launched a new initiative it called Pivotal, pulling resources from both EMC and VMware to create a big data and cloud computing company. EMC owns 69% of the joint venture and envisions the company's primary mission as bringing the analytical tools currently used by top technology companies in the world, such as Google (NASDAQ:GOOG) (NASDAQ:GOOGL) and Facebook (NASDAQ:FB), to other less technologically able businesses and organizations as an enterprise ready platform. The success of the new venture remains to be seen (early results reported in Q1 of 2014 are impressive), but it is very likely to add significant revenue and earnings to EMC as it is brilliantly positioned in a fast growing market that is expected to expand from $8 billion to $20 billion over the next five years.
An Undervalued "Old Tech" Company with New Tech Growth
Q1 Performance: Growth amidst Stagnation
EMC reported Q1 earnings on April 23rd amidst a generally changing market sentiment in which once high flying technology stocks, biotechnology, and so-called momentum stocks were falling out of favor with investors who took profits and moved to more defensive blue chip mega caps beneath the specter of geopolitical uncertainty (ongoing Russian/western tensions over Ukraine) and growing unease with 2014 economic growth. EMC's Q1 earnings were generally strong, showing impressive growth in most of the company's areas of operations despite continued subdued IT capital spending. The persistent weakness in IT capital spending continued into Q1 of 2014 with sales of traditional storage, content management, and RSA security slumping 7% y/y. Yet despite this somewhat expected y/y decline, the overall company performed very well and showed EMC's diversified portfolio of products and services are resilient enough to overcome a sales decline in even its core information storage segment. The company's Q1 revenue came in $80 million above estimates, consolidated EMC revenues grew 2% y/y, while EPS met expectations (non-GAAP actually beat by a penny). Even more encouraging, EMC reported strong growth in VMware (revenue up 16%), its Pivotal initiative (revenue up 41%), and its emerging storage business (revenue up 81%). EMC also affirmed its earnings and revenue guidance for 2014 (despite initial widespread reports to the contrary) and raised its quarterly dividend by 15%. EMC's affirmed earnings growth for 2014 is 9.5% y/y, with 2015 earnings projected to grow nearly another 9% over 2014.

(Source: Bloomberg Businessweek)
Despite the company's continued growth, analysts chose to focus on the decline in the company's core storage infrastructure business and concern over a decline in VMware's bookings to send shares of both EMC and VMware into retreat. EMC's share price fell nearly 10% from its 2014 high and has regained only a fraction of the value it lost from its March high of $28.18.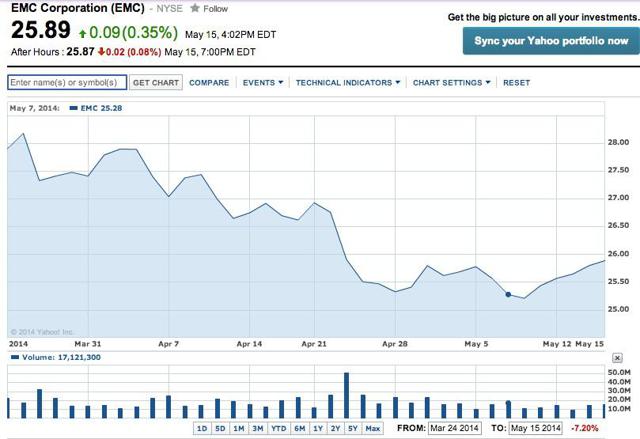 (Source: Yahoo Finance)
Valuation
EMC's diversified storage and software business has built a strong track record of stable sales and earnings growth and is a predictable generator of free cash flow, over $900 million in Q1 alone, that the company has shown a willingness to return to shareholders through buybacks and dividends that are competitive in the technology sector (depending of course on which companies you define as belonging in the analysis). While EMC is unlikely to substantially raise its current payout ratio, the company's stable earnings growth insures continued growth in capital returned to shareholders over time. Taken together, EMC's stable earnings growth and continued capital returns to shareholders, the company's current share price is undervalued.
Shares of EMC are currently trading at roughly 13.5x 2014 earnings and just above 12x consensus 2015 estimates. The S&P 500 is currently trading at approximately 15.2x 12 months forward earnings and about 18x TTM. This would suggest that EMC's shares are undervalued by 10% to the market average forward P/E ratio.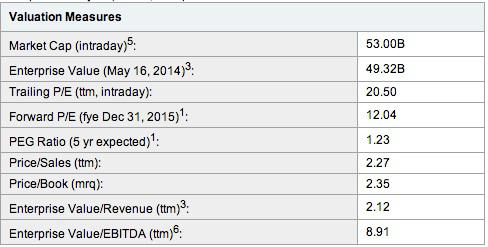 (Source: Yahoo Finance)
EMC's strong position in several high growth industries and its stable revenue and earnings growth argue for the company's shares to be trading at a premium to the current market average. The current analyst consensus price target of $30.07 values the company at only a slight premium to the forward market P/E valuation. A more accurate target is likely between the consensus $30.07 and the high $36 price target implying a 15-20% appreciation in share price over the next 12 months.

(Source: Yahoo Finance)
Conclusion
EMC is a strong diversified technology company well positioned in each of the major technology growth trends in the near and medium term including data storage, virtualization, cloud computing, and Big Data analytics. The company stands to benefit from the exponential growth of data driven by the digitizing of nearly every aspect of consumers' lives and rapid growth of social media. Strong growth in emerging storage, data analytics (Pivotal), virtualization and cloud solutions will likely continue to moderate the effect of slumping sales of traditional storage in the near term. EMC's share price is likely undervalued by between 15-25% and should rise as the company delivers on 2014 revenue and earnings guidance. Due to its strategic position in multiple high growth technology themes, stable revenue and earnings growth, and its currently undervalued share price, EMC should be strongly considered as a quality addition in a patient investor's diversified portfolio.
Disclosure: I am long EMC. I wrote this article myself, and it expresses my own opinions. I am not receiving compensation for it (other than from Seeking Alpha). I have no business relationship with any company whose stock is mentioned in this article.