Opening
Twitter (NYSE:TWTR) has quickly grown to be a powerful medium for sharing news and updates. The company is incessantly being compared to Facebook (NASDAQ:FB), but this may be an unwarranted comparison. In essence, Facebook still reigns king over Twitter for several strong and compelling reasons. As such, Facebook offers a better investment opportunity over Twitter.
Facebook Has A Greater Reach:
Through its inception, Twitter gained the title of being more popular with teens than Facebook. In reality, Facebook's reach among young adults is far greater than Twitter's. Having a larger user base is key for app monetization through ad views and in-app purchases. Facebook has a larger reach and thus has a greater opportunity to tap this expanse of users.
Being able to reach 84% of 18-29 year olds is a strong data point for marketers who choose Facebook for their marketing programs. This is much greater than Twitter's reach and allows marketers to reach a larger expanse of this key market segment.
Twitter's User Growth Is Tapering:
One notion that may not be understood in the realm of these two companies is each company's stage in the marketplace. Facebook was already an established company when Twitter broke into the social medium realm. There is nothing wrong with explosive user growth north of 100% in early 2011, but Twitter's user growth is slowing - fast.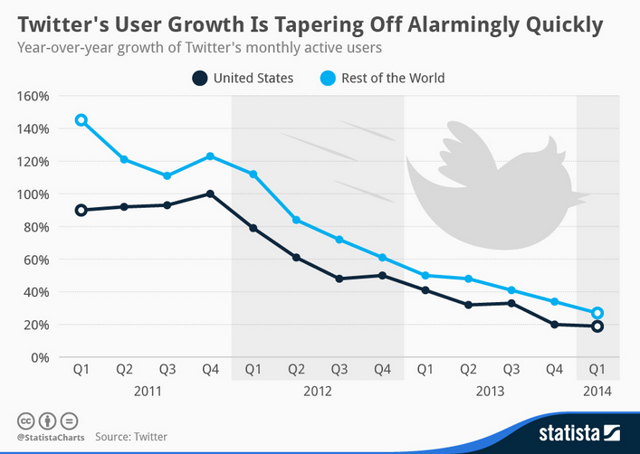 As such Twitter has gained much of the news attention since its inception as a high growth platform. But all good things come to an end, and Twitter's user growth is slowing down - and fast. As such, Twitter's growth is not endless and Facebook still reigns king in terms of users with 1.28 billion, nearly 5x Twitter's expanse.
Twitter has had explosive growth as a social medium, albeit Facebook enjoyed the same growth in its introductory phase as well. Now that the two companies are established and more mature the question of where to place your investment dollars persists.
Share Price Strength and Confidence:

Twitter opened for trading the first week of this past November. After an initial pop, shares faded as Facebook's shares have had more resilience. Open market trading by retail investors is one data point, but the events following a lock-up expiration is another interesting point. The events following the expiration is a key indicator that long term confidence in Twitter is not foundational.
Following the expiration of the lock-up for early investors and employees in Twitter, shares plunged 17.8% as both parties sold at their first opportunity to do so. On the other hand, early investors and employees held onto their shares of Facebook on the first day early investors and employees were able to sell shares. Shares were actually up 12.6% that day.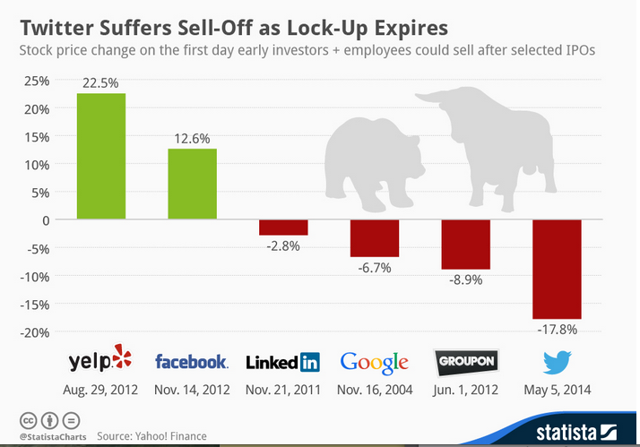 The fact is that long term confidence by retail investors, employees and insiders is not foundationally strong. This can be viewed by the large drop in the share price following the lock up expiration and the steady decline in shares after the initial pop. Investors should look for companies with insider and employee buying as they are the parties closest to the company who are most in tune with the long term potential of the company. Confidence on their end is a solid data point worth watching.
Insider Buys:
The share price decline following the end of the lock-up period is one data point, knowing exactly how many shares were sold is another. Over the past three months, insiders have sold nearly 86 million shares and have not purchased any shares directly. Facebook has had a more even picture, with roughly 8.74 million shares being purchased and 8.28 million shares being sold.
Insider buys and sells are a key window into how management and those close to the company feel regarding the company's future. As such the large insider and employee sales in Twitter following the expiration lock-up is a definite negative signal.
User Engagement:
Holding onto a user once they are on a platform for a worthwhile amount of time is what every social media platform covets. Since a more engaged user will stay on the platform longer, see more ads and have a higher monetization rate than those just passing through.
Business Insider found Facebook the leader by a wide margin in PC-smartphone engagement. Facebook had a score of 50.7 while Twitter lagged behind at 7.4. Interestingly, Instagram topped Twitter as well with a score of 13.5. Even better is the fact that Facebook owns Instagram.
The report also found a 7 fold increase in user engagement for Facebook over Twitter in per user terms. User engagement is one of the most noteworthy statistics for social media platforms as a more engaged user base is one that can be monetized to a higher degree.
Another report found that on a global basis, Facebook earned $2 per user while Twitter only earned $0.88. This speaks to the increased amount of money that can be earned from a more engaged user base. Furthermore, Facebook's 1.28 billion users trumps Twitter's 255 million tweeters.
User engagement comes through marketers being happy with the value proposition that a platform can offer for its advertising dollars. Facebook is able to earn more per user over Twitter due to higher engagement, but also due to the face that more marketers are choosing Facebook over Twitter.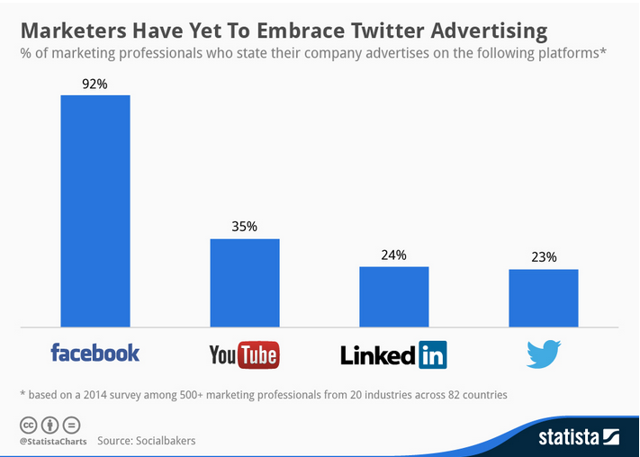 Facebook Is An Advertising Beast:
In its early days, how Facebook would make money was a huge concern. That has all changed as the company made a very successful move to monetize its mobile platform. Looking back to the quarter where this materialized, Facebook's earnings rose 8x in the 4Q of 2013. Ad revenue growth was also up 76% as the average revenue per click shot up from $1.05 to $1.80.
The point of the matter is that Facebook has grown to become an advertising beast, and its earnings translate this. Twitter on the other hand has not been able to make this monetization transition as successfully.
Facebook is also moving to video ads on its main Facebook platform and image ads on instagram for greater monetization efforts. Mark Zuckerberg is on the fence about monetization of the company's applications. He stated that it will be years before the company really monetizes Instagram or WhatsApp - and this is also following the acquisition of Oculus VR - the virtual reality company.
This seems somewhat contradictory to the company's ad placements on Instagram and the company's huge earnings from advertisements. Nearly 59% of advertising revenue came from mobile for Facebook in their most recent quarter.
Zuckerberg stated that the company has just scratched the surface on monetization of the company's applications. With revenue of over $2.5 billion for the quarter this is promising as current efforts are already translating into meaningful top line growth. This also speaks to Zuckerberg's efforts to position Facebook as a long term investment and growth story instead of pushing for full fledged monetization now.
Conclusion
Facebook and Twitter are frequently compared as they are the two key social media platforms today. It is worth noting that even though their businesses are comparable, their size is not. Facebook is a $148 billion dollar company while Twitter is much smaller at $19 billion.
Moreover, following the acquisitions of WhatsApp and Instagram, Facebook is adding to its very powerful social media ecosystem. For the price Facebook paid for WhatsApp, it begs the question that Twitter could be a potential buy out target for Facebook.
Other than a buyout, Twitter's user base and relevancy could simply erode to Facebook in the coming quarters if the company is not able to increase user growth, engagement and retention. Many go to Twitter to view the news, but Facebook is moving forward on this front as well. Facebook has launched Paper, a news reading application, and FB Newswire to share noteworthy journalism content. Twitter desperately needs to quickly and efficiently grow its engagement, improve its platform and expand into other areas. This is due to the fact that Facebook is not just sitting around as the company is expanding into new areas more vigorously, such as news. Facebook is also monetizing its user base more efficiently and growing into other areas through acquisitions - such as strengthening its messaging standpoint with WhatsApp and the move to the virtual reality realm with Oculus VR.
Personally I enjoy using both platforms, but investors only have so much money to invest and would like the best possible returns for their investments. As such a further reaching platform with a more engaged and monetized user base that is positioning itself for the future with accretive acquisitions is worth more than one without these features. As such if I had to choose one, my money would be in Facebook.
Disclosure: I have no positions in any stocks mentioned, and no plans to initiate any positions within the next 72 hours. I wrote this article myself, and it expresses my own opinions. I am not receiving compensation for it (other than from Seeking Alpha). I have no business relationship with any company whose stock is mentioned in this article. This article is informational and is in my own personal opinion. Always do your own due diligence and contact a financial professional before executing any trades or investments.