"You once told me, don't get emotional about stock, Gordon."
- Bud Fox, Wall Street
For a guy who did everything wrong in the investment racket, er…business, Buddy hit that one on the screws. Warren Buffett has often said that whatever stock it is that you own doesn't tell you it loves you when you come home from work. Still good advice.

Last week, after we published a piece discussing Apple (NASDAQ:AAPL) (and by going back and reviewing the comments to an earlier piece we wrote on the same subject), I'm hardly surprised by the emotional backlash to our position. The nerds love Apple. The emotional connection transcends the products and it's more than apparent that they love the stock as well. However, "love" is a heavy word that almost always requires some sort of commitment and carries a consequence. Sometimes, it's best to approach an investment like a commitment-phobic bachelor: Interested but not too interested, always aware how much you need from the transaction and a firm grasp on your parameters and exit strategy. Have an upside and downside target. Never use the word "forever". And don't fall in love. Typically, investors don't take that cold, distant approach. Investor uses tech gadget or product. Investor falls in love and buys the stock. The stock will go up forever and can do no wrong. Things get bumpy. Cool company does everything, except make money. Stock goes from 112 to 7. Investor is still in love and sticks with the stock. It's a marriage and that's what you do. For better or worse. For richer or poorer. This happened a lot in the tech boom 90s. Many hearts and fortunes were broken.

Another powerful emotion that can cloud investment judgment is fear. Lately there's more than enough of that to go around. According to the New York Times, small investors withdrew $33.12 billion from equity mutual funds in the first seven months of 2010. The spread between free cash flow yields for common stocks and investment grade corporate bonds (translation: stocks are yielding more than bonds) is the widest it's been since 1960. If it's equity related, it's guaranteed to send Joe Investor screaming into the night.

Maybe I'm not doing enough homework, but is there some crazy-ass rumor circulating on Fox "News" about an impending market crash this fall? This Monday, our team fielded dozens of phone calls from nervous clients asking about the coming crash. Crash? The DJIA is still down nearly 27% from its all time high in October 2007. At the darkest of the dark days in March 2009, it was down 54% (which means that if you had been a man and made a fist and bought then, you'd have doubled your money). That's not a crash. That's a Spanish Inquisition style slow-enhanced interrogation. After the Crash of 1929, or a better term would be initial crash, and the subsequent Great Depression (Beta version), the Dow didn't find its final, bottom of the ocean, down 89%, resting-place until July of 1932. Sometimes, a market crash can take a couple of years. Sure, we had some kind of bizarre 1,000 point "flash crash" thanks to some jerkwad compu-math geeks disguised as money managers. But that doesn't count. The Monday after Lehman failed? March 6, 2009? Those were true, 'running for the exits', 'mutual fund managers taking any bid they could get on a bond because they needed liquidity', honest-to-God market panics of historical quality. But it took a while to get there.

As long as investors get involved emotionally with their investments, money will continue to be lost. You can love your iPhone, your Big Mac, or the ease of Netflix (NASDAQ:NFLX). But when it comes to the company's stock, a "friend with benefits" policy is a better way to look at it.

Try not to get choked up while we introduce this week's three lil' piggies…

"Bum…bum bum bum bum"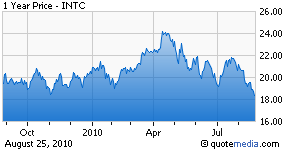 Intel Corporation (NASDAQ:INTC)
Recent Price: 18.42
P/E: 11.02
Current Yield: 3.42%

The Skinny
Last week, to great fanfare, INTC announced it was buying security software powerhouse McAfee (MFE) for $7.68 billion in cash. That's one reason large companies are hoarding Amazon.com (NASDAQ:AMZN)-sized warehouses full of cash. Back in the day when anyone would pay any price for your stock, that was what you used as currency. Now? Not so much. Good old fashioned check stroking is the preferred medium. It's a smart move in our opinion. INTC needs to grow the business beyond hardware, expanding their product portfolio. Aside from that, INTC looks like a good deal. Bargain valuation for a bluest of blue chip tech name is never a bad idea. The sub 4% yield? Considering tech companies didn't even pay dividends a decade ago (save for IBM) and the yield on the 10 year treasury is trying to break under 2.5%, it sure beats a poke in the eye with a sharp stick.

The Danger
According to some analysts' numbers, the deal is slightly dilutive. MFE trades at 44.8xs trailing earnings, which begs the question: is INTC paying too much? In addition to dilution, the deal is not accretive for at least two years. At best, the immediate effect on INTC is neutral. Not something a shareholder is wild about when the company is ponying up $7 billion of rare cash. Of course, the bigger picture is cloudier thanks to the uncertain economy, double dip risk (if we're not there already…I actually think we've never left but that's just me), and tight credit putting the kibosh on capex spending.

"All's well that charts well…"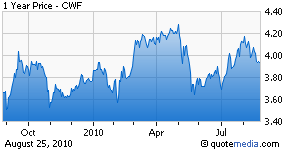 Chartwell Dividend and Income Fund, Inc. (CWF)
Recent Price: 3.95
P/E: NA
Current Yield: 10.41%

The Skinny
Reaching for yield? Of course you are. Here's a way to do it and get some halfway decent diversification. The top holdings include household names like MMM, HPQ, PFE, and MET. CWF is not a gigantic CEF with about $66 million under management. It trades at a 3.2% discount to NAV which is why it got our attention. The fund's objective is high current income. Capital appreciation is secondary. CWF seeks to achieve this goal by investing at least 50% in income generating equity securities, convertible securities, preferred stocks and anything else that will help generate the sick yield CWF holders know and love. There's a dividend reinvestment program so, if you don't want to take the income, you can watch the shares stack up.

The Danger
The long chart on CWF looks like the hill Buttercup and Wesley flung themselves down in one of the funnier scenes from the movie classic The Princess Bride. There's a reason. CWF's top ten is probably a little overweighted in financials. In fact, shares are down nearly 60% since 2007. We've come a long way back since the panic lows, however, CWF hasn't enjoyed that recovery. But, perhaps, the biggest risk comes from the leverage the fund uses. The fund's enticing yield is enhanced by the ridiculously low rates CWF can borrow at, invest and make money on the spread. But we all know, with rates near zero, there's only one way for them to go and that is up. The biscuit wheels will, eventually, fall off of this gravy train.

"Take a ride on the PW…"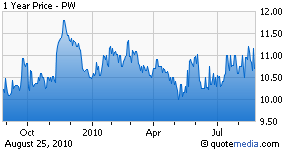 Pittsburgh and West Virginia Railroad (NYSEMKT:PW)
Recent Price: 10.69
P/E: 21.38
Current Yield: 4.86%

The Skinny
When you think of railroads, the PW doesn't pop into your mind immediately. Besides the big name rail players, Norfolk (NYSE:NSC), Burlington Northern (BNI), etc., believe it or not there are some smaller companies hidden in the hills out there. PW is one of those. Organized as a REIT, PW owns and leases a railroad running from western Pennsylvania to the eastern section of Ohio. In total, the company has 112 miles of main line and 20 miles of branch line and real estate used in the operation of the railroad. This one's way off the beaten path, but it may be worth a look. The dividend yield is superior to that of other railroads (1.78% for Canadian Pacific Railway (CP) and NSC, 2.71% for NSC, although they're much bigger). But, perhaps, the most logical reason for owning PW would be industry consolidation. When the likes of Warren Buffett can buy a large railroad like it was on a Monopoly board, others will follow suit. PW runs through a rich industrial corridor. The stock is 10% off of its 52 week high and with a market cap of merely $16 million, it would make an attractive takeover target.

The Danger
The corridor through which PW runs isn't called the rust belt for nothing. Times have gotten consistently tougher for the region since the decline of the American manufacturing base. Also keep in mind that one of the main resources hauled through the area is coal. As an energy source, coal isn't particularly the belle of the ball. That role could become somewhat permanent with looming energy reform legislation. As far as the stock is concerned, though, the biggest risk is liquidity the 3 month average trading volume is around 1,300 shares. Pretty tight. Plus, shares trade on the good 'ol AMEX (remember that one?), so forget about a bid and ask.
Disclosure: None.