Script sales for Belviq, the anti-obesity drug developed by Arena Pharmaceuticals (NASDAQ:ARNA), climbed once again this week as television advertising is creating increased awareness in the drug. Belviq is now almost at the point where weekly sales of the drug will surpass competitor Vivus (NASDAQ:VVUS) with its drug Qsymia. Belviq has been on the market for a year while Qsymia has about 21 months under its belt.
Before moving into the numbers there is a bit of clarity that I feel needs to be made in terms of the two reporting services, IMS Health and Symphony Health. While most readers comprehend the data, what it captures, and what it means, there are still some that are not clear on what these companies do, what they count, and why the two numbers differ. Both IMS Health and Symphony provide a weekly estimate on sales of prescriptions to consumers. Neither company captures all of the data and both must develop a formula to extrapolate what they feel the actual sales are.
In following Belviq and monitoring the progress of sales I develop my own formulations based on what is provided to arrive at what I feel is the important factor to track. Essentially I convert script sales into an estimate on gross revenue, net revenue, and ultimately my estimate of revenue that Arena Pharmaceuticals will receive. Readers that follow what I write can note that my estimate for revenue from Belviq sales in Q1 was $2.9 million. The actual revenue reported by the company was $2.88 million. I use IMS Health numbers for my revenue estimates. In the most recent months I have determined that IMS gets adjusted upward by 10% and Symphony numbers remain unadjusted. Subsequent to the most recent quarterly call by Arena and Eisai, I am shifting my upward adjustment on IMS to 5% and still leaving Symphony un-adjusted. My reasoning is that the script numbers in the current time-frame will be skewed because of a big uptick in 15 day free trials. These are counted as a script, but are really only half of a script. In addition, the revenue on the free trial is substantially less than the revenue on a typical sale. Remember, the goal is to project revenue for Arena, not necessarily the number of scripts sold or given away.
Both Arena and Eisai use IMS Health numbers to do their reporting. For that reason, it is very prudent for investors to consider doing the same. As an example, IMS health had Q1 scripts at 77,000. Symphony had Q1 scripts at 95,000. If you were to take the $2.88 million in Revenue and divide it by $77,000 you will note that the Arena revenue per script is $37.40. If you take that same $2.88 million and divide it by Symphony's 95,000 you will get revenue per script at $30.31. The delta between the two is over $7. That number is a material difference.
Now, for most reasonable people the very fact that Eisai and Arena both use IMS Health as the basis for sales metrics should be enough to put the issue to rest. I realize that Symphony reports a higher number and that it would be more attractive to want to go with the higher number for some reasons. I also understand why it would be tempting for an investor to want to adjust the Symphony number up, but let's look at a few facts on that subject that can hopefully allow readers to stay on the right page.
In Q2 there were 50,000 bottles of Belviq shipped from Eisai to wholesalers. This can be verified by statements from the companies.
In Q3 there were 41,000 bottles of Belviq shipped from Eisai to wholesalers. Again, this can be verified.
In Q4 there were 66,000 bottles of Belviq shipped from Eisai to wholesalers. Verifiable.
In Q1 there were 73,000 bottles of Belviq shipped from Eisai to wholesalers. Verifiable.
If we add these shipments together, the total number of bottles shipped from Eisai to wholesalers was 230,000 from launch through March 31, 2014. We know that a bottle has to get to a warehouse or distributor before it can get to a pharmacy or consumer. Thus, the highest possible number of bottles that could have been sold is 230,000.
If we add up all Symphony data from launch until March 28th and you arrive at 218,284. If we take the average daily rate of the following week to get us to March 31st, we would add 3,390. The total script sales between launch and March 31st would be 221,674. The difference between possible sales and the Symphony number is just 8,326. Is it reasonable to think that inventory in warehouses, distributors, and on pharmacy shelves is just over 8,000 when sales of this drug in any given week is higher than that number? Setting that aside, it is reasonable to think that the Symphony numbers (at this stage since launch) should be adjusted upward by 10%? 20%? A 10% adjustment would bring Symphony sales to a number (243,841) that is 13,841 bottles higher than the highest possible number at 230,000. A 20% adjustment would bring the Symphony number to266,009, over 36,000 bottles higher than what is possible. One explanation for the delta between the IMS number and the Symphony number may well rest in the 15 day free trial, which technically is half of a script. Is is possible that IMS considers this in their forecasts and Symphony does not? Perhaps.
Now, IMS Health for that same period (un-adjusted) was at 182,036 out of a possible 230,000. That would imply an inventory level of about 48,000. In my opinion that level of inventory might be a bit high, but let's consider that the initial channel stuffing at launch was 50,000 bottles.
Getting more specific, in Q1 we saw 73,000 bottles shipped. IMS un-adjusted sales were at 77,000. Symphony un-adjusted in Q1 was about 95,000. If inventory was at 20,000 prior to the quarter, the highest possible number for scripts would have been 93,000 bottles (73,000 shipped + 20,000 existing inventory). That is below what Symphony has tabulated sales at 95,000. If existing inventory was at 40,000 bottles, then the highest possible total would be 113,000 bottles. This is higher than an un-adjusted Symphony but would leave inventory at the end of the quarter at just 18,000 bottles. In the end, the numbers need to add up to something reasonable. Each investor must decide what they feel is reasonable.
Personally, I use IMS Health to derive my revenue estimates because that is what Eisai and Arena use. I also feel, that give how these numbers shake out vs. the facts we know from the companies, that use of IMS is more prudent. I do not feel that one company is better than the other or that either company is being manipulative. I feel that they simply differ. If you prefer Symphony that is quite fine, but you should be prepared to discuss the average revenue per bottle at a much lower number. A little math shows that the average revenue per bottle if you use Symphony numbers is $94 instead of the $116 the company uses based on IMS numbers. Be aware, my charts (inclusive of projection lines) are based on IMS - I provide Symphony as a courtesy but base no projections based on Symphony Health data.
While the above was quite time consuming, it can hopefully allow readers to have a better grasp as we continue to monitor sales. This week Symphony numbers were first out and show a week over week sales increase of about 6.3%. As of this writing, IMS data is still not available, but I will assume a 6% increase for the purposes of this piece. My adjusted IMS Health number would be just under 9,100, while an un-adjusted Symphony stands at just over 10,600.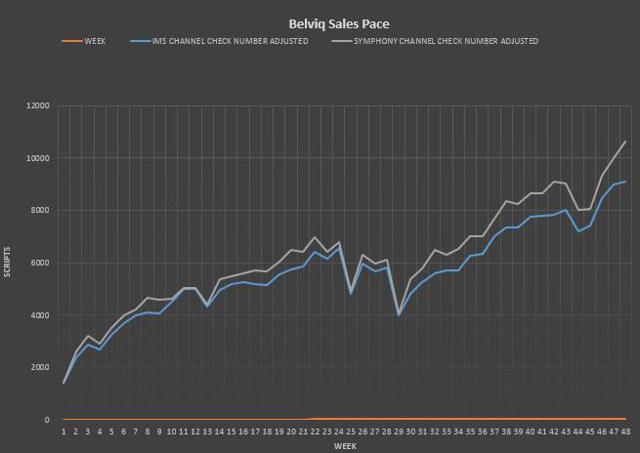 Chart Source - Spencer Osborne
Overall estimated gross sales in 2014 now stand at about $26.6 million with estimated net sales at $14.6 million and the estimated revenue to Arena at $4.6 million. The growth trajectory since the launch of television commercials is demonstrating additional traction. If you refer to the chart below you can see that the IMS data is tracking in lock-step with my outline for what it would take to arrive at $100 million in sales in 2014. Meanwhile, Symphony data, which reports a higher number is now tracking below the IMS based $150 million pace.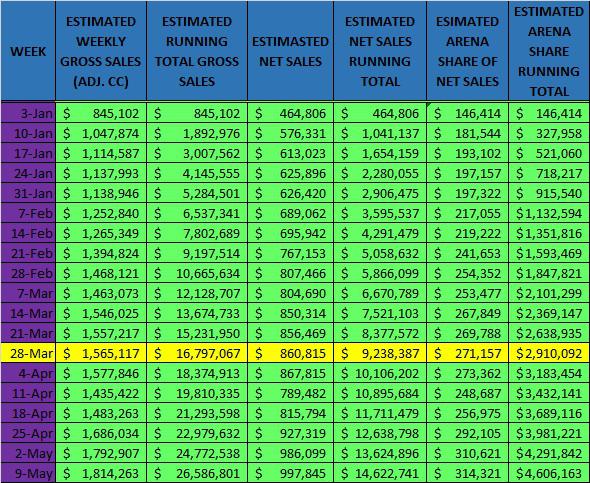 Chart Source - Spencer Osborne
On a quarter over quarter basis, we are seeing sales at 51% better in Q2 than we saw in Q1. This should allow for some decent revenue growth that the street will begin to pay better attention to as 2014 moves forward.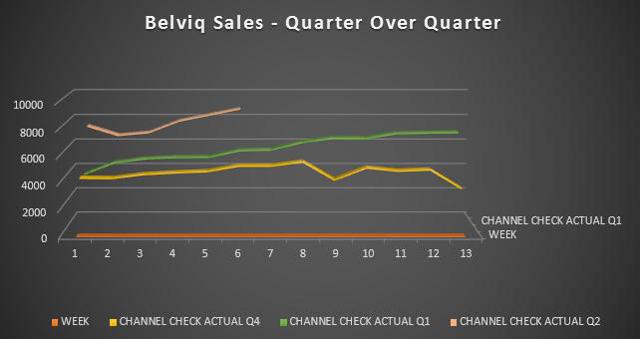 Chart Source - Spencer Osborne
The bottom line is this. Belviq sales are pacing better in Q2 than they did in Q1. Television advertising seems to point to better awareness and traction. Belviq is on the cusp of passing competitor Qsymia in terms of weekly sales, and could claim a leadership role in new prescription anti-obesity space, though sales are still well behind the established phentermine. The Arena "guidance" of $100 million in gross sales happens with the sale of just over 500,000 scripts as tracked by. That "guidance" is based on Arena getting $18 million in revenue from Belviq sales. For those that prefer Symphony, it will take about 608,000 scripts to track to the desired revenue. Belviq sales are tracking toward current Arena guidance, which is the minimum in terms of realistic expectations. Equity appreciation can happen when the sales (according to IMS) get above the minimum expectation line. A week over week pop above 10% in the next couple of weeks will be very well received by the street. Week over week movement below 10% will be neutral to slightly positive. Stay Tuned!
Disclosure: I am long ARNA. I wrote this article myself, and it expresses my own opinions. I am not receiving compensation for it (other than from Seeking Alpha). I have no business relationship with any company whose stock is mentioned in this article.