The U.S. stock market appears sound following another eventful week. After exploding to new all-time highs on Monday and Tuesday, stocks were turned back at the 1900 level on the S&P 500 Index (NYSEARCA:SPY) and finished the week effectively flat from last Friday. But while the stock market uptrend remains firmly intact, signs of erosion continue to accumulate under the surface. And given that it has been an unusually long time since the stock market has endured a meaningful double-digit pullback, it is worthwhile to step back from the daily lens and survey the stock market battlefield from a much broader view in an effort to determine what might be coming in the days, weeks and months ahead.
Fundamentally, today's stock market provides some reasons for concern. Stocks continue to trade at considerable premiums on a trailing 12-month and cyclically adjusted 10-year price to earnings ratio basis. And they are doing so at a time when the pace of economic growth remains sluggish, corporate sales growth is benign, earnings growth continues to fall short of lofty expectations and the U.S. Federal Reserve is in the process of winding down its QE3 stimulus program. None of these are characteristics that typically inspire enthusiasm over future equity returns expectations.
Yet despite these challenges, the U.S. stock market as measured by the S&P 500 Index remains just a few points removed from all-time highs. And although stocks let off some steam later in the week, the uptrend remains firmly intact with the benefit of support at a variety of technical levels. Not only did the S&P 500 Index respond to support at its 50-day moving average at 1868 late Friday afternoon, it also was bolstered by a sturdy netting at various thresholds including previous resistance at 1850, the upward sloping 100-day moving average at 1847 that has served as reliable support in four instances over the past year, the upward sloping 150-day moving average at 1823 that buoyed the market back in February, previous resistance at 1815, the vitally important upward sloping 200-day moving average at 1786, previous resistance at 1730 and finally the upward sloping 400-day moving average at 1660. In short, a lot is in place from a technical perspective to hold up this relentless bull market.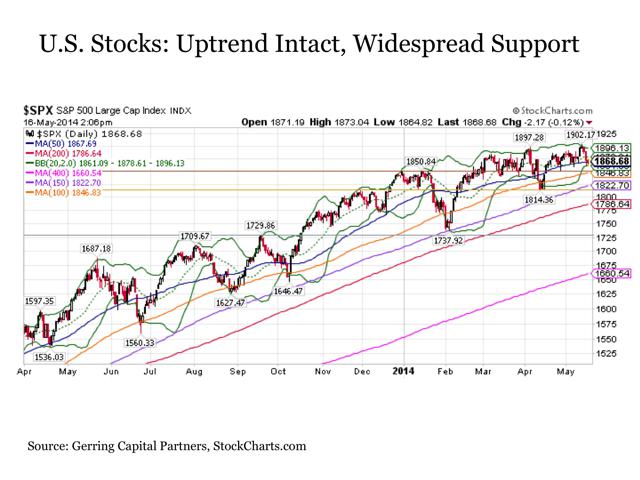 Click to enlarge
Although stocks look healthy and favorable at first glance, some signs of erosion are increasingly developing underneath the surface. Most notably, the small-cap segment of the U.S. stock market (NYSEARCA:IWM) continues to deviate to the downside from its large-cap counterpart. For example, both the SPY and the IWM were moving effectively in lockstep from the day that the Fed announced it would be tapering stimulus in mid December 2013 through the start of the second quarter in early April. But over the last several weeks, U.S. small cap stocks have broken decisively to the downside and are now solidly lower for the year while U.S. large-cap stocks continue to hover near all-time highs.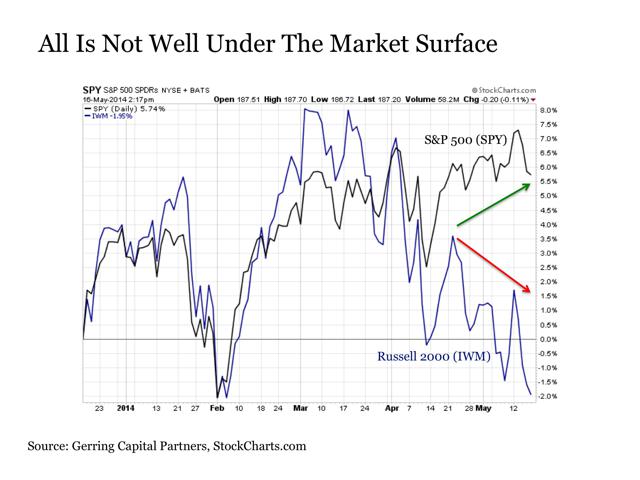 Click to enlarge
The damage is not limited to U.S. small caps, as a variety of the more cyclical areas of the market are showing more sustained signs of weakness. Leading among these are the Nasdaq (NASDAQ:QQQ) that peaked in early March, the consumer discretionary sector (NYSEARCA:XLY) in general that also peaked in March and retailers (NYSEARCA:XRT) in particular that peaked at the end of November. Why does this matter? Because these segments contain some of the more economically sensitive areas of the market that often are the first to give way in the earliest stages of a more prolonged market correction.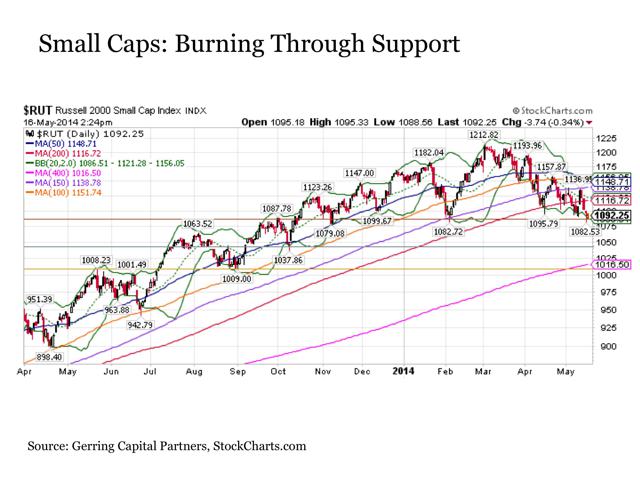 Click to enlarge
Notable signals are also emanating from other areas of the market outside of stocks. Leading among these is the U.S. Treasury market. The concern has been that Treasuries would suffer once the reality set in that the U.S. Federal Reserve would be winding down its QE3 stimulus program. Never mind that Treasuries have always rallied in the post crisis period without QE and struggled with QE, but this has been the concern. Another mark against Treasuries is that yields would buckle under the weight of upward pressure as the long anticipated sustained economic recovery finally picked up steam.
But since the start of the year, Treasury yields have been in steady decline. And from where we stand today, 10-Year U.S. Treasury yields (NYSEARCA:IEF) appear to be setting up for a run at critical resistance at the 2.40% level. A break in yields below this threshold would potentially signal that something very different than a sustained economic recovery and increased appetite for risk taking is taking shape. This, of course, represents a continuation of a trend that has been in place since the initial outbreak of the financial crisis more than six years ago now.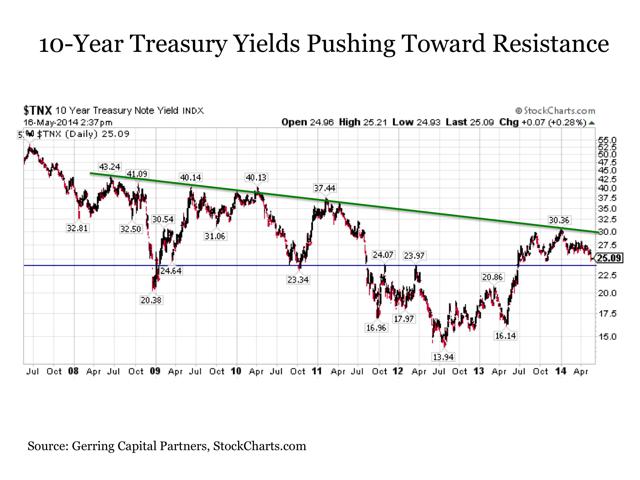 Click to enlarge
The notion that 10-Year Treasury yields may eventually break below critical resistance is receiving support from the long end of the yield curve. For the 30-Year U.S. Treasury yield (NYSEARCA:TLT) also recently ran up against critical resistance at the 3.50% level at the end of April. But the long bond cut quickly through this resistance level and remains on a steady course to the downside with yields having touched the 3.30% threshold in recent days.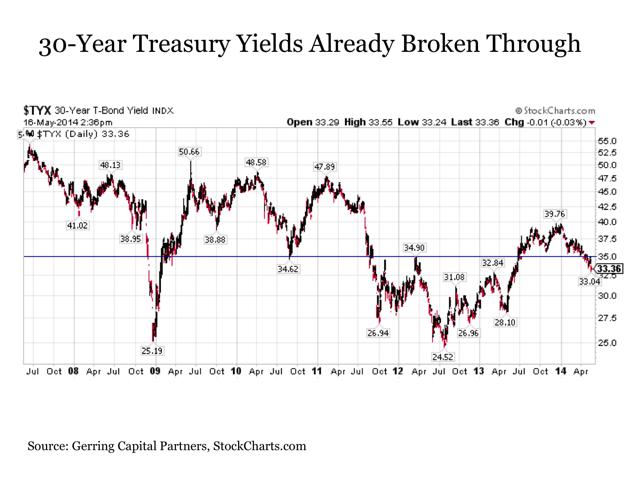 Click to enlarge
The precious metals market is also suggesting some ongoing indecision if nothing else. Granted, precious metals including gold (NYSEARCA:GLD) have been dealing with a variety of issues ranging beyond traditional fundamental behavior, but the fact that gold has entered into an extended period of consolidation following what was a precipitous decline in early 2013 suggests that the alleged optimism that was supposedly driving the decline in the gold price over the last 18 months may have encountered some hesitation. While short-term sentiment related risks for gold are biased to the downside, any meaningful break to the upside would suggest that something may have indeed changed in relation to how investors are viewing risk and potential return opportunities across market asset classes moving forward.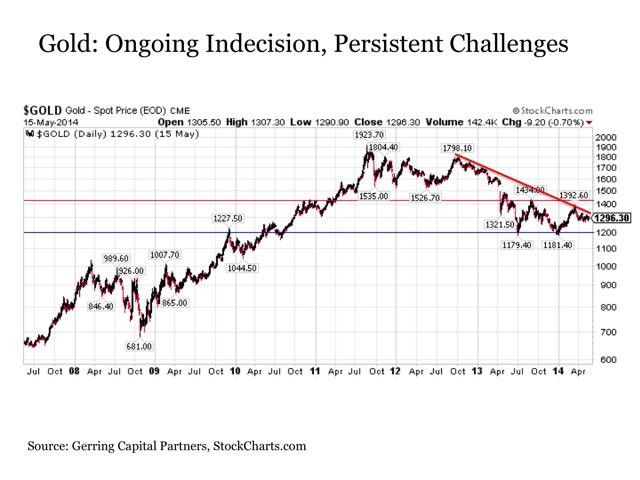 Click to enlarge
Lastly, volatility readings (NYSEARCA:VXX) are continuing to signal historical levels of complacency among investors. For example, the CBOE Volatility Index, or VIX, has continued to hover over the last year at levels last seen prior to the financial crisis in early 2007. History has shown that such complacency can last for extended periods of time, but markets tend not to get much more content than they are today before eventually becoming disrupted.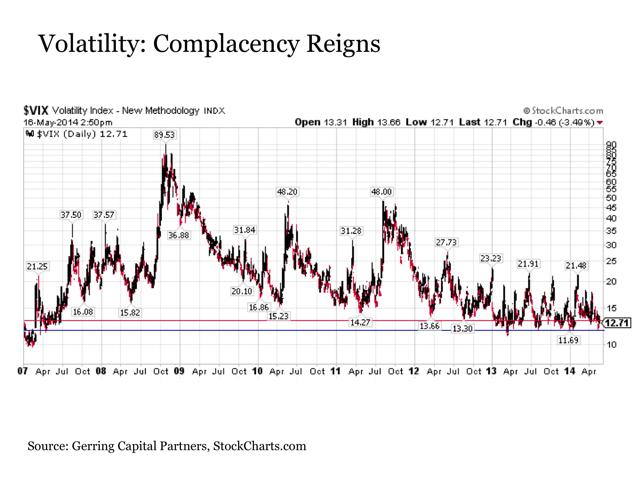 Click to enlarge
The bull market in stocks remains soundly intact. But this does not mean that risks to the outlook should be disregarded. This is already an old bull market by historical standards in a fundamental environment that is less than desirable, so maintaining a close watch on various risk signals across capital markets is worthwhile in working to protect against a sudden and unpleasant move to the downside. And at present, the battle lines across a number of categories may be signaling the potential for a more turbulent experience for stocks in the months ahead.
Disclosure: This article is for information purposes only. There are risks involved with investing including loss of principal. Gerring Capital Partners makes no explicit or implicit guarantee with respect to performance or the outcome of any investment or projections made. There is no guarantee that the goals of the strategies discussed by Gerring Capital Partners will be met.
Disclosure: I am long IEF, TLT. I wrote this article myself, and it expresses my own opinions. I am not receiving compensation for it (other than from Seeking Alpha). I have no business relationship with any company whose stock is mentioned in this article.
Additional disclosure: I am long stocks via the SPLV and XLU as well as selected individual names. I also hold a meaningful allocation to cash.