While the headline reports announced a 13.2% increase in housing starts for the month of April vs. March, an examination of the detailed line-items beneath the headline numbers shows an entirely different view of the report. With single-family home sales clearly in decline - as I've detailed in previous articles - a closer look at the rising inventories of housing units, both for purchase and rental - suggests that an oversupply of housing is developing which will lead to the re-collapse of the housing market.
In looking at the line-item breakdown of the housing starts report (see Table 3), 99% of the month to month increase in housing starts was for multi-family units - primarily rental buildings. As you can see, the month to month increase in single family homes was just .8% - or 5,000 units annualized. In contrast, the multi-family segment showed a 28.7% increase month to month and a 70% increase year over year, for April.
In my opinion, the flat number for single family starts reflects the deteriorating homebuilder sentiment per yesterday's report. It is the single home starts metric that is relevant to the health of the housing market because that's what affects the revenues and earning of home builders and reflects the overall financial condition of the average household. If home sales are in a declining trend, it means homebuilder stock earnings will begin to decline, as will the overall economy.
Too be sure, the big increase in multi-family housing starts is in response to the recent decline in apartment vacancy rates and an increase in rental rates (graph courtesy of Calculatedriskblog.com):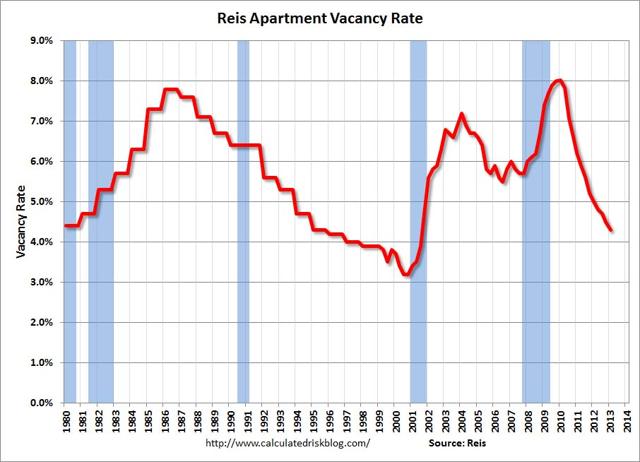 However, as you can see from the housing start data linked above, apartment rental unit housing starts have been increasing at a rate that is almost double the rate from two years ago. My point here is that, in response to declining vacancy rates/rising rental rates, apartment building developers will once again build an oversupply of rental inventory, which will eventually trigger a big decline in rental rates and housing prices. Anecdotally here in Denver, large new apartment buildings throughout the metro area are now offering move-in incentives. Furthermore, a market professional told me two days ago that the number of apartment units within Denver city limits is going to increase 9% this year. Thus, in my opinion, at some point the recent large increase in multi-family housing starts will lead to market saturation and over-supply.
As for the single family unit side of the data, as I've detailed in my past few articles on monthly new and existing home sales, housing inventory is rising. For instance, I showed in this article that existing home listings rose over 27% from February to March. The National Association of Realtors measures inventory using MLS listings. This does not capture "coming soon" or "for sale by owner" homes. In essence, the true level of homes for sale in any given market is higher than is reported by the NAR. Similarly, as I showed in this report, new home inventory in March jumped 20% from February and 42% from March 2013. Thus, the flat housing starts metric for single family units, in the context of the rising inventory and declining builder sentiment data, reflects the fact that market conditions in the home sales segment of the market are indeed deteriorating - quickly, in my view.
I thus believe that, contrary to the ebullience of the headline news reports, the line-item details of today's housing starts report from the Census Bureau reflects the onset of coming oversupply in rental apartments and the current deterioration in existing and new home sales. This is probably why the Dow Jones Home Construction Index (DJUSHB) is currently trading flat on the day after initially spiking up 1.5% from yesterday's close. This is despite a .4% rise in the S&P 500.
I continue to recommend that aggressive traders should be using every bounce in the homebuilder stocks to get short the market. After bouncing up to 490 early this week, the DJUSHB dropped 3.7% from its intra-week high through yesterday's close. I continue to be short KB Home (NYSE:KBH), DR Horton (NYSE:DHI) and Ryland (NYSE:RYL). I shorted out of the money calls on Tuesday near the weekly highs that are expiring worthless today. I also like shorts in Pulte (NYSE:PHM), Beazer (NYSE:BZH), Lennar (NYSE:LEN) and Toll Brothers (NYSE:TOL).
Disclosure: I am short DHI, KBH, RYL. I wrote this article myself, and it expresses my own opinions. I am not receiving compensation for it (other than from Seeking Alpha). I have no business relationship with any company whose stock is mentioned in this article.