Weibo (NASDAQ:WB) will report 1Q14 result along with parent company Sina (NASDAQ:SINA) on May 21. I am underweight Weibo heading into the print, as I believe that Weibo is becoming less popular in China's social media landscape, as seen in the drop in user time spent, which might have been driven by increased competition from Tencent's WeChat.
For 1Q14, consensus expects a loss per share of US$0.05 on revenue of US$67m, gross margin of 75% and EBITDA of US$0.6m. For 2Q14, consensus expects a loss per share of US$0.02 on revenue of US$78m. The key metric to watch is user engagement, as measured by the number of daily active users as percentage of the number of monthly active users.
Weibo's engagement level has hit a plateau since 4Q12. It has been stagnant at around 47%, which might have been due to increased competition from WeChat. Any sign of diminishing engagement level will be negative to share price.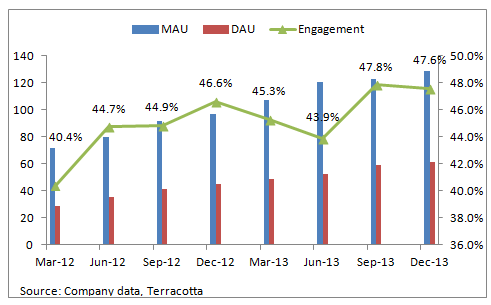 An alternative measure of engagement level is hours spent per user per month. It has been trending down during second half of 2013. I think the improved momentum in January and February this year is driven by the Chinese New Year holiday, which may not be sustainable. Given the deteriorating trends, I expect the Street to pay closer attention to whether Weibo has a clear strategy of turning the ship around.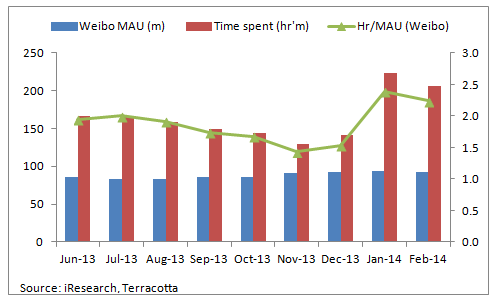 Heading into the earnings, I am a seller of both Sina and Weibo. Weibo's ability to compete against WeChat has important implications for Sina. Investors who can trade Hong Kong-listed shares are better off putting their money in Tencent (700 HK) to get direct exposure to WeChat. Alternatively, I suggest investing in Global X NASDAQ China Tech ETF (NASDAQ:QQQC), as strength in Baidu (NASDAQ:BIDU), Tencent and Lenovo (OTCPK:LNVGY) will more than offset the weakness in Sina.
Disclosure: I have no positions in any stocks mentioned, and no plans to initiate any positions within the next 72 hours. I wrote this article myself, and it expresses my own opinions. I am not receiving compensation for it (other than from Seeking Alpha). I have no business relationship with any company whose stock is mentioned in this article.