A Seeking Alpha user commented on my previous article that there are no hardcore gamers on tablets. I firmly believe he is not well-versed on the subject like I am. I dare predict that Advanced Micro Devices (NYSE:AMD) has a good opportunity in gaming tablets.
I used to be gamer myself. I made my first big money catering to gamers. I used to own an internet/gaming computer cafe from 2002 to 2009. I farmed a lot of Massively Multiplayer Online Role Playing Games (MMORPG) games for virtual gold and items.
I made my first big money selling virtual currencies and armors/weapons to lazy American/European gamers. There are millions of MMORPG gamers who don't like grinding many hours to earn game gold or find top-level items. American and European gamers also loath grinding to max levels, I made money power-leveling low-level accounts. It was a business. I employed people to farm gold, boss-hunt for unique in-game items, and to power-level accounts of Americans.
I and my employees, including our I.P. addresses, got banned at several MMORPG games due to this real money trading (NYSE:RMT) activities. Getting repeatedly banned prompted me to create/buy my own emulators so I could operate private servers of World of Warcraft, SilkRoad Online, Ran Online, and Cabal Online. I made more money selling virtual swords, shields, armors, and flying horses to gamers than I made on the U.S. stock market.
Unfortunately, I had to shut down my private servers when lawyers of the said copyrighted MMORPG games started emailing me cease and desist letters. Scared of getting traced and ruining my political ambitions, I quit the private MMORPG gaming business. This confession should establish my gamer credential. If you are not yet satisfied, please stop reading this.
Mullins SoC Is A Windows 8.1 Tablet Dynamo
I understand the PC gaming community. It's a huge market which delivers billions of dollars to AMD, Intel (NASDAQ:INTC), Nvidia (NASDAQ:NVDA), and Apple's coffers. Justin Jaynes can best explain this because he is a native English speaker. Tablet gaming is a monster opportunity for AMD. Windows-accustomed gamers will easily switch from their PCs to tablets if AMD provides the GPU firepower to replicate desktop-quality gaming.
I will try to illustrate why AMD's Mullins and future mobile SoCs are knocking on the door of many hardcore PC gamers.
1. Mullins is very energy efficient but still offers awesome GPU performance for Windows 8 tablet gaming. It has better gaming benchmarks than Intel Bay Trail-powered tablets.
The results chart from HotHardware should satisfy the geeks here at Seeking Alpha.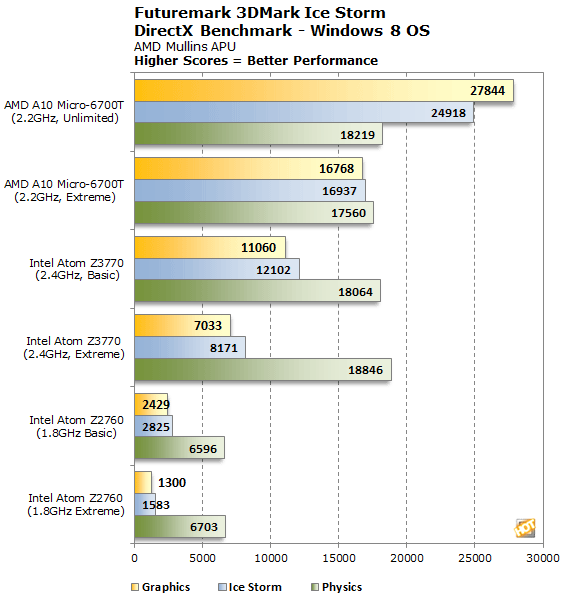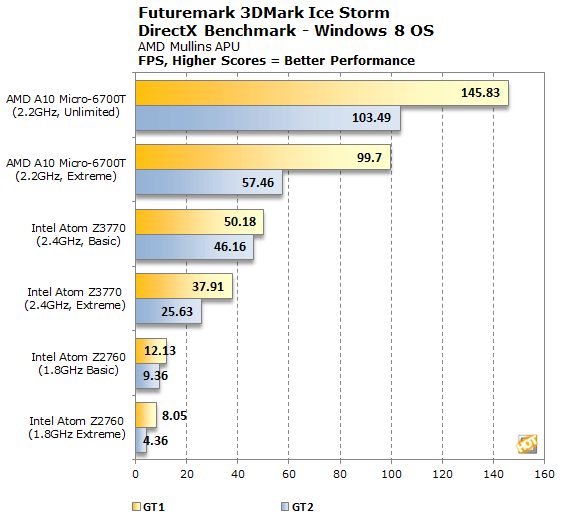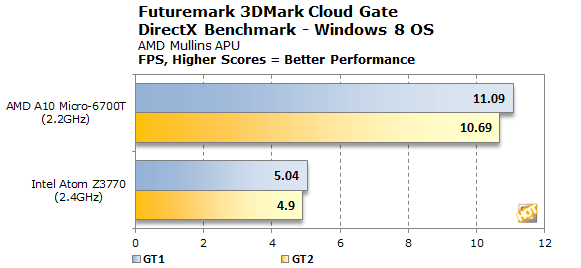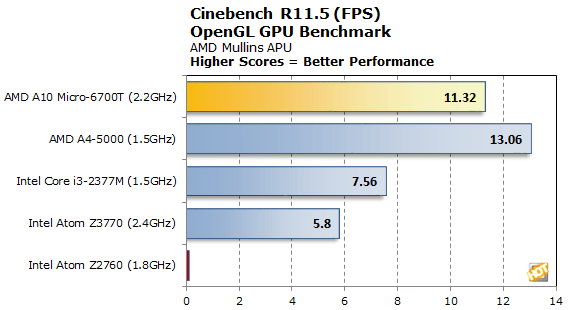 The HotHardware benchmark scores compel me to believe that a Mullins-powered Windows 8.1 tablet can attract hardcore MMORPG and MOBA (Multiplayer Online Battle Arena) gamers. The superior gaming experience it provides will turn on PC gamers to buy AMD-powered Windows 8.1 tablets. With the a7-inch Mullins tablet, they can play Dota 2, League of Legends, or World of Warcraft lying down on the bed or the living room couch.
Paid MMORPG games, while declining due to the rise of Free-to-Play MMORPG titles, still attract a lot of monthly subscribers. These are not kids but working adults with 9 to 5 jobs who pays $10 or $15 a month to play online games as a way to relieve their daily grind at the office.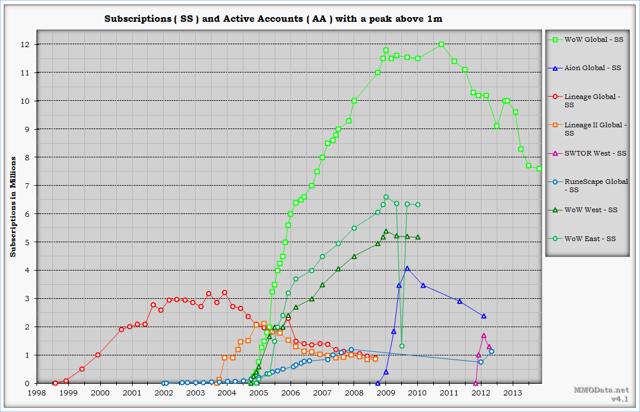 Source: MMOdata.net
Gamers have tried using their Bay Trail tablets to run Diablo 3, World of Warcraft, Battlefield 3, and Skyrim. There are a lot of RPG and MMORPG hardcore gamers that wants a gaming tablet. Sadly, Intel's 40-million tablet chips target this year doesn't include satisfying the needs of the gaming community.
AMD's Mullins SoC with its GCN gaming dynamo can start a revolution - make PC gamers accept tablets as viable alternatives to desktop gaming machines. Mullins can inspire MOBA addicts to switch to tablets when playing League of Legends or Dota 2. These two action strategy games currently dominate the PC multiplayer gaming industry.
Mullins is perfect for MOBA gaming on 7, 8, or 9 inch tablets. The lackluster games performance of Intel Bay Trail-T chips deserves to be replaced by Mullins inside Acer or Asus Windows 8.1 tablets. League of Legends boasts 27 million daily players last January. These are hardcore PC gamers that deserves commercial version of AMD's Project Discovery tablet.
Here's a link to an infographic just how pervasive or addictive League of Legends is now. Below is a partial screenshot.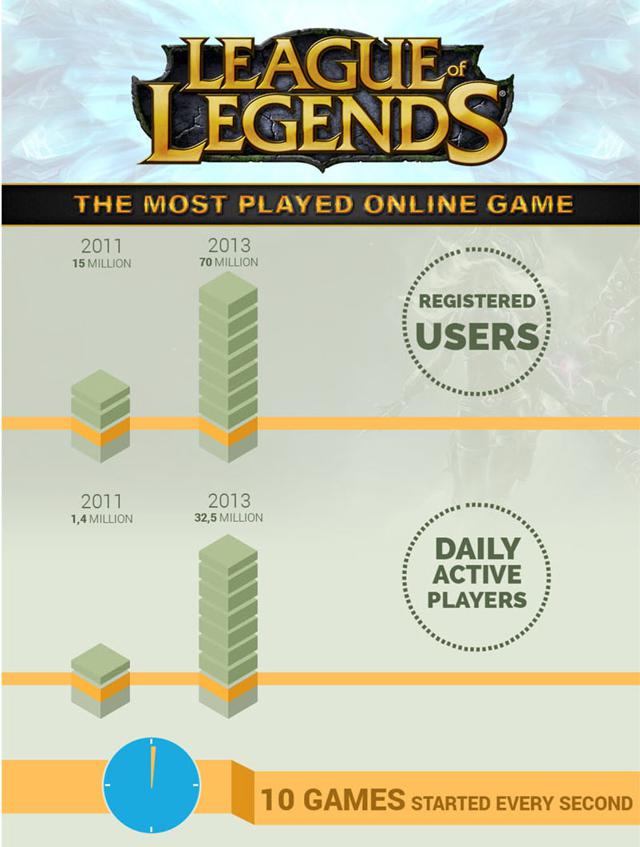 That's just one PC game, we are not even counting the hundreds of millions of Dota/Dota 2, Heroes of Newerth, and other MOBA games.
Conclusion
There are tens of millions of hardcore MMORPG and MOBA PC gamers that are waiting for Mullins-powered tablets. Preferably with controllers like the Project Discovery has. It is a lot healthier to lie down on the bed and play League of Legends for 5 straight hours than doing it slouched down in front of a desktop computer.
It is cheaper to buy a $249 Mullins tablet to daily hunt boss-dropped items in MMORPGs. It is also more earth-friendly for addicted gamers to play games using energy efficient tablets than desktop PCs. Rory Read will find it comfortable to market a commercial Project Discovery tablet if he maximizes Mullins for Windows PC gamers who desire a tablet capable of running Dota 2.
One more thing, there are MMORPGs and MOBA games for Android OS too. There are many hardcore gamers and farmers at Order and Chaos Online. In my own humble opinion, AMD is a long-term BUY.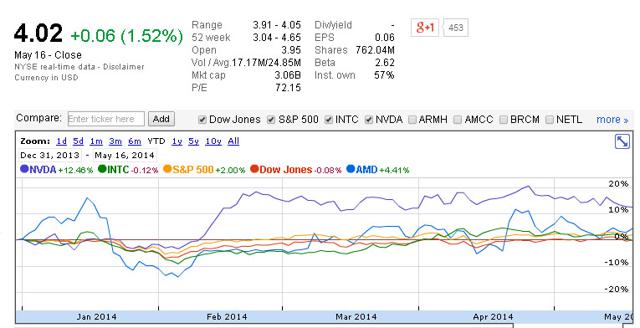 Source: Google Finance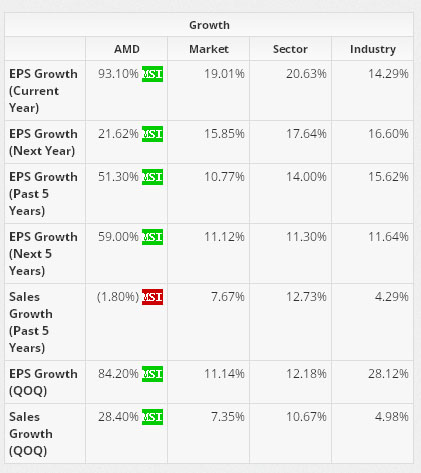 Source: getaom.com
Disclosure: I am long AMD, INTC. I wrote this article myself, and it expresses my own opinions. I am not receiving compensation for it (other than from Seeking Alpha). I have no business relationship with any company whose stock is mentioned in this article.