OmniVision (NASDAQ:OVTI) is one the largest independent manufacturers of image sensors in the world. Image sensors are basically a semiconductor, with associated software and driver support delivered by the company to end users and developers. A variety of popular consumer electronic products from digital cameras, computers, smart phones, security systems, automobiles, medical devices and other applications using an electronic eye on reality have OmniVision sensors inside. The company's best-selling items are single chip designs that capture an image, process it electronically, adjust color, and convert signals to a final image or video stream on a customer device. OmniVision outsources most of the actual wafer fabrication to a joint venture with Taiwan Semiconductor (NYSE:TSM) and other third party businesses. While based in California, nearly all manufacturing and 99% of sales takes place outside the U.S.
While I make no claim as an expert regarding the company's patents and innovations, Apple (NASDAQ:AAPL) is one of OmniVision's biggest customers. The volume of camera chip image-sensors supplied to Apple plus other mobile phone and computer gadget makers highlights the desirability and strong end user demand for the company's patented technology. Cheaper, smaller and more powerful digital image solutions are being unveiled every few months by this patent heavy organization. You can read more about OmniVision's assets, technologies and financial setup in its 2013 10-K filing with the SEC.
From an investment perspective, OmniVision's rapid operating business and stock performance improvement has firmly planted the company in my computer generated, Victory Formation Top 10 list since early April.
Fortress Balance Sheet
The company has a stellar balance sheet with cash and short-term investments greater than its total of liabilities, using the latest financial statements for January 31, 2014! OmniVision's corporate structure, including the outsourcing of chip fabrication, allows higher profit margins and lower capital spending requirements on plant and equipment than competitors. Basically you are acquiring a research and development team, sales force, and patent holder when you purchase shares.
After you subtract easily liquidated assets like cash, inventories, investments and properties owned from the total stock market capitalization and corporate liability sum, new investors are left paying just $4 per share in premium above break-up value, using the prevailing $19 stock quote. In return for "risking" $4 you get $2.10 in Wall Street estimated EPS for the fiscal year ended in April, all the patents, and all the future earnings and cash flow OmniVision will generate. In terms of margin of safety on your investment, the stock provides well above average long-term protection with such a large "current asset," liquid balance sheet setup.
I have traded OmniVision stock on several occasions the last eight years, especially when it has traded near the prevailing book value of shares. Today's book value reading is around $18 per share. The downside for investors revolves around the cyclical nature of the semiconductor business. The ups and downs of new product roll-outs including their acceptance by customers is critical. Competitors are constantly developing new innovations to steal business also. Most Wall Street experts believe we are nearing a peak in the semiconductor cycle generally, after a few decent years of profitability. A global recession or equity bear market would definitely bring OmniVision's stock price down. However, I would argue the odds of an over-sized loss to investment capital are well below the "risk" level inherent in other semiconductor businesses or the average publicly-traded U.S. stock during May 2014.
Unrecognized Stock Value
2013-14 has proven a great operating environment for OmniVision, with six straight quarters of income beating Wall Street expectations. The company is well managed and has a strong track record of success over several decades. Interestingly the stock price is roughly the same as 2000, despite the fact its underlying business value has grown by leaps and bounds over 14 years.
2011's all-time peak of $35 a share was reached when earnings, book value and revenue were much lower than 2014 results. If we use the 2011 instance of stock price vs. financial operating ratios as a proxy for potential valuations, the mid-2014 share price could be worth as much as $50+ a share! At the 2011 high, OmniVision traded at 20x trailing earnings, 3x book value and 2x sales per share. Using Wall Street consensus analyst estimates for the fiscal year ended April 2014, present expectations are for earnings of $2.10, book value of $18.30, and sales of $25.50 per share.
Reviewing the trailing 5-year average valuation metrics, OmniVision should be priced at $30 per share today. Given ratios of 18x earnings, 1.5x book value and 1.5x sales per share for the typical valuation the last 60 months of trading, an $18 share price in May 2014 is quite low. Considering the organization has a better mix of cash and investments for assets than any time during the last five years, Wall Street is clearly not expecting much progress from the company going forward.
In spite of subpar Wall Street expectations for 2015, stock trading activity has been building strong momentum with above average volume buying and price gains the last 12 months. On Balance Volume [OBV] numbers have been terrific and indicate aggressive buyers chasing the price higher, with few large block sellers. Please review the chart below. With the April fiscal year numbers due to be released in late May, any upside surprise in revenue growth, profitability or guidance for fiscal 2015 could springboard the share price measurably above today's quote.
Conclusion
Positive technical developments currently highlight OmniVision as one of the top performers in both the semiconductor sector and overall stock market during the first half of 2014. A super-strong balance sheet, robust business operations and profitability, growing demand for its products, plus a below normal valuation entry point in the stock are getting little attention by Wall Street. I cannot guarantee OmniVision will be higher in price six months or two years from now, but the odds favor such an outcome based on my nearly three decades of trading the stock market. If you are in search of a hidden gem, holding plenty of cash, liquid assets and worthwhile patents to back up your money, this company may prove a great research project. Please review OmniVision's financial reports and Wall Street analysis of the business. It's your investment money and retirement nest egg - put in the effort with your own due diligence. You will sleep better at night, and feel a sense of honest reward for your time.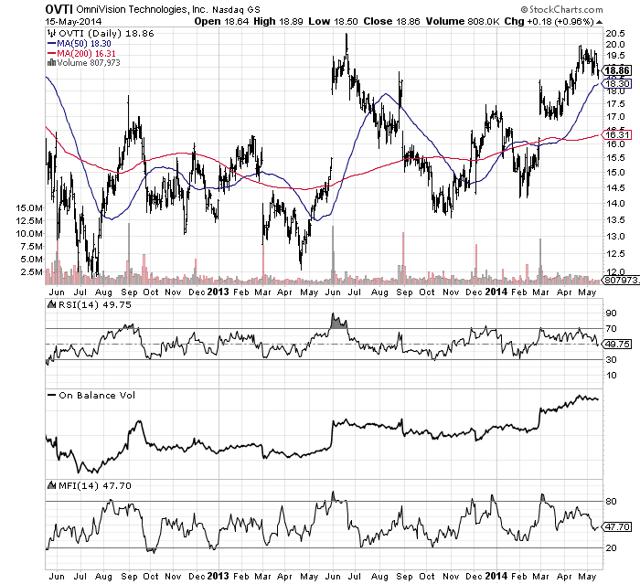 Charts courtesy of StockCharts.com
Disclosure: I have no positions in any stocks mentioned, but may initiate a long position in OVTI over the next 72 hours. I wrote this article myself, and it expresses my own opinions. I am not receiving compensation for it (other than from Seeking Alpha). I have no business relationship with any company whose stock is mentioned in this article.