India's recent election of Narendra Modi has consequences that have the potential to rock the gold market. For those not familiar with Mr. Modi, he is a staunch Hindu nationalist that ran on a platform committed to making India a much more business friendly country and he has a reputation of getting things done (very rare amongst Indian politicians).
Investors cheered pro-business Narendra Modi as they expect that he would kick-start India's stalled economy and usher in real change. The Indian stock markets reached a record high on Friday after Modi was set to sweep the national poll, the clearest election success India has seen in 30 years.
Additionally, many analysts think more gains could follow and foreign equity investors have positioned themselves for further gains. These expectations have also been reflected in the Rupee exchange rate as the Indian Rupee soared to a new 10 month high of 58.8 versus the US Dollar.
What the Election Means for the Gold Market
The election of Mr. Modi has a number of bullish implications for the gold market. All the talk in the gold market has been focused on Chinese gold demand and premiums, but many gold investors have forgotten that for many years India was the key physical market when it came to gold.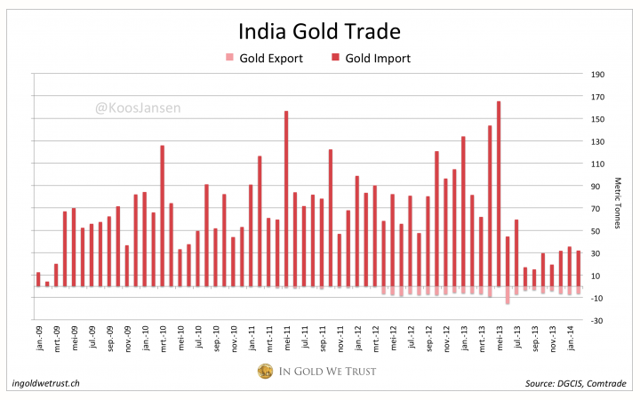 Source: In Gold We Trust
As investors can clearly see, Indian gold demand has subsided quite a bit since the draconian measures undertaken by the previous government to raise import duties and the widely unpopular 80-20 rule. Of course, these are official Indian imports numbers and obviously exclude the black market gold trade which has surged since the rules were implemented, but regardless demand has dropped.
But this may all start to change as reports indicate that Mr. Modi has strong support amongst the India gold industry since last year when the previous government began to impose gold-unfriendly policies. Part of the BJP's platform (Mr. Modi's party) was to review the gold import duties within three months of coming to power, and we expect some action from them to rollback these restrictions as they are extremely unpopular with the average citizen.
Howard Wen, an HSBC analyst, agrees that Modi's election victory will be supportive for gold in the longer term:
"Import tariffs and the 80-20 rule won't be rolled back right away. It's expected be a slow process as it unfolds. There are more pressing concerns for gold in the near-term than India's import tariffs," he said. Although it's unclear what changes the government will make to the import restrictions, Wen said if they want to focus on economic growth, it will be an issue they will have to deal with sooner rather than later. "The jewelry industry is really hurting right now," he said. "In order for the economy to grow and the jewelers to be happy, the government will have to roll back these taxes."
The roll-back of these import duties would have a tremendous affect on the gold market as it would mean that gold buyers would be able to buy more gold for the same amount of rupees. Currently Indian gold premiums stand at a stunning 21% as shown in the chart below.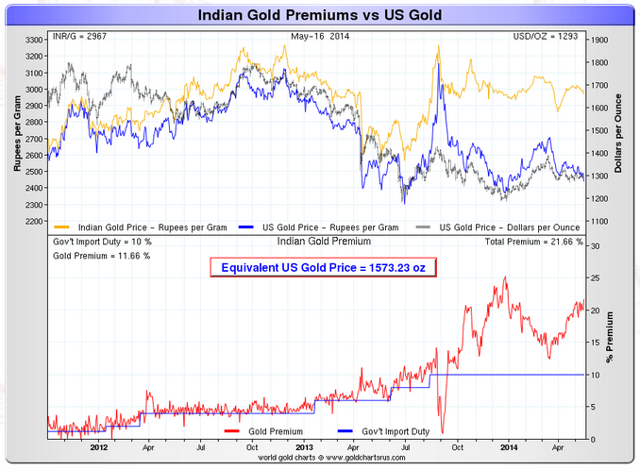 Source: ShareLynx
With a rollback of import restrictions and duties, investors could expect Indian premiums to drop back to the standard 0-5% levels as more gold is brought to the market. This means that the average Indian buyer could 20% more gold without spending a single rupee more than they currently spend - this could easily add 100-200 tonnes of extra gold demand from India. Paired with the voracious appetite for gold that we are seeing from the Chinese market, and we could soon see gold rising strongly simply from the physical demand from these two countries.
Rising Value of the Rupee
Another factor that would contribute to strengthening physical demand in India would be the strengthening of the Rupee. If Mr. Modi is successful in raising the attractiveness of the Indian economy, we can expect that foreign direct investment in India would rise after dropping over the last few years. This means that Rupee demand would also rise and strengthen the currency, which we have already begun the see over the last few weeks.
This would mean that Indian gold buyers would not only see their purchasing power rise as gold premiums dropped, but a stronger rupee means they can afford even more gold. Perhaps that is why we have seen gold premiums rise over the last few weeks as the Rupee has strengthened, gold investors should take note.
Conclusion for Investors
The recent elections in India has the potential to rollback much of the damage that has been done to the Indian gold market over the last year as the BJP reconsiders the import duties and restrictions that the previous government had implemented. This would lead to Indian gold premiums plummeting and a stronger Rupee (which we've already begun to see), which would ultimately mean that the average Indian buyer could afford to buy more gold for his money without spending a single rupee more than he currently spends.
This could be explosive for the gold market as a reduction in the current 21% premium may add 100-200 tonnes of extra demand from India regardless of outside events - and that's before seasonal gold demand kicks in towards the end of the year. Thus we think investors would be wise to have a strong exposure to gold with positions in physical gold and the gold ETF's (SPDR Gold Shares (NYSEARCA:GLD), PHYS, CEF).
Additionally, the miners that have been underperforming gold over the last few weeks may offer investors considerable leverage to any rise in the gold price. Investors looking for this leverage may want to consider evaluating gold miners such as Goldcorp (NYSE:GG), Agnico-Eagle (NYSE:AEM), Newmont (NYSE:NEM), or even some of the explorers and silver miners such as First Majestic (NYSE:AG) (we're not suggesting these companies specifically - only suggesting them for further investor research).
If Indian purchasing power increases Indian gold demand even as Chinese physical gold demand is at record levels, we would see more than 2,000 tonnes of gold going to only these two countries in a market that produces only 2,500 tonnes. There would be very little gold for the rest of the world and that would obviously be very bullish for gold.
Now, what happens if investment demand for gold increases due to geopolitical instability or financial market declines? We might see a massive "pain trade" as large gold shorts are forced to cover as big bank predictions in early 2014 of $1000 gold are proven wrong.
The fundamentals of gold ownership have never been stronger and the quiet gold market may be about to get much more active.
Disclosure: I am long GG, AG, SGOL. I wrote this article myself, and it expresses my own opinions. I am not receiving compensation for it (other than from Seeking Alpha). I have no business relationship with any company whose stock is mentioned in this article.