A few weeks ago, General Electric (NYSE:GE) offered $16.9 billion to buy Alstom SA's (OTCPK:AOMFF) energy business. While Alstom's board clearly appreciated the takeover offer, that wasn't necessarily the case with politicians in Paris. Protective of its French manufacturing industries, politicians hurried to denounce General Electric's bid and demanded counter-bid by General Electric's fiercest competitor, Germany-based Siemens AG (OTCPK:SIEGY).
France, probably the most socialist Western European country in the European Union, tried to pull in Siemens. American capitalism is viewed conspicuously in France and is often implying ruthless job cuts and the redistribution of wealth from labor to capital. A Siemens involvement would, so the thinking of government officials, mean more French control over the strategically important energy industry and, of course, more control over jobs. France has a history of economic intervention and the recent government anti-takeover decree can be understood as a blunt protectionist move to control the outcome of an Alstom deal. As Reuters reported on May 15, 2014, the French government continues to play hardball determined to increase its influence on the deal outcome:
(Reuters) - The French government has issued a decree allowing it to block foreign takeovers of French firms in "strategic" sectors, throwing up a potential roadblock to General Electric's $16.9 billion bid for Alstom's energy assets.

The decree, extending an existing 2005 law relating to the defense and other industries, was published in the official state gazette on Thursday and gives the state much-increased powers to block foreign takeovers in the energy, water, transport, telecoms and health sectors.

Any such acquisition will now need the approval of the Economy Minister, the decree published in France's Official Journal said.
Government decree inciting bidding war over Alstom?
Apparently, the French government's takeover law has its desired consequences: Siemens is said to contemplate a bid for Alstom's energy division while General Electric now has a strong incentive to either up its bid or make other concessions to the French government -- most likely relating to jobs. Considering that the board of Alstom already approved the GE deal, it is probably in the best interest of shareholders to allow GE to move forward.
While the French government might prefer a Siemens rival bid, Alstom clearly sees General Electric as a good strategic fit for its power turbines and grid business. However, the question remains of whether Paris only puts up a show to spark a bidding war for Alstom, and therefore improve its bargaining position and elicit a higher offer either from Siemens or General Electric, or if France is really opposed to a possible General Electric takeover.
General Electric, on the other hand, has already given assurances that it intends to play fair and create new jobs in France (Source: Bloomberg):
"We have noted the decree published today by the French government," it said. "The industrial project we have presented is good for Alstom, its employees and for France. Our plan is to build a global energy business with four headquarters in France and to preserve and create jobs in France."
Alstom takeover more important for GE than Siemens
With Siemens going through its own restructuring, or better yet, reorganization, I think Siemens will be primarily concerned with cleaning its own house. Traditionally, both political and business ties between Germany and France have been strong. However, I am doubtful of whether Siemens really intends to open up a new front and launch a bid for Alstom. A bidding war with cash-rich General Electric certainly wouldn't lead to a bargain purchase. While Alstom's energy business would certainly also be a good fit for Siemens, General Electric has more to gain. General Electric is heavily dependent on the U.S. market and could use Alstom to leverage its energy capabilities to enter new markets outside the U.S. -- which would fit well with General Electric's overall strategy to reduce its reliance on the domestic market. In other words, GE has much more to gain from an Alstom acquisition than Siemens.
Share performance
General Electric's Alstom bid certainly didn't have a material effect on General Electric's share price which indicates that investors were neither too excited nor too negative about a potential acquisition of Alstom's energy business.
Shares of General Electric rose approximately 10% since the beginning of February and almost 14% over the last twelve month.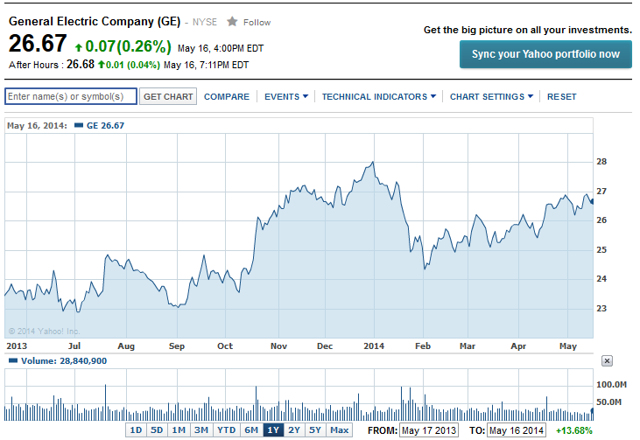 (Source: Yahoo Finance)
General Electric has seriously underperformed its largest industrial conglomerate peers over the last two years: Honeywell (NYSE:HON) gained 65% over a two-year performance measurement period while Siemens returned approximately 60% and General Electric only 41%.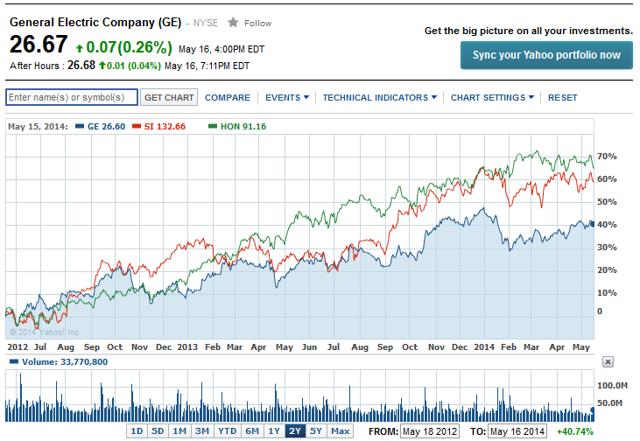 (Source: Yahoo Finance)
Conclusion
So far, Siemens has not submitted a competing offer but has time to do so until the end of the month. Siemens' ongoing restructuring efforts to simplify and streamline its organizational structure could be deterring the company from engaging in a potentially extremely expensive bidding war that would foremost benefit Alstom shareholders.
While the French government might prefer Siemens to General Electric as an acquirer of Alstom's energy business, Paris is probably just shuffling the cards trying to strengthen Alstom's negotiating position. From a strategic perspective, General Electric has much more to gain from a takeover of Alstom than Siemens and it is likely that General Electric will have to make further concessions -- either in terms of purchase price or job guarantees. That being said, General Electric has strong incentives to see this deal through while Siemens remains distracted by its business reorganization. With or without bidding war, I think General Electric will push for the acquisition and has a good shot at succeeding, despite the current political opposition. Long-term BUY.
Disclosure: I have no positions in any stocks mentioned, and no plans to initiate any positions within the next 72 hours. I wrote this article myself, and it expresses my own opinions. I am not receiving compensation for it (other than from Seeking Alpha). I have no business relationship with any company whose stock is mentioned in this article.
Editor's Note: This article discusses one or more securities that do not trade on a major U.S. exchange. Please be aware of the risks associated with these stocks.