By Brandon Clay
Data point after data point shows plenty of reason for concern about the U.S. economy. Consumer sentiment, manufacturing activity, jobless claims, home sales, GDP, you name it: when the data disappoints – as it has recently – stocks suffer. The U.S. isn't the only victim. Canada also shows signs of slowing economic growth, and the Eurozone's problems are well-known.
This confluence of factors makes emerging markets even more appealing for investors who want capital appreciation and growth. That said, not all emerging markets are created equal. Not surprisingly, Asia is frequently a favored destination for investors who want to take advantage of emerging markets growth. Two of the favorites are Thailand and Indonesia.
To say that Indonesia is one of the most compelling emerging markets opportunities is an understatement. We've discussed how investors can get exposure to the Indonesian market before. It's worth noting that even on down days for U.S. stocks, the two Indonesia-specific ETFs traded here in the U.S. often find a way to trade higher.
Outside of ETFs, few Indonesian stocks are listed on U.S. exchanges. We've found one that looks like an ideal trade for this market environment: Perusahaan Perseroan PT Telekomunikasi Indonesia (NYSE:TLK). OK, that's a confusing name, but TLK is pretty straightforward. This is a telecom stock, usually referred to simply as PT TELKOM.
The telecom sector is a favorite hideout in turbulent markets because telecom stocks are often less volatile due to their robust dividend yields. TLK certainly swings around more than stocks like AT&T (NYSE:T) or Verizon (NYSE:VZ), but that is to be expected. After all, TLK is an emerging market stock and the others are two of the stodgiest U.S. blue chips. TLK's current yield of 5.9% also trails the average yield of 6.45% of AT&T and Verizon.
TLK's last dividend was a very nice $2.32 a share. In the past six months, TLK shares are up 10% compared to a 7% gain for AT&T and a 2% run for Verizon. Sometimes it's worth sacrificing some yield for better capital appreciation. You're also tapping into one of the world's top emerging markets. To go with an Indonesian telecom while the U.S. market struggles, go with TLK. All the best.
click to enlarge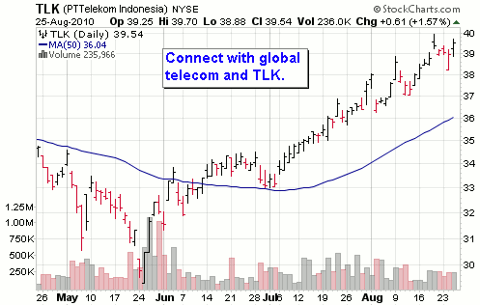 Disclosure covering writer, editor, publisher, and affiliates: No positions in any of the securities mentioned. No positions in any of the companies or ETF sponsors mentioned. No income, revenue, or other compensation (either directly or indirectly) received from, or on behalf of, any of the companies or ETF sponsors mentioned.