Apple (NASDAQ:AAPL) watchers are eagerly waiting for the iWatch. However, Microsoft (NASDAQ:MSFT) may actually release a smartwatch before Apple does. The spotlight on the smartwatch project of Apple receives a lot of coverage. Unknown to most people, Microsoft was also plotting for a consumer smartwatch since 2012.
A patent application for a "WEARABLE PERSONAL INFORMATION SYSTEM" was filed by Microsoft in October 2012. Microsoft got the patent application published earlier this month. This development is in line with the company's new Windows on Devices initiative. Nadella is not only focused on smartphones and tablets for Windows.
Microsoft is not noisy about its plans for Internet of Things (NYSEMKT:IOT) but the smartwatch patent should confirm to investors that Nadella is not letting Windows get stuck on the realms of computers and smartphones. Google, Apple, Intel, Cisco, and Qualcomm have all been very vocal about their Internet of Things and wearable computing plans.
The Internet of Things promises to become a massive growth industry. It should please MSFT investors that Nadella is plotting to release a smartwatch soon. IDC is forecasting IoT to grow into an $8.89 tillion industry by 2020. The smartwatch is integral part of this new smart/connected devices industry. Apple and Microsoft are therefore right to start off their IoT ambitions with a wearable computer for human wrists.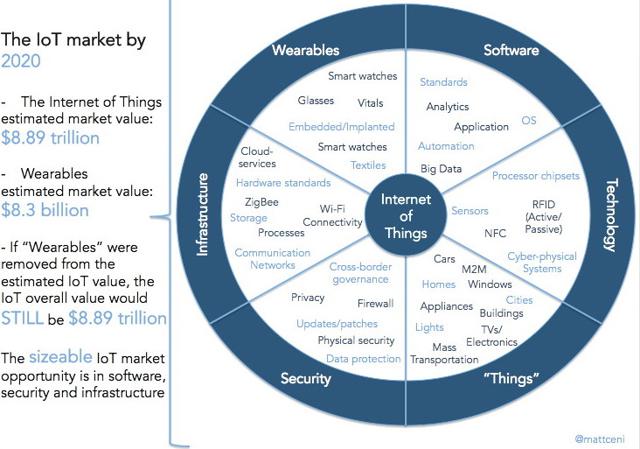 The Microsoft Smartwatch
As per the published patent document of Microsoft, the company's smartwatch shares the same concept and purpose with other smartwatch products already in the market. Please look at the illustration below. It's similar to Samsung's Galaxy Gear 2. It's a fitness tracker, mini-smartphone that will run on Windows and be compatible with all Windows devices.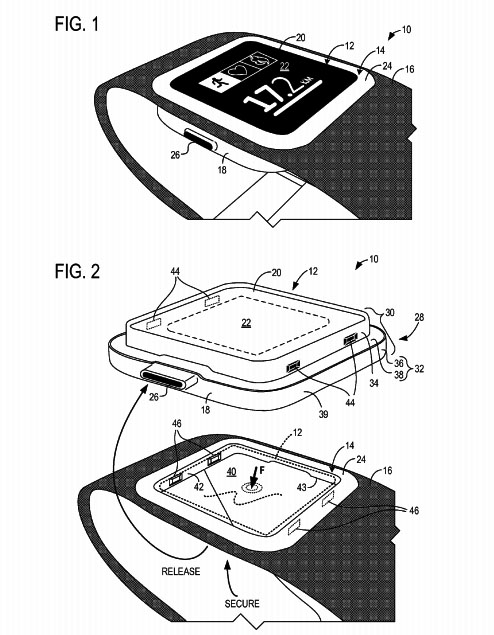 Source:U.S. Patent Office Website
The illustration above shows Microsoft's smartwatch features a detachable main watch body. This should allow custom straps to be added. This is what the Microsoft product will look like. It will not be using last year's multi-display screens of the Nokia Facet watch. A single-display smartwatch is still cheaper to make. Microsoft has no cult-following like Apple enjoys.
Microsoft has no "cool factor" to its name. Releasing a smartwatch that looks like the image below will likely draw critics' ire and a lot of sarcasm. Apple can get away with this avant-garde concept but Bill of Materials, battery life, and weight concerns will unlikely allow it to be produced on a commercial basis.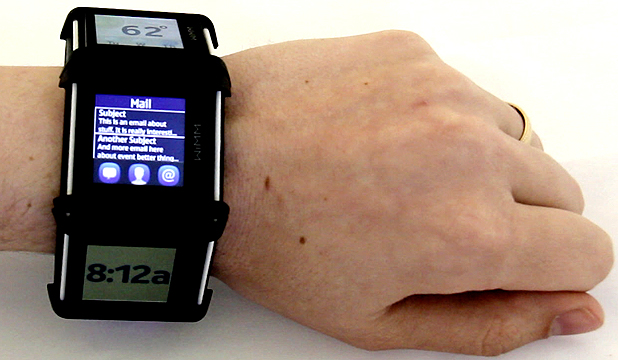 Source: Nokia
The Microsoft smartwatch will be no different from the Apple iWatch in terms of features. Engineers of the companies will embed their own products with fitness tracking, connectivity, video/still cameras, and call/email/SMS functions. I hope that Microsoft's watch will feature Cortana and have a larger than 2-inches display screen.
Apple's hip crowd of loyalists will make the high-end iWatch very successful. However, Microsoft can also leverage its huge enterprise influence to bundle the Windows smartwatch for executives. Nadella can also create a cheaper watch for the sub-$150. A Windows smartwatch with just fitness tracking and no call features and other advanced features could be profitably retailed for $149.99.
Microsoft, as demonstrated by its mobile phone initiative, will sell high-end and low-end smartwatch products and the total addressable market should offset Apple's hold on premium-paying customers.
The Smartwatch Market
Pebble, a small Kickstarter-funded firm which makes smartwatches, sold 400,000 watches last year for around $60 million. Pebble aims to sell 1 million units this year. These figures remind us all that the market for smartwatches is growing faster than we can imagine. Intel won't have bought BASIS Science if there's no real potential in connected and smart timepieces.
Microsoft is going to use the patents and talents of Nokia's old D&S unit to deliver a high-quality smartwatch which will compete with many other players. Samsung, the leader in smartphones and tablets, is also the market leader in the smartwatch category.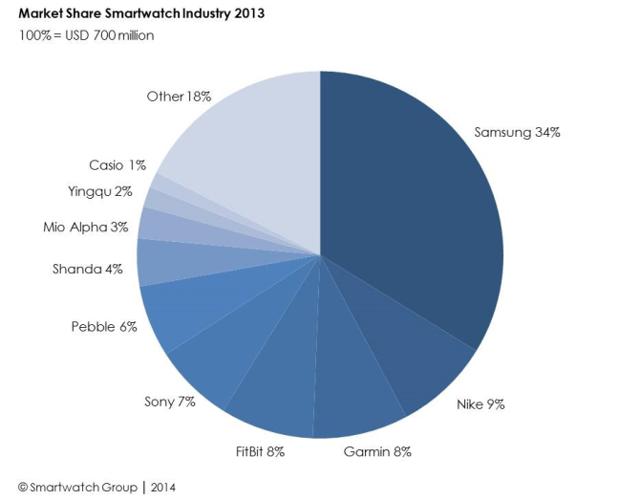 Samsung and other vendors sold 3 million watches worth $711 million in 2013. That's a ten-fold increase over 2012's 300,000 unit sales number. The Smartwatch Group is predicting that sales will hit $2.4 billion this year. This hyper-growth potential of wearables is attractive to Apple and Microsoft. Both companies are looking to get out of its single-digit sales growth performance.
Furthermore, Microsoft wants to derail Google's new Android Wear OS. The bad blood between these two mega-cap tech companies requires each one to continue attacking each other's products. Apple and other smart watch manufacturers will definitely suffer from collateral damage from Microsoft's smartwatch assault (that's aimed primarily at Google.)
Conclusion
Windows on Devices is Microsoft's OS for smart devices which, with a little contra revenue effort, will likely find support among OEM companies that don't want to exclusively rely on Android Wear. The Windows Smartwatch is unlikely to beat the future market success of the Apple iWatch. However, the Lumia and Windows brand names are famous enough to gain some sizable market share.
A smartwatch is unlikely to move MSFT higher but it's a small step toward the future $8.89 billion Internet of Things industry. The technology from a smartwatch can be extended to other wearables and appliances.
Microsoft is a Strong Buy. I trust Alpha Omega Mathematica's market-comparative and high-math valuation system.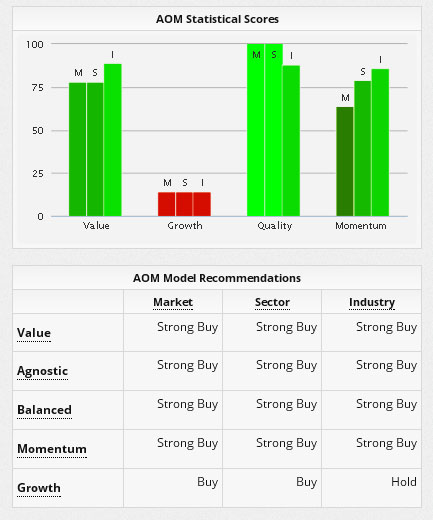 Eight analysts at BarChart.com give MSFT a Strong Buy rating and two analysts gave it a Buy.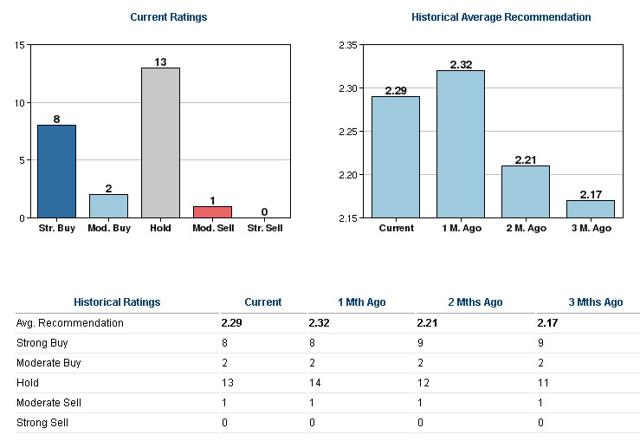 Disclosure: I am long AAPL, GOOG. I wrote this article myself, and it expresses my own opinions. I am not receiving compensation for it (other than from Seeking Alpha). I have no business relationship with any company whose stock is mentioned in this article.